One of my income oriented stocks in the midstream sector would have to be Kinder Morgan Inc. (NYSE:KMI). Kinder Morgan is the general partner, or GP, of both Kinder Morgan Energy Partners (NYSE:KMP) and El Paso Pipeline Partners (NYSE:EPB). As a result, Kinder Morgan owns sizable limited partner equity stakes in both MLPs and Kinder Morgan Management (NYSE:KMR) as well as IDRs on their incremental earnings. Due to strong demand for pipelines in North America, both MLPs are investing large sums into new growth projects which should eventually trickle down to Kinder Morgan. The company has already announced an increase to its quarterly dividend to $0.40 per share which at current prices equates to about a 4.30% yield.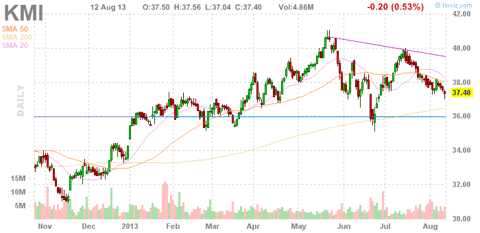 Corporate Overview
Before I delve into Kinder Morgan's Q2 results, a look at the overall structure of the company is warranted. Kinder Morgan Inc is part of the larger Kinder Morgan family of companies. Combined, they represent the third largest energy company in North America by enterprise value. As noted above, Kinder Morgan's principal assets include GP interest and the resulting IDRs of both KMP and EPB. Kinder Morgan also owns about 10% and 42% of the total limited partner interests for both respectively.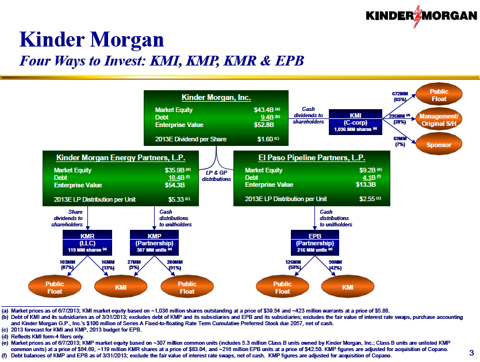 Kinder Morgan does directly owns some midstream assets. These include about 50% of the Gulf LNG pipeline, 50% of the Florida Gas Transmission network, 50% of the Ruby pipeline, and a 20% equity stake in the NGPL pipeline. Except for the NGPL equity, Kinder Morgan intends to eventually dropdown these assets to its MLPs by 2014.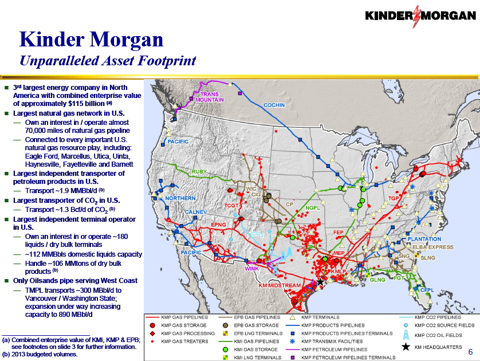 Q2 2013 Overview
On July 17, Kinder Morgan reported its Q2 2013 results. For the quarter, the company posted revenues of $3.38B, up 55% from the $2.17B posted in Q2 2012, and up 10% from $3.06B posted last quarter. Cash available to pay dividends, which is somewhat similar to a MLP's DCF metric, came in at $294M, or $0.28 per share, down 4% from $307M, or $0.36 per share, last year, and down 43% from $513M, or $0.50 per share, last quarter. As a result, Kinder Morgan's dividend coverage ratio dropped to about 0.70X from 1.32X last quarter.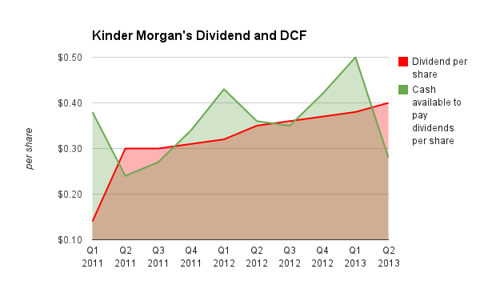 However, this decline was mostly expected. Kinder Morgan noted in its previous guidance that its second and third quarter would have negative coverage while its first and fourth quarters would have excess guidance. During the Q2 2013 conference call, it was also mentioned that the timing of Kinder Morgan's cash taxes would impact the comparisons to last year. Kinder Morgan paid out an extra $69M in taxes this quarter compared to last year.
To get a better sense of Kinder Morgan's dividend sustainability, we would need to look at the first two quarters of the year. Doing this we see that Kinder Morgan's cash available for dividends was $807M, or $0.78 per share, for the first two quarters of 2013. As dividend payments were also $0.78 per share in this period, this results in a 1.00X coverage ratio for the first two quarters of 2013.
Updated Guidance and Repurchase Program
As I previously wrote, Kinder Morgan's Copano acquisition has led to higher anticipated dividends. For FY 2013, Kinder Morgan now expects to declare around $1.60 per share in dividends, up from its previous guidance of about $1.57 per share. As Kinder Morgan has already paid out $0.78 per share, this leads to an estimated $0.82 per share in dividends for the latter half of 2013. This averages out to about $0.41 per share per quarter in dividends, or about a 2.5% increase from the current $0.40 per share and a 12% increase from the second half of 2012 levels.
Another manner that Kinder Morgan is returning capital to its shareholders is via share and warrant repurchases. Kinder Morgan's board of directors has approved a $350M share and warrant repurchase program. Kinder Morgan is now authorized to repurchase its Class P common stock, which are essentially the ones that are current trading in the NYSE, and warrants to purchase shares of its Class P common stock, which were issued as part of the El Paso merger. They are basically a very long-term call option on Kinder Morgan's stock as they have a $40 strike price and expire in May 2017. This $350M share repurchase authorization program replaces the previous $250M program which was completed during the quarter. The company noted in the conference call that it currently has about 414M warrants outstanding.
Conclusion
Do note that Kinder Morgan, either KMI or KMP, does carry a somewhat high risk. The largest and most obvious being its large debt load. Combined, the Kinder Morgan family of companies carry over $30B in debt. A large and sudden increase in interest rates may negatively impact Kinder Morgan, especially Kinder Morgan Energy Partners. Another risk factor would be a sudden decline in energy prices or volumes, which would again impact the MLPs and thus Kinder Morgan's cash flows.
As the general partner of two large MLPs, Kinder Morgan is likely to see outsized benefits from the increased cash flows from these companies. In addition, Kinder Morgan's dividend growth rate is expected to range from 9% to 10% for the next few years, which is higher than the estimated range for the MLPs. However, this is somewhat offset by Kinder Morgan's initial lower yield. At current prices, Kinder Morgan seems to be a good buy. Do note that the same thing could be said about KMP. Both stocks have come down about 6% to 7% from recent highs as the general MLP sector sectors seems to be out of favor with investors as the economy starts to rebound. I am currently waiting for Kinder Morgan's stock to reach around $36.50 to start a position which I believe may occur as part of a broader sell off in the market.
Disclaimer: The opinions in this article are for informational purposes only and should not be construed as a recommendation to buy or sell the stocks mentioned. Please do your own due diligence before making any investment decision.
Disclosure: I have no positions in any stocks mentioned, but may initiate a long position in KMI, KMR over the next 72 hours. I wrote this article myself, and it expresses my own opinions. I am not receiving compensation for it (other than from Seeking Alpha). I have no business relationship with any company whose stock is mentioned in this article.