Note: This article covers a micro-cap stock. Please be aware of the risks associated with these stocks.
Document Security Systems (NYSEMKT:DSS) and its shareholders have experienced quite a ride in recent months. Through the ups and downs of the stock, the Company has continually improved its underlying business, while management has demonstrated their willingness to expand and diversify.
Business Description/Value
For those new to the story, there are two parts to DSS's business: 1) its "core" revenue generating business, that provides fraud and counterfeit protection products and services for all forms of printed documents and digital information; and 2) the value attributed to the intellectual property assets acquired in the recent merger with Lexington Technology Group ("LTG").
DSS has seen solid growth in its core business, posting solid revenue increases in three of its four groups in 2012 (59% for Packaging, 7% for Plastics, and 26% in licensing and digital solutions) in addition to a 34% increase in revenues for the fourth division, Printing, thus far in 2013. This business generates solid revenue and provides DSS with a core business that keeps it from being labeled a "Patent Troll." In fact, this business alone seems to justify the current share price of $1.70. Dawson James, a full service investment bank who recently initiated DSS with a price target of $4.00, agrees with this valuation. Robert Wasserman of Dawson James, a very respected analyst in the space, used a "sum-of-the-parts" valuation to arrive at this $4.00 target. He placed a value of $1.65 on the core business, and attributed $2.65 to Intellectual Property acquired in the merger with LTG.
It is clear that the market is significantly undervaluing (or not valuing at all) the Company's patents. Both Vringo (VRNG) and VirnetX (NYSEMKT:VHC), two companies involved in patent litigation/licensing, experienced significant stock appreciation as soon as the market viewed their patents as "legitimate." This came through settlements and/or court rulings. Now, DSS's patents have already been validated: since announcing the merger in October 2012, Lexington has settled with three of the defendants from Bascom's (a wholly owned subsidiary of LTG) patent infringement litigation filed in 2012, at 4%-5% royalty rates. The most recent settlement was on July 15, 2013, where Bascom settled with Novell, Inc. (NASDAQ:NOVL). This makes three settlements out of the five defendants in the Bascom case. The two most lucrative defendants, Facebook (NASDAQ:FB) and LinkedIn (LNKD), remain, providing an enormous upside potential for DSS.
The Markman hearing, currently scheduled for October 2, 2013, is a significant near-term catalyst. Vringo experienced a rise in share value of about 50% just in the two weeks leading up to the Markman hearing back in June of 2012. The way these settlements have been going for DSS, it's possible Facebook and LinkedIn will understand the legitimacy of DSS's patents, and settle before this Markman hearing. Should Facebook and LinkedIn choose not to settle, DSS is well capitalized, (LTG brought over nearly $7 million in cash with the merger, bolstering the Company's cash position), and has the ability to withstand a trial. Meanwhile, management expertise and experience brought on with the Lexington merger is expected to add to the previous technology licensing efforts of DSS, most notably the ongoing patent litigation against Coupons.com.
Analysis
With an RSI below 30, DSS is in severely oversold territory.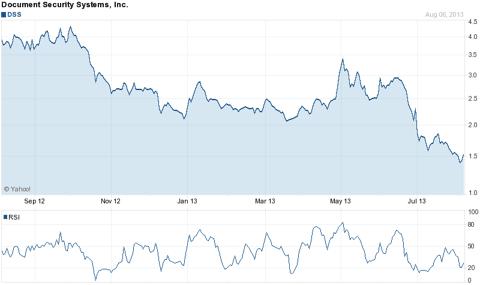 It has fallen from its 52-week high of $3.64 a couple months ago to about $1.50 as I write this, presenting an incredible buying opportunity to the patient and confident investor. This severe decline in the stock has been accompanied by nothing but strengthening in the underlying assets of the Company. I believe the stock will rally ahead of the Markman hearing, and then significantly more after a positive ruling. This will most likely be the last chance to buy at these levels. I continue to buy on dips, and believe everyone who buys at these levels will be rewarded with 100%-200% returns in the next 12 months.
Disclosure: I am long DSS. I wrote this article myself, and it expresses my own opinions. I am not receiving compensation for it (other than from Seeking Alpha). I have no business relationship with any company whose stock is mentioned in this article.