Introduction
Express Scripts Holding Company (NASDAQ:ESRX) is the leading pharmacy benefit manager [PBM] in America. The company has been a source of uncertainty due its massive acquisition of Medco, and how it will react to upcoming healthcare reform. The likely resolution of these issues will boost Express Scripts' fortunes significantly. Other key opportunities are blurred by these uncertainties and other issues that disguise the profitability of Express Scripts. Barring significant competition or legislation changes that erode revenue and margins, Express Scripts appears at least 25% undervalued.
Company Description
Express Scripts works with a variety of groups to generate revenues. ESRX is paid directly by insurance plans to obtain access to prescriptions for insurance clients, manage the system, interface with pharmacies and drug companies, and provide other services. The company also indirectly generates revenue and profits from drug companies and pharmacies by offering these firms access to an indispensable number of clients. Express Scripts negotiates drug discounts with manufacturers for insurance clients and then pockets part of the discounts. Express Scripts makes deals with pharmacies to encourage certain formularies (groups of prescriptions), and send clients to these businesses. Express Scripts does provide other services such as mail-order pharmacy and benefit design consultation, but ultimately these go back to working with insurance companies, drug companies and pharmacies.
Medco Acquisition
In the second quarter of 2012, Express Scripts Inc. merged with Medco, forming Express Scripts Holding Company. This made the combination the PBM market leader with greater than 30% market share.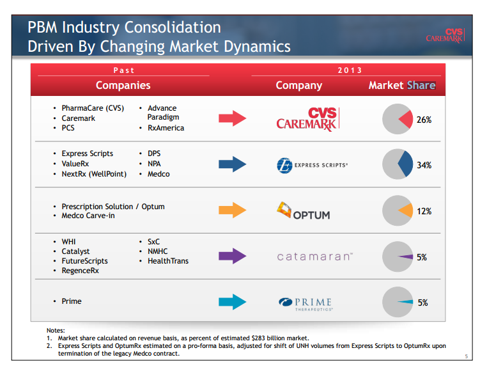 Source: CVS Investor Presentation
Although the company has not admitted it, many speculate that the merger was expedited by the company's negotiations with Walgreen (WAG). Commanding an even greater market share, Express Scripts showed Walgreen that it needed Express Scripts more than Express Scripts needed Walgreen, providing favorable terms for Express Scripts.
Two aspects of the merger hide Express Scripts' true profitability. First the company has incurred significant integration expenses (over $1B over since the merger). These costs have steadily declined since the merger:

The company predicts that the integration will essentially be complete by the beginning of 2014. However, backwards looking investors will see artificially high valuation ratios.
Significant value was ascribed to intangible assets in the acquisition. These assets will be amortized over 15+ years, resulting in significant expenses for Express Scripts. This reduces net income, while acting as a tax shield, which net actually increases cash flow. However, investors focused on P/E miss the underlying profitability of the company.
Competitor Analysis
Key competitors in the PBM space include CVS/Caremark (NYSE:CVS), Optum (Private), Catamaran (NASDAQ:CTRX), and Prime (Private). CVS/Caremark is the most significant. In services the various PBMs are relatively similar. While Express Scripts boasts of Consumerology and pharmacy interventions, CVS/Caremark and the others offer similar services. This is supported by the various companies' exposure to generics and the companies' retention rates. In 2012 and 2011, Express Scripts had a traditional pharmacy generic rate of 79.4% and 75.3% respectively (ESRX 2012 10-K), while CVS had generic rates of 79.1% and 75% (CVS 2012 10-K) and Catamaran had rates of 81.9% and 76.9%. This illustrates that overarching healthcare trends are likely to affect the companies similarly, and that the services, which the companies state encourage generic use, have similar effects. Furthermore ESRX had a retention rate of 94%, CVS/Caremark had a rate of 96%, and Catamaran had a retention rate of 99%. These rates illustrate that plan participants are generally happy and that services of competitors are not great enough to overcome switching costs.
The various models are certainly different. Express Scripts has pursued horizontal integration by gobbling up market share, while CVS/Caremark has pursued a vertical integration strategy by combining PBM, pharmacy, convenience store and basic medical services. Catamaran has based its services off combining an industry leading technology platform. Each model has advantages, and it is difficult at best to tell if one model is superior to others.
However, this industry requires size. In response to the question, how are you going to compete with the size of Express Scripts and CVS/Caremark, Catamaran's CFO said, "we have enough scale to buy effectively. If we couldn't, we wouldn't be able to continue winning clients." Without scale, a prospective PBM cannot offer enough clients to drug companies, or pharmacies necessary to gain the leverage to reduce costs to insurance companies and other healthcare providers. Thus while competition within the industry is relatively strong, the threat of new entrants is low, because in order to attract and keep customers, you have to already possess a critical mass of clients.
The last interesting point is that it appears Express Scripts practices strong price discipline. From 2010 to 2011, Express Scripts had virtually the same number of claims but grew gross margin in its PBM segment to 7.04% from 6.67% (2012 excluded because of acquisition); CVS on the other hand saw its gross margin in its pharmacy segment go from 7.0% to 5.6% to 5.2% from 2010, to 2011 and to 2012 respectively, while experiencing the same industry conditions. While a small sample size, it is another positive data point for Express Scripts.
Growth Opportunities
Express Scripts will likely be propelled by both industry wide tailwinds and company specific opportunities.
The ongoing shift towards generics should help boost the bottom lines of major industry players. While a huge shift has already occurred, there are still significant drugs coming off patent to continue this trend.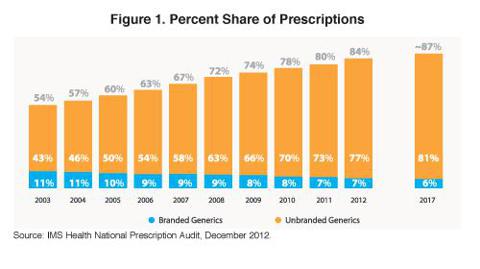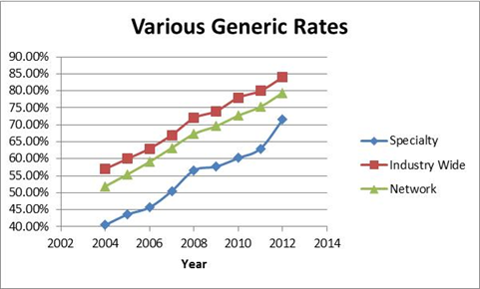 Since Express Scripts' generic rate has trailed the industry and is heavily exposed to specialty, which has further room to move into generics, a company wide 5%-7% increase in Express Scripts' generic rate should be achievable by 2017.
This shift should increase the company's profitability. While the shift to generics does decrease revenue slightly it should provide Express Scripts more leverage over drug companies because there are many competitors in the generic market. Over the years, the rise in generics has been coupled by a rise in the company's gross margin: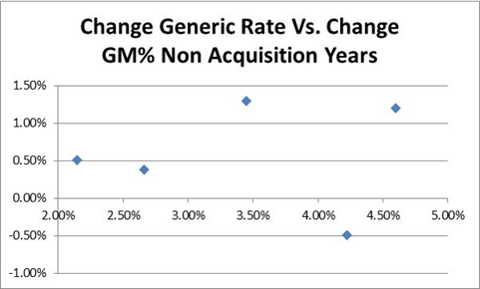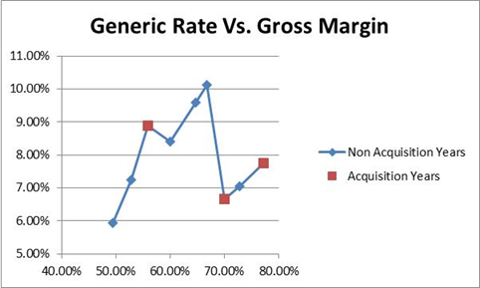 Years of a significant acquisition should be ignored because acquisitions cause a fundamental change in product mix and margin unrelated to generics. In the non-acquisition years, a rise in the generic rate was coupled with a positive change in gross margin; On average a 100 BP change in the generic rate caused gross margin to increase 18 BP. Thus the imminent increase in generics should increase Express Scripts' gross margin by at least 100 BP through 2017.
The healthcare legislation that goes into effect in the beginning of 2014 will aid PBMs because they are on the right side of the movement. Obamacare has the fundamental goal of increasing access to healthcare while driving down overall costs. This mission perfectly aligns with those of the PBMs; they make money by processing more claims and facilitating saving money. It is predicted that legislation will add 14MM new insurance plans and 19.5MM to Medicaid in 2014, and more in the future as people adjust to legislation. CVS echoes this in its most recent annual report:

Furthermore it is very telling when a major executive praises legislation, as private industry is often against regulation. This is exactly what happened with Catamaran's CFO in describing new healthcare legislation:
We're pleased that the ACA is going to be able to provide 25-30 million new people into the healthcare system. This will be good for the entire PBM industry as well as for patients.
Drug inflation should also provide a boost to the industry. While PBMs are often paid on a prescription basis and not necessarily on the price of the drugs, they are rewarded for lowering costs. If drug prices keep rising, there is an opportunity for PBMs to come in and reduce costs. Both Express Scripts, per its Drug Trend Report, and CVS/Caremark, per its Insights, see specialty costs rising quickly due the significant number of specialty drugs coming up for FDA approval and the severity of diseases specialty drugs treat.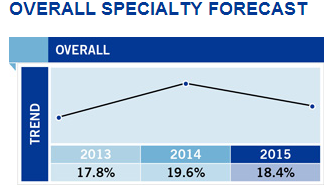 Source: Drug Trend Report
Both see "traditional" drug spending stable for the next few years and then rising gradually over the long term.
However, Express Scripts could experience growth faster than plan wide prescription increases. This is motivated from the comparison of PMPY spending increases to Express Scripts' revenue per claim in specialty and traditional. One would expect PMPY spending to increase faster than revenue per claim, because PMPY is affected by quantity, which has gradually increased with an aging population, while revenue per claim is quantity independent. To control for this, quantity related factors such as prevalence, intensity, and units/RX detailed by the Drug Trend Report were removed. However, Express Scripts has been able to grow rev/claim significantly faster than PMPY spending has increased: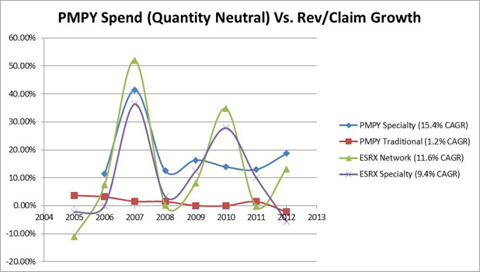 Source: Historical Drug Trend Reports
However, after removing acquisitions in 2006, 2010 and 2012, Express Scripts grew rev/claim at a CAGR of 7.9% and 14.9% (2005 removed for specialty due to lack of data) for network and specialty revenues, compared to PMPY CAGR over those periods of 1.7% and 20.2 % for traditional and specialty PMPY respectively. While specialty revenue per claim growth has relatively lagged, its absolute growth should still be robust due to the strong upcoming specialty environment. Even though traditional PMPY spend is predicted to be flat in the coming years, history indicates that Express Scripts should still be able to grow traditional revenue per claim. Express Scripts is able to do this because it generates clientele via a variety of services and leveraging all angles.
It is worth reiterating that Express Scripts has unique opportunities because of its size. While a smaller competitor such as Catamaran can grow more quickly by gaining market share, Express Scripts is in a much more stable position, a benefit to a conservative investor. Express Scripts' size may allow it to gain favorable deal terms, such as the events that happened with Walgreen, which competitors simply cannot replicate. Additionally, Express Scripts may be able to drive operating efficiencies beyond eliminating integration costs from its Medco acquisition.
Other Strengths
Another key benefit of Express Scripts' size and power over customers and suppliers manifests itself in changes in working capital. Typically, working capital changes cannot be counted on for cash flow; but Express Scripts is unique in that it has consistently generated positive and sometimes significant cash flow through working capital changes. Express Scripts is able to continually push out payments while demanding timely payments on receivables. Nor is this unique to Express Scripts; CVS and Catamaran have been able to generate cash flow through proper working capital management. This illustrates that this process may be sustainable.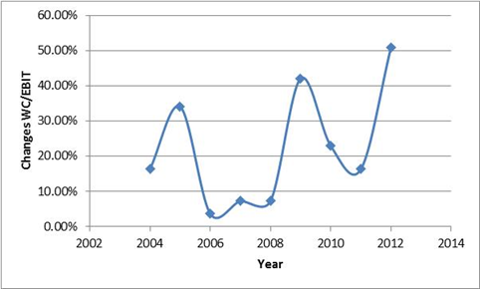 Express Scripts is also an attractive investment over the long term because it is not capital intensive, allowing management to return capital to shareholders. The business does not require significant machinery or other long-term investment.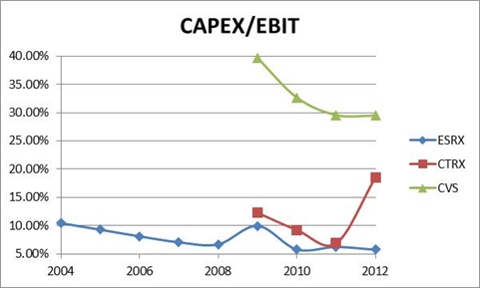 Risks And Threats
This thesis relies on Express Scripts' ability to grow revenue in the future while maintaining margins. The two greatest impediments to both of these factors will be industry competition and healthcare legislation.
While it appears that customers in the industry are quite sticky, due to factors such as long standing relationships, complicated contracts, and age, this could change. Were a competitor to develop an innovative approach to this space, Express Scripts could lose significant volumes. While possible, this appears unlikely given how similar current offerings are and have been. A more likely scenario would be if other PBMs could lower the prices they charge. CVS may have already pursued this strategy as evidenced by the declining gross margin, and competitors may pursue this route if declining profits in the PBM sector are outweighed by greater profits elsewhere. This could particularly hurt Express Scripts because PBM is its only business. If this is enough to overcome the stickiness of customers, which could be lessened by the sensitive economic environment, Express Scripts could either lose volume, or lower prices, which would compress margins. This risk is mitigated by Express Scripts' size, giving it deal terms others cannot obtain, the asymmetric information held by PBMs providing for pricing power in general and the aforementioned stickiness of customers.
While it appears that Express Scripts is positioned correctly for healthcare reform, one cannot be sure exactly how it will play out. While Express Scripts profits by reducing healthcare expenses, even it could get squeezed. Because of the size and nature of the legislation, Express Scripts can do little to avoid this risk; it can only execute its business plan well to diminish the effects.
A more minor risk is the integration of Medco. While Express Scripts has already significantly reduced these expenses, more progress must be made. However, given the overlap of the two businesses and the skill of management, which is rewarded based upon ROIC, there is reason to believe that these will go away.
Relative Valuation And Balance Sheet Analysis
Express Scripts currently has about $14.3B in total debt, and $1.3B in cash and equivalents for a net debt position of about $13B. This compares to a net debt position of about $15.7B a year ago. The company is actively trying to delever. The rest of ESRX's balance sheet is well maintained, evidenced by cash flow generation from working capital.
The only true comparable companies for Express Scripts are Catamaran and CVS/Caremark. The relative valuations of these companies makes ESRX look the cheapest:

FCF yield is likely the most useful because P/E for ESRX is skewed by significant amortization expense (it would be half without amortization of intangibles). Additionally, EV/EBITDA is somewhat poor because it does not include the vastly different CAPEX demands of these firms (CVS has brick and mortar assets, Catamaran technology assets), and ignores balance sheet power. As noted, FCF yield is likely the most useful, and on this basis, ESRX looks strong.
Historical industry comparisons are not useful because the competitors have undergone significant acquisitions that have fundamentally changed appropriate multiples and the business models of CVS and Catamaran. While Express Scripts has undergone acquisitions, its business model has remained constant: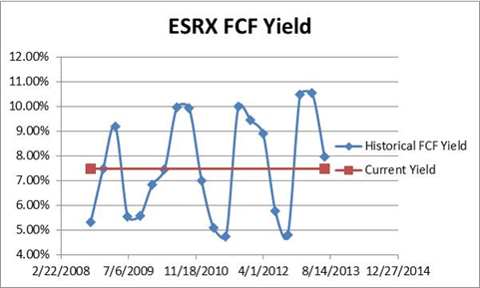 ESRX is neither cheap nor expensive based upon historical multiples. However, the company may deserve a premium to historical multiples given the improved strength of the business and the upcoming catalysts.
DCF
A discounted cash flow analysis helps one get an idea of what Express Scripts may be worth if certain opportunities or threats affect the company. The most important of these opportunities are:
Growth of insured population from Obamacare
Margin expansion from shift towards generics
Rise of specialty drugs
Continued inflation of specialty and traditional drugs
While the major threats are
Margin compression from competition
Loss of significant clients from competition
Reduced drug inflation from Obamacare
Using these factors, bear, base and bull cases were developed and reflect the following scenarios:
Bear: Competition becomes quite intense which causes them to lose a major contract in one of the years (2015), which counteracts increased insured population from Obamacare and typical client growth. Additionally, some combination of poor model execution or industry competition, and pricing effects of Obamacare cause costs to increase each year despite shift towards generics. Finally, rev/claim for specialty and traditional drugs grows slower than historically as government and other factors are able to control costs without PBM's help.
Base: Client loss or gain from competitors is minimal so over long term claims grow at historical rate and Obamacare causes boosts in 2014 and 2015. Competition balances out shift to generics so no cost improvement or deterioration. Traditional prices grow slower than historical due to generics and Obamacare but specialty grows at just below historical rate because of imminent rise in specialty medicine.
Bull: Express Scripts takes clients from competitors during implementation of Obamacare as ESRX is able to respond to changes better using its size. Competition is not fierce, the company is able to execute its plan and the shift towards generic continues allowing them to gradually reduce costs. Also able to grow price/claim at historical rates (higher for specialty) as ESRX proves fundamental in government's plan to reduce costs.
Other key inputs for all the models were: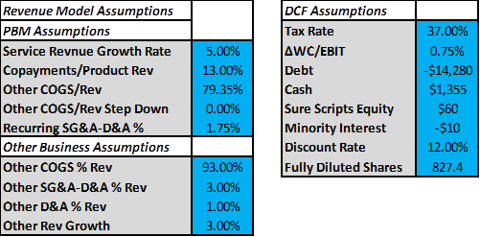 The results of these cases can be summarized by the following charts: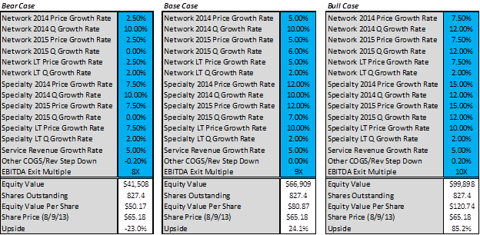 The bear case illustrates that there certainly could be some downside. However, this appears unlikely because it would require CVS to fundamentally change its business strategy and not act like a profit maximizing oligarch, and drug inflation to significantly slow down which counteracts known trends. Smaller competitors simply don't have the strength to affect Express Scripts that much individually. The bull case appears more likely than the bear case, given that it relies on execution of opportunities known to exist and continuation of trends. While the base case does not offer a significant amount of upside, Express Scripts is a good long-term business to own, making any real undervaluation somewhat rare.
Catalysts
Implementation of Obamacare
Cost reduction from integration
Continued shift towards generic drugs
Conclusion
Express Scripts is not grossly undervalued or underappreciated by the market; however uncertainty regarding the recent integration, and the implementation of the new healthcare system has likely pushed down shares of Express Scripts. These issues are likely to benefit the company, providing extra returns for a great long-term business that may already generate outsized returns.
Appendix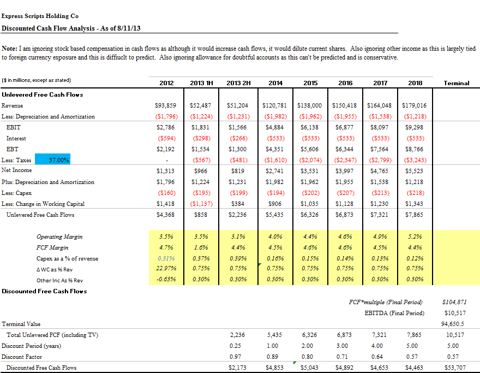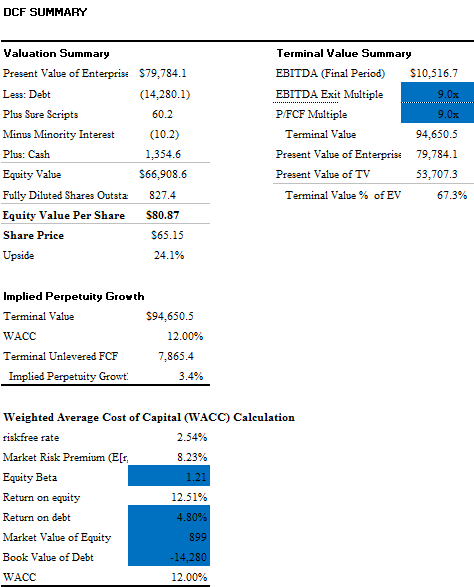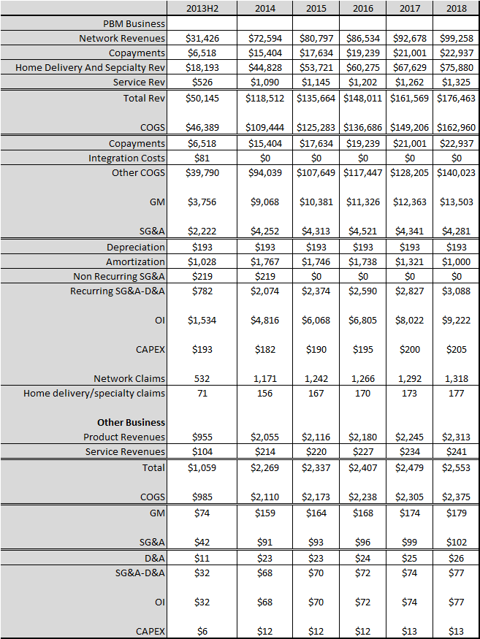 Disclosure: I am long ESRX. I wrote this article myself, and it expresses my own opinions. I am not receiving compensation for it (other than from Seeking Alpha). I have no business relationship with any company whose stock is mentioned in this article.
Additional disclosure: The author has presented his findings to the best of his knowledge. The author encourages potential investors to do their own due diligence for a potential investment.