MakeMyTrip Limited (NASDAQ:MMYT) is a small India-based online travel agency [OTA] that has been listed on the U.S. stock market since 2010. The company owns a leading website MakeMyTrip.com, which is used by travelers to obtain a range of services such as air, rail, car and hotel bookings as well as buying holiday packages both in India and abroad. The company has been acquiring/ partnering with small companies such as Hotel Travel Group, Luxury Travels and Tours etc. to increase its hotel portfolio. MMYT is facing increasing competition from the global OTAs such as Tripadvisor (NASDAQ:TRIP), Expedia (NASDAQ:EXPE) and Priceline (PCLN), which have set up bases in India attracted by the fast growing online travel market here. It is believed that almost 30% of the total travel bookings in India is now done online and this penetration is set to increase further as the costs of online travel booking is much lower. The company's valuation has become more reasonable as the stock has declined by almost 50% since its IPO, despite more than tripling its revenues in the last 4 years.
What does MakeMyTrip Do?
MakeMyTrip generates most of its revenues from the bookings of airlines in India, such as Indigo, Go Air, Jet Airways, Spice Jet and Indian Airlines. The airline industry in India has been going through a tough phase as the total air travel has decreased due to high ticket prices and slowdown in the Indian economy. The company has been concentrating more on hotel bookings and holiday packages, which have higher margins than airline bookings. MMYT has also expanded its services to car, railway and bus bookings as well to become a comprehensive travel services provider. The company's portal MakeMyTrip.com has a high brand recall amongst the Indian customers.
Why MakeMyTrip is a Buy
1) No.1 OTA in India - MakeMyTrip claims to be the No.1 OTA in India with the highest number of visitors per month and page views to its website as per Comscore. The other major travel sites such as Yatra.com and Ibibo.com are not listed, so it becomes difficult to compare the difference in market share with MMYT. However, one thing is for sure that MMYT has a big brand recall rate amongst the Internet savvy customers in India.
In the fiscal first quarter, our market leadership was validated once again by Open Skies, which highlighted our leading share of India's online travel space in their recent report. In addition, our traffic leadership continues as per June comScore data with 8.1 million monthly unique visitors, which was more than twice the size of our next closest competitor. In the same period, our website had over 105 million total page views -- pages viewed, which is more than 3x that of the closest competitor.

Source - Seeking Alpha
2) Balance Sheet is good - MMYT's balance sheet is quite good with around $84 million of net cash at the end of FY 13. The company has almost no debt and the cash outflow is very small. The company does not face any liquidity or dilution pressures in the next couple of years, as it transitions from being mostly an airline booking agent to a more complete travel agency.
3) Acquisition Target - The Indian Internet industry is seeing strong interest from overseas companies looking to get a slice of the fast-growing Internet market in India. Recently, South African company Naspers bought an online bus booking startup Redbus for ~$135 million and eBay (NASDAQ:EBAY) has partnered with the leading e-commerce portal Flipkart. The Indian Internet market is growing by leaps and bounds as smartphones have allowed India's low-income customers to access the Internet. MMYT forms a great acquisition target for the likes of Priceline and Expedia, which have been buying OTAs around the globe to increase their scale.
4) Large underpenetrated Indian Market - India has a population of more than a billion citizens and most do not have Internet access. However, the Internet penetration in India is growing rapidly as e-commerce portals are managing to beat the brick and mortar retailers on prices. Travel portals have also helped in lowering of prices for consumers as they offer a quick and convenient way for consumers to compare prices amongst different service providers and directly book the hotel/airline of their choice. Airlines have also been completely moving toward the online booking of tickets. Smartphone and tablet apps have also improved Internet access and MMYT said that it is getting 10% of its bookings done through the mobile route.
5) OTA is growing rapidly - The OTA market is growing rapidly with hotels and holiday packages seeing sharp growth. MMYT has managed to sharply increase its hotel and packages revenues to 41% of its total revenues, from 25% five quarters ago. Even though the airline industry is going through a tough phase because of the economic slowdown, hotel business is seeing large growth due to the value proposition offered by online transactions.
6) Margin profile should improve - MMYT's net revenue margin for airline bookings is in the ~5% range, while it is more than double at ~12% for hotels and holiday packages. The company is aggressively growing this division through both organic and inorganic efforts. The overall margin profile of MMYT is going to improve as the company gets more hotel inventory online. This will also help it recover from its current losses.
So as for the Air Ticketing business margin, net revenue margin, is concerned, so as of now, what we estimate for the current year is going to be in the range of between 5% to 5.5%. And this quarter, 5.3%, last quarter was also 5.3%. And until the time there is any other new development that comes to life, we expect that it should stay between 5% to 5.5% in the current year. That's what our current estimate is. And as far as the product mix for H&P or the contribution from H&P business is concerned, in this year, our total non-air business contributed, as we mentioned, about 35% of the total net revenue. Going forward, we expect this mix to improve in the current year to probably about 45%-odd coming in from H&P.

Source - Seeking Alpha
MakeMyTrip Risks
a) Losses - MMYT has been making losses in the last few quarters, despite the company's increasing revenue. The company's operating margins had become positive in 2011 and 2012, but again turned slightly negative in 2013. However, the company's cash flow has not been affected much as the FCF is more or less at the breakeven level.
b) Competition is rising - The Indian market is very different from China, as the Indian government does not impose strict censorship and American companies dominate a lot of the verticals. For example, Google (NASDAQ:GOOG) dominates the search segment and eBay and Amazon (NASDAQ:AMZN) are all set to capture a large part of the e-commerce vertical in India. In the OTA space, domestic competitors such as Yatra and Ibibo are quite strong and have got a brand recall as good as MMYT. Priceline, Tripadvisor and Expedia have also entered the Indian market in the last couple of years. These companies have superior technology, resources and a bigger inventory.
c) The Indian economy is in a bad state currently - The Indian economy has seen a sharp slowdown in recent times like the rest of the emerging markets. The GDP growth has almost halved to ~5% and revenue and margins for most companies have declined. This has also hurt MakeMyTrip.com, which depends on travel spends for its revenue. A recovery is not expected before the next general election in 2014.
A significant lowering of airfares has not led to any growth in domestic air traffic in the first six months of this year compared to the same period last year, though the travel trade hopes of an improvement from the busy winter season starting October. Air fares are almost 20 per cent lower this year than in 2012 and the trend is likely to continue this month too, but passenger traffic has remained at the same levels as January-June last year.

Source - Hindu Business Line
Stock Performance
MakeMyTrip has nearly halved in value since its IPO during 2010, when it got listed at ~$25 and now is trading at $13.54. The company's performance has been bad both on a short-term and a long-term basis. The stock is currently treading in the middle of its 52-week range of $10.77 and $18.5. The stock has given a loss of ~20% in the last one year, though it has risen by ~8% year to date. The company briefly saw a spurt in its stock price to reach nearly ~$40 after its IPO. Since then the company has been forming lower peaks continuously as its stock price has decreased sharply.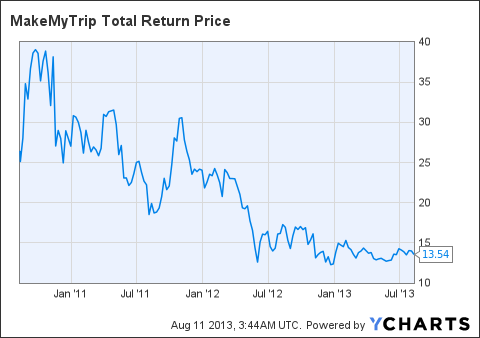 MMYT Total Return Price data by YCharts
Stock Valuation
MakeMyTrip is not expensive with a P/B of 5.3x and a P/S ratio of 2x. The valuation is cheaper than Priceline, but more or less similar to Expedia. The company is not forecast to make profits this year, so valuing it on a P/E basis will not make sense. The company has a market capitalization of ~$500 million. MMYT's valuation has become much more reasonable since its IPO and is trading at realistic levels now, which factors in most of the risks.
Summary
MakeMyTrip has seen its stock price correcting sharply after the successful IPO, as profitability growth has not been as good as the topline growth. However, the company is growing strongly and its margin profile will improve as the company concentrates more on the Hotels and Packages segments. The Indian economy is currently in a bad shape but should return to better growth in the next couple of years. The valuation for MMYT has become much more reasonable now and the company is also a great acquisition target for some of the bigger global OTAs. The company faces some risks from rising competition both from domestic and foreign players. However, good brand recall and its No.1 position in the Indian market mitigates those risks. India's huge population is moving online as it reduces overall travel costs and Internet accessibility has also increased with the sale of $100 Internet-capable mobile phones. I think MMYT is a good long-term bet on the growth of the Indian economy and rising Internet penetration. I would look to add the stock on pullbacks.
Disclosure: I have no positions in any stocks mentioned, and no plans to initiate any positions within the next 72 hours. I wrote this article myself, and it expresses my own opinions. I am not receiving compensation for it (other than from Seeking Alpha). I have no business relationship with any company whose stock is mentioned in this article.