When I wrote my first article on Corinthian Colleges Inc. (NASDAQ:COCO) last Thursday night, Corinthian: Five-Bagger or Value Trap, I was really quite attracted to the stock and seriously considering investing. I still had some doubts and told readers I'd keep researching. The article was successful in getting a discussion going and many fresh topics were brought up in comments that I intend to address in this article. I was also somewhat disappointed then that I wasn't able to give a definitive recommendation on Corinthian stock, but now with this additional information and some careful deliberation, I'm comfortable recommending going long. My goal is for this article to supplement my last article so that my analysis is complete and fully actionable for investors.
At the end of my last article, I was a little uncertain as to whether I personally would invest in Corinthian and I didn't actually give a recommendation. You probably already noticed from my disclosure at the top that I am now long Corinthian. After considering what is publicly known now and the likelihood and consequences of various potential events in the future, I decided to liquidate my existing positions and put my entire portfolio into Corinthian stock. So know as you read my bullish, yet hopefully realistic points that my money is certainly where my mouth is.
I'm sure many of you gasped or thought me a fool when you read that I'd put all my money in Corinthian - a stock that is extremely risky by many qualitative standards. The company is now certainly in an extremely adverse situation - it is being investigated by the SEC, faces class action lawsuits from angry shareholders, could be forced to post a letter of credit for close to $200M, has liquidity issues, and so on. While these are all very real risks that could debilitate the business, I believe the risks as a whole have been overstated and priced into the stock, making actual downside on stock price pretty limited.
Letter of Credit
The Department of Education has been reviewing the company's 2011 and 2012 composite scores. Since the original calculation disagreement, executive management at Corinthian performed a new 2011 and 2012 calculation using ED methodology and calculated a score of 1.0 for 2011 and 1.5 for 2012. If either of those scores is accurate, the company will not be required to post a letter of credit at all. If the score of .9 for 2011 that the ED originally calculated sticks AND 2012's score is 1.4 or less, the company will have to post the letter of credit for about $175M.
I summarized the letter of credit fiasco in my last article but I've got some updates on that front. The latest official update from the company came with its Q3 results when CEO Jack Massimino said the following:
The Department of Education is in the process of reviewing our revised fiscal 2011 submission, which excludes discontinued operations, as well as our fiscal 2012 submission. The department is reconsidering whether we should be required to post a letter of credit, taking both fiscal 2011 and fiscal 2012 into account. In March, the department sent us a letter requesting additional information on several issues related to our fiscal 2012 submission and we have responded to their request. I stayed in touch with higher level department officials since this process began, and we've provided them with written expert opinions and other information in support of our position. In addition, at the time of our previous call, we had agreed with our banks that while the composite score issue was pending, we would not draw additional amounts on our credit facility. However, since the issue remains unresolved, we have reached a new agreement with our banks to draw upon the facility to satisfy short-term cash needs and then to repay as our cash position improves. We'll continue to keep you apprised of important developments as we move forward in the process.
I contacted Investor Relations seeking a clarification of the composite score situation but wasn't able to get anything. Since an 8-K hasn't been filed, I expect the Q4 release on 8/20 to include a similar description of progress. A formal decision from the ED probably won't be announced but Massimino will recount the company's recent efforts. A decision from the ED would be too important to hold off on announcing until the earnings release. It will have to be announced soon after the company gets the information, so it will most likely come in an 8-K and its timing is unpredictable. A decision was supposed to already been made by the end of January this year, so I don't think investors will be in the dark much longer.
Again, all the indicators say the decision could go either way. The company has secured a letter of credit if need be, but also been actively persuading the ED. Since it's up in the air, I wanted to think critically about what would happen in either scenario.
If the ED accepts either of the company's new calculations and extinguishes the letter of credit requirement, this will be a huge catalyst for stock appreciation. This has been the single largest issue weighing on the stock and good news would make the company's future much more visible for investors, save the company about $2M annually on the letter of credit and allow the company to keep developing 100-125 new programs annually which has been the company's main source of growth. More important than any material results on the business, letter of credit avoidance would be a reason to buy the stock again. Most investors need more than just an attractive valuation to buy shares. They want good news or positive sentiment to confirm their bullish thesis and this would certainly help in that area. It almost reminds me of what happened to Bridgepoint Education (NYSE:BPI) stock when the company announced its Ashford University received initial accreditation from WASC last month on July 10. The stock shot up 30% in a single day and has since rallied 6% higher despite reporting disastrous new student enrollment numbers this quarter. It just goes to show you the power of the 'dust settling' in an industry that has certainly been plagued by plenty of uncertainty.
If the ED rejects both of the company's composite score calculations and reaffirms the letter of credit requirement, there will be negative repercussions, but it won't destroy the business. Corinthian already has the letter of credit secured in case it needs it. A letter of credit typically only costs about 1% annually or $1.75M in this case, a small fraction of Corinthian's annual cash flows. The company will also be placed on provisional certification which will come with additional monitoring from the ED and make it more difficult to develop new programs. Since COCO depends on rolling out 100+ new programs annually for enrollment growth, provisional certification would hurt growth. The company would still be able to get programs out but 100+ would no longer be a realistic target. Based on a 10-K from Education Management Corp (NASDAQ:EDMC), another for-profit education company that is already provisionally certified and has had to post a letter of credit, provisional certification lasts for at least 3 years and the letter of credit requirement lasts for at least a year and could be discontinued or not from there depending on the company's future composite scores. The letter of credit would also limit the amount the company can draw on its credit facility, making liquidity more of an issue. The sanctions will certainly be a real burden while they last but it's important to recognize that COCO is not just doomed to bankruptcy by this alone. In fact, I think a bankruptcy is rather unlikely. Corinthian still has very strong cash flows and has drastically improved its balance sheet by about $120M in the last year. It seems like the company didn't have much trouble securing the letter of credit and I think the company could obtain further leverage if necessary. If FCF returns to $100M+ like it very well could, liquidity won't be much of an issue at all.
Class Action Lawsuits
A few class action lawsuits seek damages related to the SEC investigation that was publicly disclosed a few months ago. I failed to notice these suits in my initial analysis because the company hasn't said a word about them. A commenter first mentioned the issue and I was able to get some information from various news feeds. One such suit describes its case as follows:
The complaint alleges that, throughout the Class Period, defendants made materially false and misleading statements regarding the Company's business, operational, and compliance policies. In particular, it is alleged that the Company made false and/or misleading statements and/or failed to disclose that: (A) defendants manipulated federal student loan and grant programs in order to appear compliant with federal regulations enacted in June 2011; (B) defendants violated said regulations by engaging in deceptive recruiting and enrollment practices; and (C) the Company engaged in systemic grade falsification in order to appear in conformance with said regulations.

On June 10, 2013, the Company disclosed it was under investigation by the SEC. Shares of Corinthian stock fell to a close of $2.46 per share, following a close of $2.79 per share prior to the disclosure.
To be honest, I don't know whether Corinthian is guilty of said practices. I do know, however, that the SEC investigation is also largely attributable to the ED composite score situation. The SEC had held correspondence with Corinthian last year regarding the composite score situation and I think that played a part in the subpoena this year. Corinthian shed about $28M in market cap when the SEC investigation was made public. If that is used to determine damages in the class action suits as this press release implies, it's a burden the company's balance sheet can bear at this point. If the SEC investigation leads to something bigger than class action payouts, the damage could be much more serious, but that's impossible to predict at this point. The class action lawsuits still seek a lead plaintiff and I haven't heard anything from the company regarding them, so there is a chance they will fall through.
Management
Anyone who has looked at Corinthian's performance of late has to admit that management has done an absolutely tremendous job dealing with all the issues that have plagued the company. This isn't just talk either; Massimino and his team's successes are evident in the numbers.
As I mentioned in my last article, cohort default rates were increasing rapidly at the company's schools and got dangerously close to the federal cap of 25% for the 2009 federal fiscal year. Management implemented a 'multi-faceted cohort default prevention program' and in just one year, the company's weighted average CDR dropped down 69% to an industry-leading level that was half the national average for 2010.
In 2009, a quarter of Corinthian's students were ATB (Available to Benefit). Around then when word got around that the government could possibly stop offering financial aid to ATB students, the company switched gears and began targeting new programs towards non-ATB students. More recently when change went into effect, the company launched the GED Advantage program to help ATB students get their GED for free and effectively become eligible for Title IV funds. The company also anticipated the enrollment decline and took the initiative to decrease expenses by $150M annually which was achieved just last quarter. Now, as other schools that catered to ATB students close in large numbers across the country due to large enrollment declines, Corinthian's schools are taking in many of the former students from these schools and non-ATB new student enrollments are projected to be up an impressive 5% for fiscal 2013.
When the company's schools were up for reaccreditation, the accreditor would often find issues at the schools that threatened continuing accreditation at the school. Management recognized the disastrous potential results of accreditation loss and improved the company's internal auditing system. Average reaccreditation findings has drastically dropped from 2.8 to .91 in just a little over a year.
I just really like how management addresses issues and gets results quickly and efficiently. I think many investors take this for granted when they analyze the company. Considering all the issues that still face the company, effective management probably remains the single most important determining factor to the success or failure of the company (as is usually the case but even more so here). Even just looking at the biggest issue now in the composite score dispute, management has made serious efforts to avoid the letter of credit and provisional certification. Massimino stayed in touch with the ED informally and the company met with the ED and presented expert opinions and its own calculations using ED methodology. The company prepared for all possible outcomes, securing a letter of credit way in advance and strengthening its balance sheet as much as possible. By the way, that's why there haven't been share repurchases. I mentioned in my last article that I was concerned that the company didn't have a buyback plan in place at a time when the stock was ridiculously cheap. Well, the company is using its cash flows to strengthen its balance sheet instead in preparation for an adverse ED decision. I'll take $120M in reduced debt over buybacks at an unpredictable time like this. We'll see what the ED decides but it's hard to argue that executive management could've done a better job preparing for it.
Panetta
This was an issue brought to my attention in the comments of my original article. You may have heard the name Leon Panetta before. He served as Director of the CIA and Secretary of Defense for a few years each during the Obama administration. He's clearly a very powerful man with connections in the White House, just where Corinthian could use some representation. Panetta actually served on Corinthian's Board until 2008 when he was appointed by Obama. With the company's Q3 release a few months ago, the company announced that Panetta would be rejoining the Board. Less than 2 months later on July 16th, the company announced that Panetta would be leaving the company:
In a letter to Jack Massimino, Corinthian's Chairman of the Board and Chief Executive Officer, Mr. Panetta stated, "As I indicated to you at the time you asked me to rejoin the Board of Corinthian, I was struggling with a large number of commitments, requests and obligations on my time. Unfortunately, they have demanded a much greater time commitment than I had anticipated and made organizing my life more difficult." Panetta further explained, "Based on the obligations that I have described, I have come to the difficult conclusion that there is no way I could do justice to myself and to my role as a board member and that it would be both unfair to you and Corinthian to think that under the present circumstances, I could devote the time needed to effectively serve as a board member."

Mr. Panetta expressed his continuing support for Corinthian and its mission, stating, "I believe in and support the educational role of Corinthian in delivering educational opportunities to those that otherwise would never have a chance to succeed. It is also obvious that the role of Corinthian is going to be continuously challenged legally and administratively because of what appears to be a slanted and misinformed attitude toward this form of educational opportunity. To counter that challenge will of necessity demand a great deal of time and attention on the part of each and every board member. . . . As I have told you, I have the greatest respect for you, your leadership, and your dedication to the mission of Corinthian and I believe that with you and the rest of the board at the helm, your mission will be supported because it is right and you will continue to be successful."

In commenting on Mr. Panetta's resignation, Mr. Massimino said, "We regret that Leon's other commitments make it impractical for him to continue as a board member. We had looked forward to his continued guidance. However, we understand that the demands on his time are extraordinary and wish him success in his important endeavors."
I initially thought what most commenters on my original article did: that Panetta's untimely resignation was the result of serious unethical practices at Corinthian's schools or some other internal issues. I'm by no means counting this out, but let's at least consider Panetta's official reason. Panetta attributes his resignation to 'commitments, requests, and obligations on his time.' I don't think it is so far-fetched to think that maybe this was actually his true reason for leaving. The first time he left, commitments in the form of an appointment from President Obama caused him to leave. Just because he isn't still working under Obama doesn't mean his working life is over. Panetta and his wife founded the Panetta Institute for Public Policy years ago, an educational nonprofit through the University of California. Panetta resumed working actively at the Institute in February of this year after his stint as Secretary of Defense. So it's not as if he doesn't have a day job. In addition to that, he also serves as a public speaker. In mid-June just a month before his resignation, he gave the commencement speech at Santa Clara University. So he was clearly busy before he even returned to the Board in May. Then comes the big blow. In early June, a story was released that Panetta accidentally revealed the Navy SEAL unit identification that took down Osama bin Laden at a 2011 ceremony attended by "Zero Dark Thirty" filmmaker Mark Boal. Some politicians said that Panetta had reason to be discreet at the ceremony and that he deserves blame for it. The White House's reputation took a hit after the news came out and Panetta probably had to lay low for a while. He rejected countless interviews. An ongoing DoD assessment/investigation continues without results yet, but Panetta has probably been involved in that as well. While it is very unlikely that Panetta is legally liable for his actions, this situation has probably hurt the reputation of the Panetta Institute and been a very large 'commitment'- the kind of commitment that makes someone want to settle down and lay low and rethink that second job they just accepted. Also, when Panetta resigned, I'm sure Massimino and the board asked him to reassure investors by making an encouraging statement about the company. He did and maybe it's not from the heart, but if Panetta was really so disgusted with the company to leave, do we really believe he'd agree to write a statement like that? Massimino also said that Panetta visited Corinthian's schools and got updated on the company before he accepted the job, so it wouldn't make sense for him to accept the job in the first place if he didn't like what was going on internally at Corinthian. I'm not saying I absolutely believe Panetta's resignation letter, but I am definitely much less worried now about this issue than before I knew the whole story.
Opportunity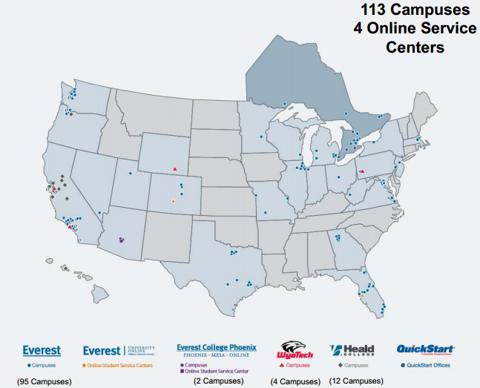 Many of Corinthian's campuses are located in California. California presents opportunity because of the consistent demand surplus for California's community colleges. Almost 600,000 students are turned away by California's community colleges every year and the gap is expected to increase. 94% of Corinthian's students are in Diploma or Associate's degree programs so its schools serve as a viable alternative to community college for these students. As I already mentioned, many other schools that have thrived in the past in California as alternatives to community college are now closing, decreasing Corinthian's competition and providing a new stream of former students from these institutions.
I'm Not Alone
After I wrote my last article, I got some good feedback from Lisa Rapuano of Lane Five Capital. Lisa has co-managed investments with Bill Miller in the past and has her CFA and a degree from Yale. Her firm manages close to $100M and owns more than $5M worth of Corinthian stock.
Paul St. Pierre, the Vice Chairman of the Board, bought about 100,000 shares at $2.52 per share in November of 2011. Since then he has received a good deal of restricted stock, most of which has vested already. He hasn't sold or disposed of a share since his purchases in 2011 and his holding is now worth more than $1M.
Risk-Reward Tradeoff
My decision to invest so heavily in Corinthian was mostly driven by the simple fact that I think my potential upside greatly outweighs my downside. I mentioned in my last article that Corinthian could very well make over $100M in FCF again. The company made as much as $200M just a few years ago and $100M would represent only slight margin improvements and a small percentage of the projected $1.6B in revenues for 2014. The turnaround in enrollments is already clear and if a free cash flow recovery were to follow, the multiple on the stock would expand, probably to double digits and Corinthian could be worth $1-1.5B compared to a current enterprise value of about $220M. I could see as much as a 580% return in just a few years. There's also been rumors that Corinthian could be acquired and it does appear to be an attractive acquisition target. In that case I'd make a pretty premium quickly. A typical acquisition price is an EV/EBITDA of 10. Corinthian stock now trades at an EV/EBITDA less than 2.
On the other hand, my downside is pretty limited by the company's tangible book value which now sits at $184M, just 3% less than market cap. I don't know of any other company as profitable as Corinthian is now that is selling for TBV. It's a metric that usually doesn't even enter the discussion unless a company is losing money hand over fist. Worst case scenario, Corinthian gets killed by these lawsuits and a letter of credit requirement and the company gets liquidated. Some of book value would go towards damages for the lawsuits but some of that $184M would be left for shareholders, leaving me with a less than complete loss.
600% upside compared to about 60% downside makes Corinthian very, very attractive for me and that's why I went way long.
I know I'm accepting a good deal of risk but I also know that there's a good chance I could make a lot of money here. I feel that Corinthian stock is just the sort of hated, fundamentally sound company with triple digit return potential that I once thought a myth left for Peter Lynch and Seth Klarman's books. Now that I've found such an opportunity, I want to make the most of it and that's what I've literally done by going all in. It could work out or not, but I think the risk-reward tradeoff is greatly skewed in my favor. If you have some tolerance for risk, I'd recommend buying shares while they're cheap here.
Disclosure: I am long COCO. I wrote this article myself, and it expresses my own opinions. I am not receiving compensation for it (other than from Seeking Alpha). I have no business relationship with any company whose stock is mentioned in this article.