The 2nd quarter of 2013 will go down in the history books for bond yields and rate-sensitive investments. The 10-year Treasury bond increased in yield from 1.87% at March 31st to 2.52% on June 30th, an increase of 65 bp. or a 35% rise in yields. The potential for an outsized percentage rise in rates was always omnipresent the last few quarters, given the levels to which the 10-year Treasury had sunk (as low as 1.37%) but even a 65 bp. rise in 3 months is unprecedented unless one goes back to the double-digit days of the late-1970s and early-1980s. The rise continued into the 3rd quarter with the release of the July 5th Non-Farm Payroll number, spiking to 2.72%, a level we have re-touched this week.
All of this led to unprecedented declines in the prices and book values of mREITs (see charts below). Not even the Fed's rate hikes of 2005-06 with mREIT leverage and valuation levels much higher (leverage @ 10:1, P/B levels @ 140%) led to the carnage we saw in Q2 2013. For many investors, the mREITs are now on Double Secret Probation after a quarter in which book values looked like they were managed by Bluto Blutarsky. Can the mREITs recover, or is Dean Vernon Werner about to give them the boot from investors' portfolios like he did to the frat guys from Delta House in the 1978 classic "Animal House"?
The good news for Mortgage REITs and the investors who hold their shares is it is difficult to imagine another quarter that could match the volatility and upward rate pressure seen in Q2 2013. A 35% rise in yields would now necessitate a 95 bp. rise in yields; a similar 65 bp. rise would boost yields only by 24%. Bond mathematics now make it more difficult for rising yields to do the same damage they did from lower levels. This assumes, of course, that the near-parabolic rise in rates either reverses or increases at a much slower rate.
Unfortunately, the trend is still not an mREIT investor's friend. Though the economy continues to mostly plod along, continued fears of an end to QE3 and 'taper talk' combined with a string of generally positive economic and business releases have continued to put upward pressure on rates. Unless the U.S. economy slows, China or Europe hit an economic pothole, or the Fed announces a delay in Operation Taper, the path of least resistance remains up: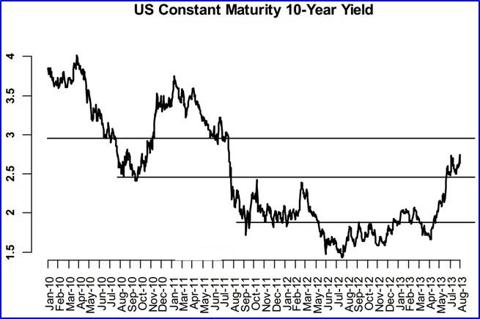 (Click to enlarge)
Merrill Lynch has a useful chart that details the forecasted book value declines for mREITs at various 10-year Treasury bond yields. The declines in book value are probably conservative given the additional hedges put on by the sector in recent weeks, but this is a good reference to see worst-case scenarios if you fear the Fed is about to lose control over interest rates: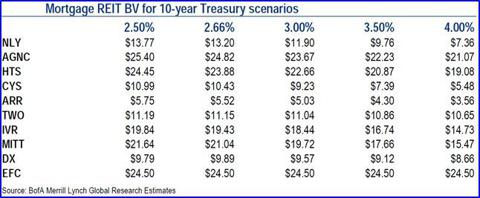 (Click to enlarge)
The concept of negative convexity doesn't only apply to MBS pricing and yields. You can see it in the stock prices of mREITs, an additional source of agita of late for mREIT investors. Take a look at CYS Investments (NYSE:CYS), from the time it peaked right after QE3 was announced last September: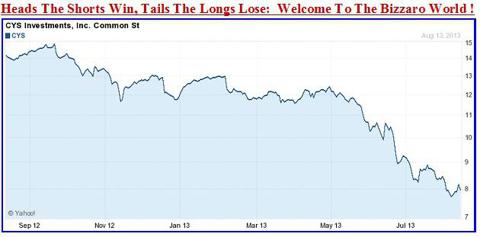 (Click to enlarge)
Initially, the Fed aggressively bought MBS, pushing up prices and yields down - but CYS fell 20% over the next few months as lower reinvestment rates and rising prepayment fears weighted on the sector. Yet when rates rose a few months ago - right direction, wrong magnitude - CYS fell an additional 33%!
Falling prices during periods of rising and falling rates? What is this, The Bizzaro World?
Price action for the mREITs in recent weeks were disappointing, even given the sizeable declines in stock prices in the quarter prior to the July/August earnings and book value figures. Check out the price declines in recent months for 3 long-duration agency mREITs vs. 3 short-duration agency and hybrid mREITs: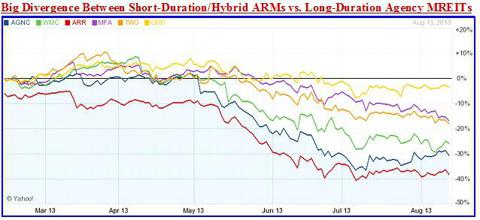 (Click to enlarge)
Even with similar sizeable declines into July, several of the mREITs still suffered 1-day declines of 5-10% when they announced earnings and book value results. Notable laggards included Hatteras Financial (NYSE:HTS), CYS Investments , and Dynex Capital (NYSE:DX). All came up short on book value, with HTS and DX suffering from a late-quarter collapse in longer-duration Hybrid ARMs. Investors flocked to these mREITs with the expectation that their adjustable MBS would hold up better in a rising-rate environment. But with the rise in rates concentrated in the long end of the curve, combined with spread widening and a dumping of these securities in mid-June, prices fell much further than expected. Only Capstead Mortgage (NYSE:CMO) held the right kind of ARMs: very short-duration paper with the bulk of the resets occurring in less than 1 year.
You can see some forecasted and actual book value declines in Q2 here: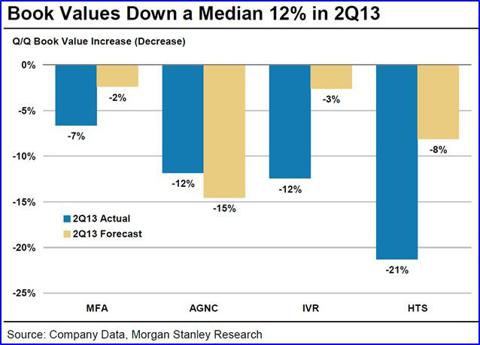 (Click to enlarge)
The chart shows why HTS and IVR took big hits when results were announced, but CMO and AGNC did much better on the days they announced their results. More mREIT book value movements for Q2 can be seen here in a chart from FBR Capital: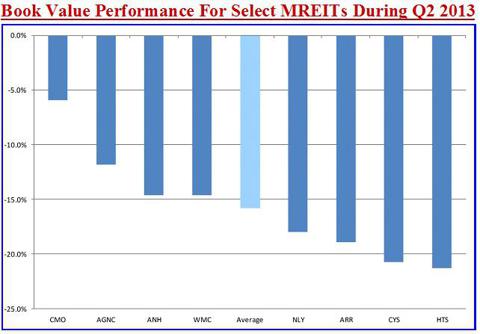 (Click to enlarge)
Not only did the rise in the 10-year Treasury spook mREIT investors in Q2, but MBS spreads widened, too. This made hedging portfolio declines exceptionally difficult as one could get the direction and magnitude of the rate rise correct but still suffer as spreads widened and hedges underperformed. Think back to Long-Term Capital Management in 1998 and how they were caught by widening corporate and emerging market spreads, or 1994 when Askin Capital Management blew up and cratered the MBS market when the Federal Reserve began hiking rates sooner and higher than the market had forecasted. Rapid rises in the absolute level of rates and/or widening spreads are extremely difficult to hedge. That is why you keep a capital liquidity buffer - cash! - earning very little and a drag on earnings and dividends.
The U.S. 10-year yield was pretty much trapped within a 25 bp. range between 2.50% and 2.75% in July, but intra-day volatility has picked up noticeably. In the last three months, there were 23 days of greater than 5 bps. daily moves and 8 days of greater than 10 bps. daily moves on the U.S. 10-year yield, the most since 2011 and the U.S.-European Debt Fiascos.
You can see the heightened volatility showing up in June and July in these charts from JPMorgan:


(Click to enlarge)
There are some breaks in the clouds, however. The prepayment problem of last year is off the table. Reinvestment yields are now substantially higher than several quarters ago, back to 2011 levels. Most of the mREITs took additional measures in Q2 or early-Q3 to add additional hedges in the form of swaps, swaptions, or other derivative products. Finally, as we stated earlier, unless bond yields continue to soar at their past rate or spreads widen as they did in Q2, even future yield increases or spread widening should do less damage than from the super-depressed level of rates we saw in the 1st half of 2013. Rates were as low as 1.66% on the 10-year Treasury as late as early-May.
The strong headwinds for the sector remain: rates still want to go higher, though the 2.75% level is holding (for now). MBS spreads are wide but can get wider in a panic (remember junk bond yields in late-2008?). Reinvestment yields are attractive, but mREITs cannot do accretive secondaries to access these lush returns. Precious capital is being kept as either cash or being deployed into additional hedges; either way, these funds are not earning spread income, which can sustain dividends (though they help protect book value, currently a higher priority). CYS indicated that at current paydown rates it will take 24-28 months for its $17 billion portfolio to turn over.
Finally, rumors abound about one or more mREITs being forced to sell on NFP Friday July 5th, the day the 10-year Treasury spiked 20 bp. and MBS yields blew out. Anybody forced to sell on that day got lousy prices and hurt book value. Nobody has 'fessed up about having to sell on that day and it continues to overhang the entire sector. It won't be cleared up for another month or so until Q3 releases come out. And if an MREIT did get margin calls that day, look out below if you are a shareholder of that name.
Valuations for both Agency and Hybrid mREITs remain at historically cheap levels: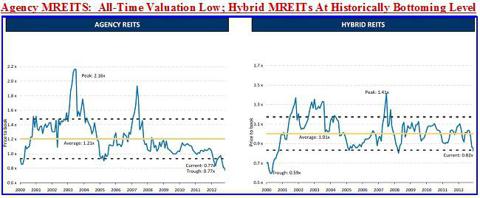 (Click to enlarge)
Here are 5 MREITS that performed near the top-of-the-class in the recent hyper-volatile quarter and offer some good value for resisting a continued rise in rates and prospering going forward:
MFA Financial (NYSE:MFA): MFA is one of the few MREITs - hybrid or agency - that had a single-digit percentage loss in book value in Q2 2013. Book value fell 7.4% in the quarter to $8.19 per share. MFA's hybrid structure - 57% agency MBS, 43% non-agency MBS - continued to provide diversification benefits. The agency MBS had a cost basis of 103.5 while the non-agency came in at about 74 cents on the dollar. This is important as it means that MFA's non-agency should continue to trade somewhat in a non-correlated fashion to interest rates. As an added plus, about 60% of the non-agency is adjustable rate mortgages.
When non-agency MBS prices get into the 80s and 90s, they tend to trade more strongly in line with agency MBS and treasury yields and they lose their rate diversification benefits. MFA's agency MBS securities are about 60% hybrid ARMs with the majority resetting within 1 year. While not providing the book value offset many expected in Q2, this paper is still less exposed than long-duration fixed rate MBS to rising bond yields. MFA's fixed rate MBS is 15-year paper, much shorter duration and easier to hedge than 30-year mortgages. Overall leverage at June 30 was 3.1x -- 7.1x on agency, 1.6x on non-agency -- so forced liquidations of the kind feared on July 5th should not be a concern for MFA Financial. MFA delevered by reducing debt, not selling assets, one of the few mREITs to have delevered in the quarter.
MFA has long over-reserved for credit losses in its non-agency MBS and during Q2 the company continued to release reserves as housing prices continued to appreciate and loans become more current. MFA expects continued improvements in LTV's backing non-agency MBS. The agency portfolio should benefit from slowing prepayments (CPRs) while improved refi capabilities for the non-agencies could lead to bond payoffs at or near par for a portfolio trading well below that figure.
$400 million in higher-rate swaps (costing 4%) rolls off the books in Q3 and Q4 so that should also aid the bottom line for the rest of the year, allowing MFA to continue paying its $0.22 quarterly dividend. Of note, the company just announced their second special dividend in the last few quarters. No promises, but future specials alongside a steady-to-rising regular dividend would not be a surprise. In the meantime, the shares yield 11.5% and trade at 92% of Q2-ending book value.
Capstead Mortgage: Capstead's focus on short-duration, fast-reset ARMs worked as advertised, as opposed to the problem with longer-duration 5/1, 7/1, and 10/1 hybrid ARMs shown in the results for Hatteras Financial and Dynex Capital . CMO reported Q2 2013 core EPS of $0.27, missing consensus of $0.32. Earnings going forward should benefit by about $0.10 per year from the redemption of a higher-yielding preferred security that was done in Q2. Yield on investments was 1.53% in Q2, down from 1.73% in Q1. Going forward, that pressure on earnings and the dividend should abate.
CMO experienced a 6% decline in book value to $12.80 in Q2, the standout performance in the MREIT sector. Leverage increased to 8.4x from 8.1x at Q1-end. CMO's $14 billion portfolio is 99% agency ARMs with almost 60% current resets with ultra-short durations and about 40% having the longer reset maturity. CPRs have ticked up as folks rush to lock in rising fixed rates but these prepayments should start to level off and decline as this is a normal occurrence with ARMs as mortgage rates rise. Shares currently trade at 93% of book value and yield 10.4%.
Management commentary points to a decline in borrowing costs in Q3 and Q4 2013, as another $1.1 billion of interest rate swaps paying about 0.80% will mature over the remainder of 2013. Maturing swaps, coupled with some slowing of prepays, should allow spreads to stabilize and improve and help sustain the dividend at current levels. Regardless, CMO's proven ability to hedge rising rates - when other hedging, hybrid ARM, and non-agency strategies failed miserably - has made mREIT investors sit up and take notice.
American Capital Agency (NASDAQ:AGNC): Gary Kain & Co. had one of the better quarters among all the MREITs, especially when you consider that AGNC is a high-leverage, long-duration agency MREIT. Book value was down about 12% at quarter-end to $25.51, much better than feared after the CYS and HTS debacles. AGNC managed to accomplish this by trading out of some 30-year MBS and adding 15-year MBS. They also increased their swap book, and they were still able to earn $1.01 in core EPS, just shy of the $1.05 quarterly dividend. UBTI of $1.07/share should enable AGNC to maintain the quarterly through 2013 before resetting the bar, if necessary, in early-2014.
During the quarter, AGNC added longer-term swaps to its hedge portfolio. The company's hedge ratio is currently at an all time high, with swaps, swaptions, and short treasury positions covering about 100% of liabilities. AGNC and Kain state that the company's sensitivity to a 100 bp. rise has been reduced by about 50% from Q1 levels. Earnings capacity - and maybe the dividend - are a bit weakened down the line, but Kain is rightly focusing on book value preservation.
AGNC had been hurt earlier in the year with a focus on prepayment protected securities (they had helped immensely in 2011 and 2012) but its more aggressive approach to hedging lessened the book value impact from the Q2 sell-off in these bonds. AGNC indicates that if all pay-up securities were to trade to par, book value would only decline by an additional 2.5% from the Q2 level.
The investment case for AGNC remains top-notch management led by Kain, ability and willingness to dynamically adjust the portfolio and hedges intra-quarter, and the most transparent management team in the business. With AGNC, there are few surprises and what you see is what you get (certainly not the case with other mREITs in Q2). The shares yield 18.2% and trade at about 90% of Q2 book value, near the historical lows that AGNC has ever traded at since its 2008 IPO. Even a worst-case slash in the dividend to $0.80 (unadjusted spread income, a rock-bottom earnings measure) would have the stock yielding 14% at current levels.
TWO Harbors Investment (NYSE:TWO): Like AGNC and MFA, TWO saw good book value preservation but was a bit weak on Q2 earnings. Core EPS of $0.21 was down from $0.29 in Q1 2013 and missed consensus, too. The miss reflected a lower net interest spread and increased hedging costs, a theme which might be afflicting more mREITs later this year before capital can be recycled into higher-yielding investments. Book value declined 6.4% to $10.47 from $11.19 in the March quarter.
The net interest spread declined to 2.5% from 2.9% in Q1. The average asset yield fell to 3.7% from 3.9%. Cost of funds was largely stable. The spread on Agency MBS declined to 1.6% from 1.9%, while the spread on non-Agency MBS was flat at 6.8%. Leverage increased to 3.6x from 3.1x in Q1. TWO also repurchased 1 million shares during Q2 at $10.50 per share.
79% of the portfolio is Agency MBS with 20% non-agency and the remainder in agency derivatives. TWO continues to use a unique 'barbell' structure with the bulk of the agency portfolio having prepayment protection (which took a hit in Q2) and about 90% of the non-agency MBS having subprime credit qualities. Leverage rose from 3.1x at Q1-end to 3.6x at Q2-end, the rise largely a result of TWO deploying the March capital raise in April and May.
TWO trades at about 92% of book value, which is likely to be the focus going forward, not earnings or the level of the dividend, currently yielding 12.6%. TWO increased its holdings of credit sensitive loans during Q2, which carry a higher probability of default than newly originated loans. TWO had $438 million of credit sensitive loans compared to only $123 million in the prior quarter.
Longer-term, TWO had previously announced it had received servicer approvals from the GSEs - Fannie, Freddie, and Ginnie Mae -- which would allow the company to get involved in the lucrative and rate-hedging business of mortgage servicing rights (MSRs). TWO management said in July it had closed on two small bulk MSR portfolios and is currently in discussion with other potential MSR sellers.
Apollo Residential Mortgage (NYSE:AMTG): AMTG did not stand at the head of the MREIT class in Q2, but its portfolio appears to be well-positioned going forward. Book value of $18.63 was a 14% decline from Q2 but largely in-line with consensus estimates. AMTG finished the quarter with a portfolio that was 75% agency MBS and 25% non-agency.
Core EPS of $0.59 in Q2 was well short of the $0.70 quarterly dividend, as AMTG shrunk the agency MBS side of its balance sheet by about 35% while boosting non-agency MBS by over 25%. Total leverage fell from 5x to 3.9x, a significant reduction in risk largely accomplished by the agency sales. The dividend might be trimmed, but the focus is on book value preservation, leverage, and rate sensitivity. On those measures, AMTG's stock has already reflected the negative of a dividend cut while not factoring in future book value resistance to rising rates.
AMTG repositioned its portfolio to achieve a net duration exposure of close to neutral at quarter-end. AMTG's non-agency portfolio is largely floating rate subprime MBS. This should accentuate the ability to withstand higher rates and preserve book value. AMTG is positioning itself as the go-to MREIT for investors who want to bet on continued economic improvement helping to strengthen housing fundamentals. AMTG management clearly feels rates are moving higher over the next few quarters - if not at the velocity of the move in Q2 - and it is positioning itself accordingly. A fat yield of 17.7% awaits those at the current share price and the shares are trading at 86% of Q2-ending BV. Even a 15% cut in the dividend to $0.60 quarterly would make for a 15% yield with the added protection of book value protection if rates move materially higher.
An MREIT Survivors Guide to investing in the sector does not just include a focus on specific names, though it is important as I noted above. Keep in mind these key techniques to navigating the turbulence:
The Basket Approach: Always employ a basket of the names, and make sure you are diversified across both agency and hybrid MREITs. Pick the strongest, best-of-breed, or best-managed MREITs in each space, preferably 3-4 names each.
Hybrids Are Not A Panacea: The rising rates in Q2 showed that just having non-agency exposure via a hybrid MREIT was not enough to insure book value stability. You must see what the agency portfolio holds such as long-duration vs. short-duration. Additionally, excessively high-quality credits in the non-agency sphere can trade more like agency MBS during periods of rising rates. Going down the credit ladder to cheaper priced non-agency MBS can actually reduce your risk. Finally, not all hybrid ARMs (distinct from hybrid MREITs) are created equal -- just ask CMO and HTS.
Rising Rates = Stronger Economy: Do not assume this is the case going forward. A belief that any and all non-agency MBS will do well in a rising rate environment because rising rates signify an improving economy and housing market is not 100% accurate. With the Fed talking about and getting ready to initiate Operation Taper, rates could edge higher even if the economy weakens, as counter-intuitive as that may seem. Remember, the 10-year Treasury was almost 4% in early-2011.
Transparency: Know what you own, listen to conference calls, check 10-K's and 10-Q's, and ask yourself if management is disclosing all that they can. Some company managements divulge much less information about their portfolio holdings, hedging strategies, and forward strategy. AGNC's strong positive reaction to its earnings and book value release showed that adhering to stated portfolio objectives can lead to positive shareholder and market reaction even when times are tough.
A Call To ARMs: For years, companies like HTS, ANH, DX, and CYS had preached the virtues of 5/1 and longer-reset hybrid ARMS and 15-year fixed-rate MBS. When spreads widened and bids dried up in mid-June, these stocks all took larger-than-expected book value hits. Though the agency MBS market is the 2nd most liquid market in the fixed income arena after U.S. Treasuries, even it has hiccups. Assume nothing with non-Treasury bond pricing during periods of rising rates, spread widening, and heightened volatility. That way, you won't be negatively surprised as were investors in certain stocks, which held the aforementioned paper.
If you are bullish on rates and believe they are headed higher, you will want to play the MREIT sector ultra-cautiously or even avoid the sector altogether. If you believe that the 25% rise amid low-volatility in the S&P 500 since last November is due to reverse and reverse wickedly, then defensive rate-sensitives like MREITs should catch a bid going forward. But no guarantees: while the sector has gotten hit during a period of rising rates and rising stock prices, there is no law against the sector getting dragged down if the stock market and bond yields both fall, as we saw with CYS's negative stock price convexity.
I do believe MREITs will outperform in that environment relative to the stocks that have flown upward since last November, with their total returns aided by the high dividends. But for investors to realize the attraction of MREITs' fat dividend yields, the rise in bond yields must stabilize and/or reverse to prevent continued book value and price erosion which offsets the stabilizing and slowly-increasing dividend yields.
I wonder if falling stock prices and dividend yields are the signs of a good stock in The Bizzaro World?
Disclosure: I am long AGNC, CMO, TWO, AMTG, MFA. I wrote this article myself, and it expresses my own opinions. I am not receiving compensation for it (other than from Seeking Alpha). I have no business relationship with any company whose stock is mentioned in this article. Accounts under the control of the author via personally managed or online portfolios hold positions in all of the stocks mentioned in the article.