Is Europe the next big bull market? Quite possibly.
I believe that European equities are incredibly attractive for the long-term investor, with certain regions, namely Southern Europe, poised to potentially deliver some of the highest returns among global markets over the next decade.
The Macro
It's not news that the European economy has been an utter basket case over the past 5 years, but momentum may be shifting. European PMI surveys, for instance, recently trended above 50 for the first time in 2 years and more importantly are now squarely above the 12 month moving average.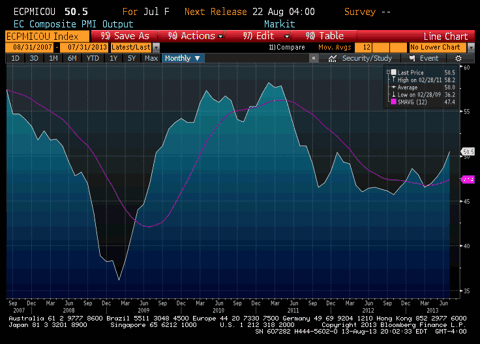 In the past, investors have been critical about corporate over-investment. However, looking at investment spending at significantly below its lowest Percent:GDP since our dataset began, it's hard to accuse Executives of being anything but tight-fisted with their Euros. But with the recent uptick in Industrial Production/PMI, a "green shoots" case for stabilization can be made. I think the logic used in our Housing article last year that, "it can't get worse" applies once again as it frames the downside risks...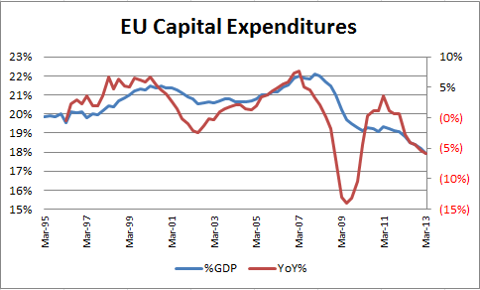 Meanwhile, European austerity, while not my preferred route for adjustment, is finally showing signs of success in even the most basket case countries. The Wall Street Journal reported recently that Greece is set to see its first primary surplus since the crisis began.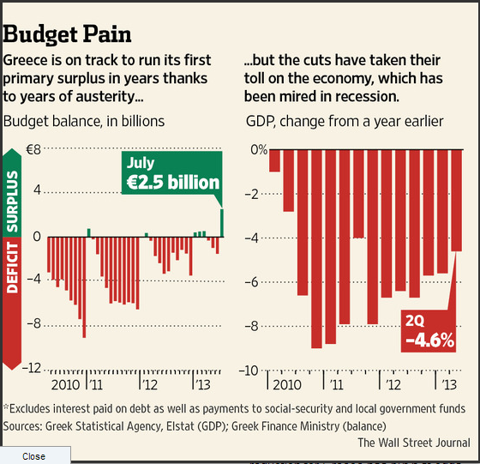 While commenters will snicker about fake Greek data (they've got nothing on China), Mr. Market, the ultimate judge, has responded in kind, by bringing Southern European borrowing rates to the lowest levels since early 2009. While investors have claimed there is "no value" in fixed income since late 2011, they would have missed a 17% rally in PIIGS sovereign debt as measured by Bank America Merrill Lynch.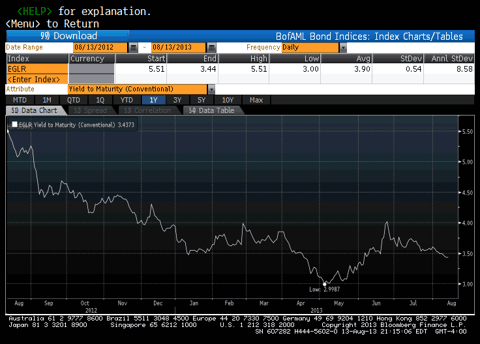 Source: BAML
The Fundamentals
It's hard not to believe that such a significant drop in borrowing rates and the arrest of an incredibly dire situation just 1 year ago, will not have positive ramifications on earnings. Indeed, the EPS chart of MSCI Europe shows a potential inflection in earnings momentum occurring. Typically, earnings shifts are cyclical events which last years rather than months, so we could very well be at the beginning of a long lasting rally.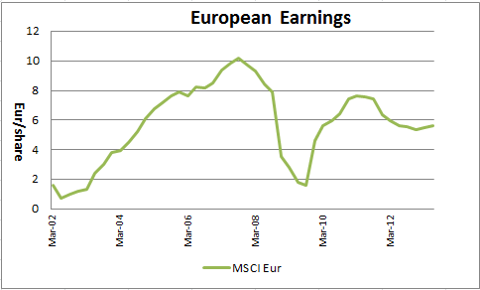 Valuation metrics also show European equities are straddling the bottom. Price:Book and Price:Sales ratios are at multi-year lows. Meanwhile, margins (not shown) are also far below historical trend, which bodes well for a mean reversion in corporate earnings power.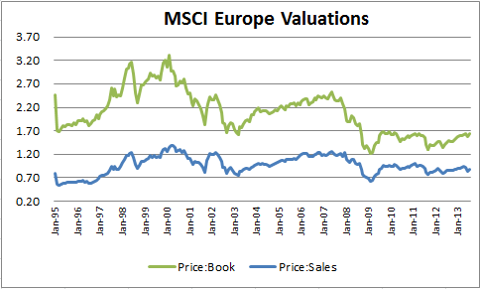 The Technicals
Pull up a 10 year chart and it basically corroborates everything you've just read. Unlike the U.S., European equities trade significantly below their all time highs.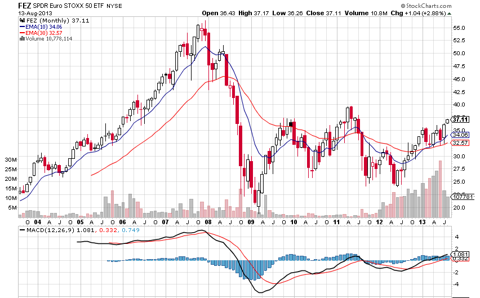 And despite all the brouhaha regarding the performance of the S&P500, it may surprise you to learn that you would have been better off owning the European Stock ETF (NYSEARCA:FEZ) over the past year. A sustained outperformance over a 252 day timeframe is a very positive development for continued earnings momentum.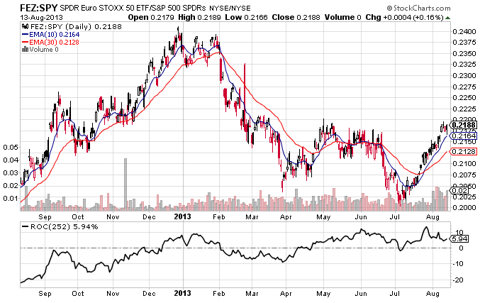 The Caveats
I don't think playing the European recovery is as simple as buying the widely-held ETF. All of Europe is not created equal. European staple stocks, like Nestle, which make up a large part of the MSCI Europe, have had tremendous runs in the past 4 years, as money managers hid in safe cash cows. Furthermore, markets in Germany and the UK have significantly outperformed the PIIGS. Ultimately, the most leveraged way of playing the European theme is via the most distressed companies that derive their business from the Continent. This could be the local recruitment company or homebuilder, and of course, the local bank.
As we have seen in past cycles, the most leveraged way to play a recovery is through the financials. This is where there is the deepest value and the most potential for significant gains lies. Investors who want more pinpointed exposure, but don't want to take single security risk, can buy the European Financials ETF, EUFN. Investors who want a "call option" without time value on the most leveraged play on European recovery ought to check out the National Bank of Greece (NBG), which recently did a massively dilutive capital raise, but which has ostensibly saved the bank from liquidation, absent Greece sinking into the Aegean sea. The bank trades significantly below book, is fully provisioned for current NPLs, and has Tier 1 capital that protects it from much higher levels of NPLs.
While readers of my letters know that I am not particularly excited about U.S. markets, there is one thing I will admit. For individual stockpickers, I still think the U.S. is absolutely the most fertile (and most fun) market in the world. When I screen for high growth mid-cap companies in the United States and Europe, over 50 listed U.S. companies show up versus 3 in Europe. I believe that is testimony to both the diversity of the U.S. economy and its entrepreneurial spirit. So while Europe is a value play, it's definitely not a growth play.
The Conclusion
The brave and fearless ought to take a look at Europe, particularly Euro-centric as opposed to diverse global multinationals. Such an effort may require some digging. Historically, owning financials has been a good way of participating in the recovery. Finding a European money manager with a good lay of the land and fair fees is also an alternative route, given the nuances of this trade.
Disclosure: I am long NBG. I wrote this article myself, and it expresses my own opinions. I am not receiving compensation for it (other than from Seeking Alpha). I have no business relationship with any company whose stock is mentioned in this article.