So "Europe exits recession" with Eurozone Q2 GDP +0.3% quarter-on-quarter versus -0.3% in Q1 and a consensus of +0.2%. Year-on-year there is still contraction (-0.7% vs -1.1% in Q1) but - with a glass half full perspective - growth numbers are better.
So what should investors think? And why aren't the European markets rampant on the news?
First, the numbers are driven by France and Germany, with the latter in particular driven by an investment boost "following an unusually long and cold winter."
Second, following on from the above the list of countries in Europe still in technical recession remains fairly long and includes Ireland, Greece, Spain, Italy, Cyprus, Netherlands and Slovenia. So it is not region-wide (yet).
Third, let us not forget the magnitude of the bounce back. Usually when an economy is recovering you get a big bounce in quarter-on-quarter growth due to easier comparisons. Check out the US line in the chart below. Note the 1% growth level achieved a year ago - that's an annualized rate of 4%. Europe is way below this. This is a lackluster recovery in Europe.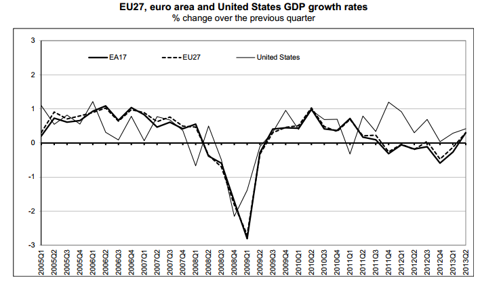 The excitement around these numbers on the various financial TV channels and related remind me of earlier this month when we had the European PMI data and a return to "50+ prints" as shown in the chart below: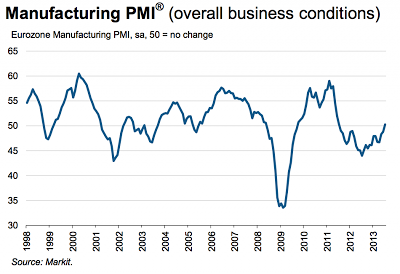 And also new multi-month (sometimes multi-year) highs: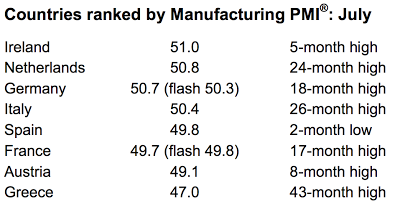 Water was poured on over-interpretation of this data by the head of the European Central Bank (Mr Draghi) at the time. Remember his words from the ECB monthly meeting at the time re the European economy:
"Credit dynamics remain subdued"
"Inflation expectations remain firmly anchored...extending into the medium-term"
Rates to remain at low levels "for an extended period of time"
"Risks continue to be on the downside"
And then he gave some updates on the monetary and credit aggregates which he described as showing "weak loan dynamics reflecting the current stage of the business cycle." This chart below is not pretty: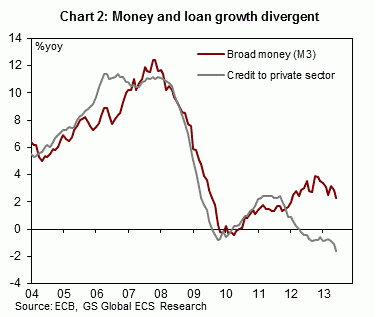 So life is stabilizing in Europe. It is not getting worse...but we are not seeing that typical above trend bounce in growth you normally see after a recessionary period. Companies are going to have to keep on worrying about a low growth Europe.
I see two sources of volatility versus the current bullish market expectations.
First, the lackluster demand conditions for companies exposed to Europe will continue. There will be good and bad points and attractive and unattractive themes. Don't buy a tracker fund, you are going to have to actively stock pick.
Second, we still await the ultimate outcome of fiscal austerity in Europe. Mr Draghi again called for European member states to "step-up the necessary structural reforms." We all know that supply side changes take time to implement and so an unpleasant "face-off" between governments, the ECB and the bond market over the continuing too high fiscal deficits is set to continue.
Of course Mr Draghi can help sort all of these issues via the form of more quantitative easing...but he is only going to do that if markets get volatile.
So my bet is to bet on more volatility. Don't just extrapolate the growth and PMI numbers and think it is all over.
Disclosure: I have no positions in any stocks mentioned, and no plans to initiate any positions within the next 72 hours. I wrote this article myself, and it expresses my own opinions. I am not receiving compensation for it. I have no business relationship with any company whose stock is mentioned in this article.