We are constantly scouring the universe of publicly traded stocks and funds to find investment opportunities in clean energy. In this effort, two companies engaged in alternative energy have been added to our tracking service. The first is a large western energy company with substantial wind and solar assets, and the second is a consumer electronics company moving into solar.
Sempra Energy (NYSE:SRE)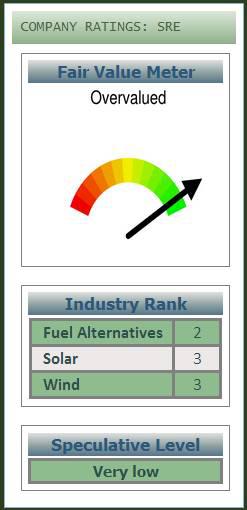 Company Profile
Sempra Energy is a large, diversified player in energy production. It is a holding company that owns five southern California utilities. Sempra also holds interest in energy assets in other parts of the United States, Mexico, and South America. It generates power from a diversity of energy sources, including natural gas, nuclear, wind and solar, and owns natural gas pipelines.
Of interest to us is Sempra's significant and growing involvement in wind and solar. Sempra has an interest in two producing wind farms - Flat Ridge II in Kansas, and Fowler Ridge II in Indiana. Together, these projects generate 670 megawatts. Sempra is also involved in the development of the largest wind farm in Pennsylvania, the 141 megawatt Mehoopany Wind project.
On the solar front, Sempra has three producing photovoltaic arrays. Two are at the Copper Mountain Solar Facility in Nevada, totaling 150 megawatts. The other is Mesquite Solar in Arizona, which also has a 150 megawatts capacity.
In addition to these projects, Sempra's solar build out continues. It recently awarded a multimillion dollar contract to design and construct up to 250 megawatts of additional solar at Copper Mountain. Also, Sempra's Rosamond Solar project, in the planning phase, is expected to produce up to 300 megawatts by 2015.
Financials
Sempra has posted solid financial numbers over the years. Sales have been steadily increasing since the financial crisis of 2008, and both profits and earnings per share are excellent. Sempra does have relatively high debt, however, particularly when looking at long-term debt compared to equity or sales. Its stock price has had a relatively steady climb since 2008 as well, having almost doubled since that time.
Investment Outlook
Sempra's stock has shown excellent price momentum, but the price may have gotten ahead of itself. We consider the stock overvalued at these levels, Sempra looks like a better value in the $77/share price range.
LG Display Co Ltd. [ADR] (NYSE:LPL)
Company Profile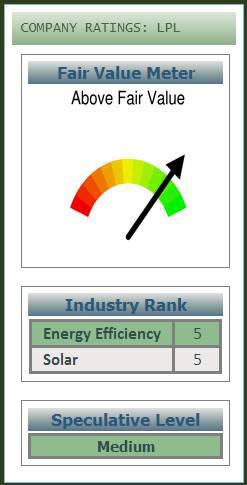 LG is a large Korea-based consumer electronics company (you have no doubt seen its "Life's Good" ads) that supplies products globally. LG manufactures thin-film transistor liquid crystal display panels, and organic light-emitting diodes. Though LG is known for producing a wide array of consumer items, it also makes industrial devices, automobile navigation systems, aircraft instrumentation, medical devices and other electronics.
LG is also in the solar module business. It appears to be capitalizing on the growing solar investment trend in Japan in the wake of the Fukushima Daiichi nuclear disaster. According to Bloomberg, the Japanese trading company Sojitz Corp plans to invest $362 million to build four solar plants with a combined capacity of 106 megawatts. Though unconfirmed, LG is reported to have been chosen to supply panels for the entire project.
Financials
LG has been a reasonable performer financially. Sales have climbed every year but one since 2006. Earnings and profits, though, have been more variable. On the positive side, it has low debt, which is typical for a technology company.
Investment Outlook
Because of its relatively high price/earnings ratio, and low earnings estimates going forward, LG looks to be trading above fair value. I would start getting interested in LG if it were trading in the $8-8.5/share range.
Summary
Sempra and LG are two high-quality companies worth watching as alternative energy investments. Pricing for both stocks, however, is considered high at current levels. Gauging these two companies, along with the +/-250 alternative energy stocks, mutual funds and ETFs that we track, will help inform investors where best to invest their hard-earned dollars.
Disclosure: I have no positions in any stocks mentioned, and no plans to initiate any positions within the next 72 hours. I wrote this article myself, and it expresses my own opinions. I am not receiving compensation for it. I have no business relationship with any company whose stock is mentioned in this article.