Did you miss the same store sales report from Yum Brands (NYSE:YUM) on Tuesday? Chances are most people missed the fact that Chinese same store sales fell 13% during the month of July. This double digit decline includes a drop of 16% at KFC locations in China. This big blow to Yum Brands' international segment was overshadowed by the announcement of a new product from Taco Bell, one of the three restaurants that makes up Yum Brands.
On August 22nd, Taco Bell customers will get a chance to purchase the newest item at restaurant locations. The chain is strengthening its Doritos Taco product line with the launch of FIERY, its third flavor. The taco will "combine spicy chili with a hint of lime flavor in a crunch red shell". Tacos will be available for $1.39 (regular) or $1.69 (supreme).
Back in January, I discussed how the launch of the Doritos Cool Ranch Taco could help generate excitement for Yum Brands shares and also help same store sales. That taco marked the follow-up to the Doritos Locos Taco, which saw over 10 million sold in 10 weeks. Amazingly enough, over 200 million tacos were sold in the first six months on the market. With the Doritos Cool Ranch Taco added in, Taco Bell has now sold 600 million Doritos Tacos since the first one launched in March of 2012.
The Doritos line, in a partnership with Pepsi (NYSE:PEP), has been extremely successful for Taco Bell. The chain charges $0.30 to $0.40 more for the Doritos version of the tacos. This incremental upsell has resulted in an extra $18 million for Taco Bell and Yum Brands. While this may not seem like a lot of revenue for a multi-billion company, it has helped in other areas as well.
In the second quarter of this fiscal year, same store sales declined 20% in China. In the United States, same store sales increased 1%. KFC and Taco Bell posted gains of 3% and 2% respectively, while Pizza Hut stores saw a decline of 1%. Operating margins were much higher in the United States stores (18.3%) compared to the company's average (12.5%).
I wrote back in April that Yum Brands was using the strength of the Doritos Taco line and successful positive same store sales to sell off Taco Bell locations. The company is working on franchising as many locations as possible. This will give Yum Brands cash and provide them with better capital to grow additional chains and continue international expansion. The chain is able to sell off franchises at high prices, with the huge success of the brand at the given time.
Franchises may be easier for Taco Bell to sell in the coming months. The chain is testing breakfast in an expanded rollout. After a successful launch at five locations, Taco Bell will bring its breakfast menu to 100 stores in Fresno, Omaha, and Chattanooga. The menu consists of items like fruit topped yogurt, an AM Crunchwrap, and the soon to be viral Waffle Taco. The Waffle Taco features eggs and sausage folded in a waffle.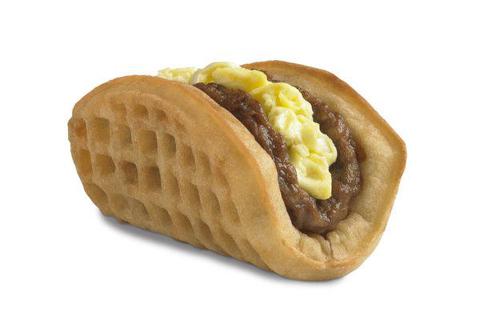 Taco Bell has long been known as the home of the fourth meal, but soon could also be known as much for its unique breakfast items. Other restaurant chains, like McDonald's (NYSE:MCD), have tested breakfast menus throughout the late night shift to gain incremental sales. With Taco Bell's heavy late night sales trends, the company could see a huge boost in same store sales once the breakfast menu goes nationwide.
Yum Brands is continuing its focus on its restaurants in America. Recently, I wrote about the launch of the new KFC Eleven chain. The new fast casual chain features KFC items without Colonel Sanders on the exterior or interior of the building. The restaurants will also only have boneless chicken and newer menu items. The new chain is an attempt to take on new rivals like Chipotle Mexican Grill and Panera, who have found success in the fast casual market.
All of these new items make Yum Brands a buy. The company is overshadowed by its decline in China, but is having great success in the United States. Shares are approaching 52 week highs, but still trade at 19 times next year's expected earnings. I believe the estimate of $3.82 for earnings in fiscal 2014 will prove conservative as sales in China could rebound, and same store sales and margins in the United States will see a big lift. Yum Brands multiple of 19 is not far off from rivals like McDonald's (16), Burger King (BKW) (21), and Wendy's (NYSE:WEN) (29). Yum Brands has the growth and new exciting moves that should make this the restaurant stock in your portfolio.
Disclosure: I have no positions in any stocks mentioned, and no plans to initiate any positions within the next 72 hours. I wrote this article myself, and it expresses my own opinions. I am not receiving compensation for it (other than from Seeking Alpha). I have no business relationship with any company whose stock is mentioned in this article.