Many of you read my articles, The Dual-Beta Portfolio, Part 1 - Consumer Defensive Sector and Dual-Beta - The Smart Investor's Most Valuable Tool. Here, I will continue my series of articles spanning dual-beta in every sector of the S&P 500, focusing this time on the consumer cyclical (discretionary) sector. First, however, I will address some of the feedback I have gotten and delve a little deeper into the value of dual-beta.
What Dual-Beta Tells You
Understand, first and foremost, that dual-beta is not making a prediction about future returns. Instead, it is attempting to describe the non-systematic risk that comes from the company's products and business model. The dual-betas that I am providing are calculated using a 10 year period, entirely because I would like to describe each stock's non-systematic risk through bull and bear markets.
Furthermore, the monthly return frequency (rather than daily return frequency) is to neutralize the effects of a phenomenon known as loss aversion, by which investors are far more sensitive to bad news than good news. Factoring in this loss aversion would produce a skewed representation of the company's non-systematic risk. The original study in The Journal Of Personal Finance that examined dual-beta used daily frequency specifically because their study was meant to measure loss aversion. Several readers have brought forth sites that claim to calculate dual-beta, but each of these sites makes the mistake of using a daily frequency, likely due to a lack of understanding of the journal's hypothesis. The result is a completely different and somewhat useless number from these sites.
The next point I would like to make is how you should use dual-beta. Given that it measures non-systematic risk, it has some predictive power if interpreted correctly. In the same way traditional beta is completely dependent on the index it is derived from, dual-beta must be used in conjunction with the S&P500. High upside beta tells you that the company's business model and products are well suited to take advantage of positive market sentiment. However, if a bull market is not on the horizon, upside beta is quite useless to an investor.
Conversely, high downside beta tells you that the company's business model and products are highly resistant to negative market sentiment and can deliver returns in the face of such conditions. Again, if you do not see a bear market on the horizon, this half is quite useless as well. The key is for you, as an investor, to make your own interpretation about what conditions lie ahead, and focus on upside/downside correspondingly. My articles consistently make the assumption that the future holds an even ratio of bull and bear months.
The final piece of value to be had from dual-beta is its ability to separate good variation from bad variation, while traditional beta cannot. This is because traditional beta and the CAPM model penalize all variation, regardless of whether it is good or bad. One of the top companies from Part 1, AmerisourceBergen (NYSE:ABC) is a prime example, with a traditional beta of 0.74. Investors are completely misled by this number, since its upside beta is 0.45 and downside beta is -0.10. A simple CAPM calculation of cost of equity gives you around 7.31% cost of equity. This is close to double what an investor should logically conclude when looking at dual-beta, since there is very little non-systematic risk. With cost of equity doubled unnecessarily, any DCF or DDM valuation may put the company's value far off of what its risk warrants.
If you are interested in calculating dual-beta for yourself, you can find my walkthrough article here.
Consumer Cyclical Sector
This is an interesting sector to look at after already examining the consumer defensive sector. In theory, the two sectors have already been segregated by their defensive characteristics. Here, we can put that theory to the test.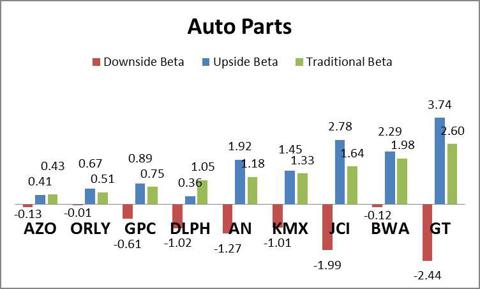 With 9 total companies, the auto parts industry is one of the largest in the S&P500. The risk demonstrated by these companies is difficult to interpret, yet there are several gems to be unearthed. Logically, auto part companies do have a distinct defensive advantage, yet several of these companies seem to be playing zero defense whatsoever. Given that the planet is dependent on automobiles for nearly ever facet of industry and well being, and that this shows no signs of changing, auto companies should be able to deliver safe returns. Even so, companies like Goodyear Tire & Rubber (NYSE:GT) and Johnson Controls (NYSE:JCI) have only been able to deliver strong upside returns at the cost of alarming downside losses.
Even so, we can see clear winners in AutoZone (NYSE:AZO), O'Reilly Automotive (NASDAQ:ORLY), and BorgWarner (NYSE:BWA). These three leaders have limited downside loss to nearly nothing while delivering respectable upside returns, particularly in the case of BorgWarner, which has crushed the S&P500 in bull markets.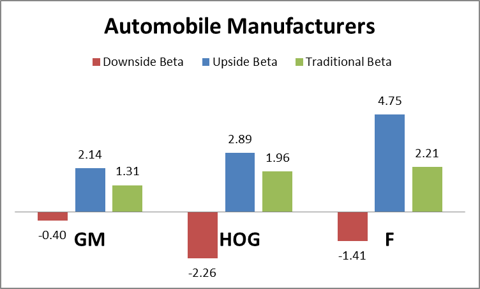 It comes as somewhat of a surprise that there are only three automobile manufacturers represented in the S&P500. It limits our options somewhat, but these companies are attractive nonetheless. Both General Motors (NYSE:GM) and Ford (NYSE:F) have delivered 3 times greater upside returns than downside losses. Ford's downside beta of 1.41 may be a cause for concern, but the upside beta of 4.75 is too juicy to pass up. For these reasons, both General Motors and Ford are attractive dual-beta plays.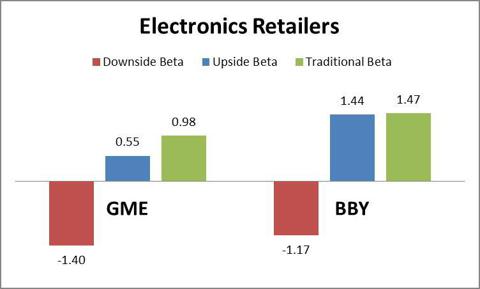 With just two retailers occupying the retail electronics space, and Circuit City no longer on the playing field, there are not too many options. Staples (NASDAQ:SPLS) also competes quite closely with these retailers, but serves better as a consumer defensive play. Beyond Staples, there is not much cause to take a position in more than one electronics retailer. For now, leave these companies alone.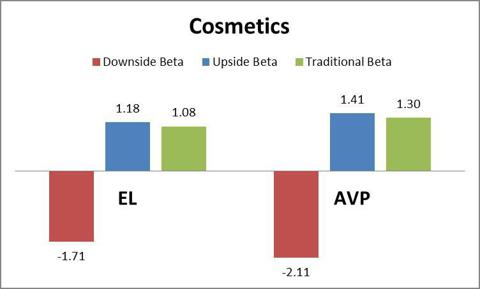 Cosmetics is another limited industry. Again, it seems there is not enough cause for exposure to any player in the industry. Downside seems to be digging a hole for both companies, as consumers cannot quite bring themselves to shell out large amounts of cash on expensive cosmetics during recessionary periods. Traditional beta heavily understates downside in both cases. Avoid this industry.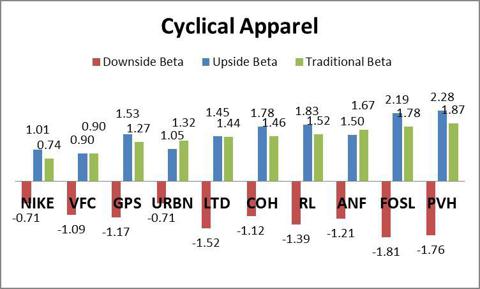 Another massive chunk of the S&P 500 is the cyclical apparel industry. We should expect this industry to be among the most competitive and cyclical of all. So many clothing brands exist that a slight change in consumer tastes or style may be a death sentence for any cyclical apparel company caught unprepared. Top dogs in the industry must be able to quickly adapt to these changing tastes with new products and trends to match.
By the numbers, all 10 of these companies give a somewhat even tradeoff. Most notably, Nike (NYSE:NKE) and Urban Outfitters (NASDAQ:URBN) have absorbed much less downside loss than the others, while still seeing higher upside than the market. Both companies have steep margins and expensive products, but have shown the ability to capture and keep loyal customers who crave the niche styles they produce. Neither company is a earthshattering pick, but the industry's size is such that we would be remiss to not have a small position or two. For these reasons, Nike and Urban Outfitters deserve a place in our consumer cyclical allocation.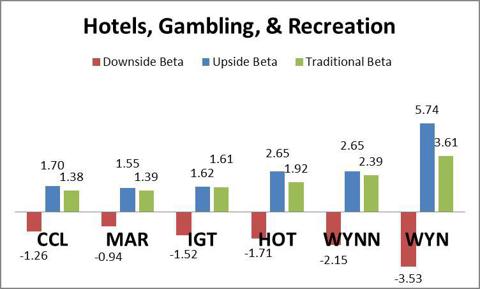 This is an industry with large amounts of risk pulling in all directions. Cruises, gambling, and luxury hotels suffer immensely during recessions. Wyndham Worldwide (NYSE:WYN) is easily the riskiest company we have seen so far, delivering a staggering 5.74 upside beta alongside a 3.53 downside beta. The implied upside/downside beta ratio of 1.63 is not bad, but we can certainly do better with Marriott International (NYSE:MAR) at a ratio of 1.66 and a downside beta that is much easier to swallow.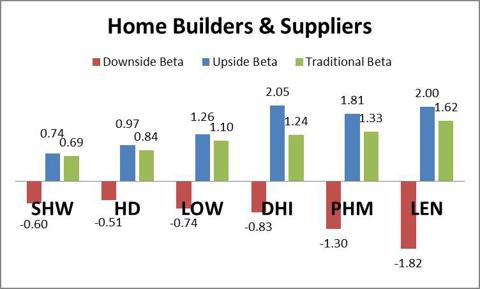 Many investors cringe at the sight of anything to do with real estate and development after they witnessed their property values freefall in the recession. However, take a moment to notice that several of these consumer companies are capable of playing defense, even during a recession. Furthermore, every one of the companies in this industry has delivered stronger upside returns than downside losses. Both home improvement giants The Home Depot (NYSE:HD) and Lowe's (NYSE:LOW) present attractable tradeoffs, while D.R. Horton (NYSE:DHI) has delivered an upside/downside beta ratio of 2.46, despite being the most exposed to the latest real estate crash. These three companies offer a reasonably safe way to have a chunk of real estate exposure.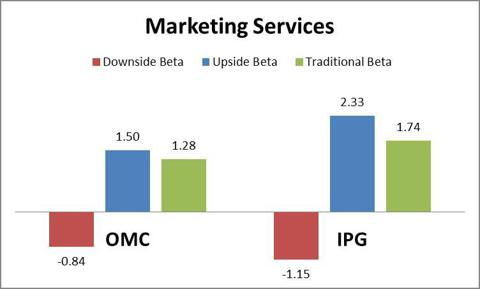 With new marketing channels and social networking emerging every day, companies are paying a great deal of attention to how they reach customers. These two companies have been prime beneficiaries of the trend. Their defensive advantage is that regardless of market sentiment, companies will always need to sink a growing amount of money into marketing to keep pace with competitors.
Both S&P 500 marketing specialists have seen about twice as much upside as downside. This should continue to be the case, as marketing creativity does not grow on trees. For these reasons, both Omnicon Group (NYSE:OMC) and Interpublic Group (NYSE:IPG) are attractive plays.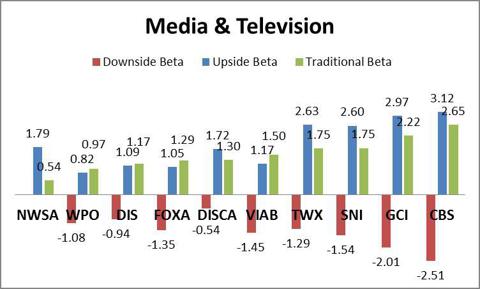 Media and television represents yet another huge piece of the S&P 500 and quite a mixed bag. With the lowest downside beta (0.54) and the highest upside/downside beta ratio (3.19), Discovery Communications (NASDAQ:DISCA) is a clear choice. Any other plays in the industry would require accepting a large amount of downside exposure. However, Time Warner (NYSE:TWX) has demonstrated the ability to deliver over twice as much upside (2.63) as downside (1.29) and has huge share of the market with a market cap of over 57 billion.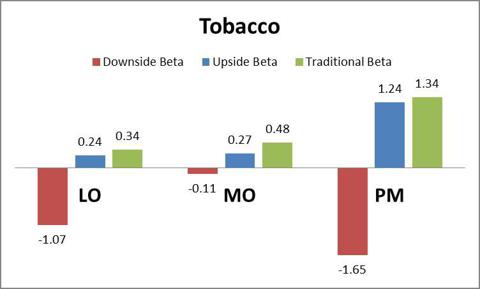 Tobacco companies change as quickly as the weather. With government holding the puppet strings of much of their business models, the future may hold anything. Perennial dividend aristocrat Altria Group (NYSE:MO) has fully committed itself to aggressive dividend payment, erasing much of its upside potential. Dual-beta does not incorporate dividends, which does penalize companies like Altria Group. However, the tiny amount of upside in exchange for an even tinier amount of downside makes the company quite safe. For these reasons, Altria Group appears to be the only attractive play, with most of its appeal coming from its 5.04% dividend yield.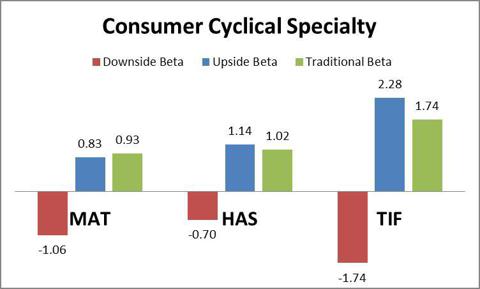 Both Mattel (NASDAQ:MAT) and Hasbro (NASDAQ:HAS) compete with each other as toy and hobby manufacturers, while Tiffany & Co (NYSE:TIF) is the S&P 500's only jeweler. None of these companies, however, present much of an opportunity for upside/downside beta tradeoff. Their industries are small enough that we can comfortably forgo exposure.
Top Choices
As with the consumer defensive sector, quite a few companies have been selected from the above industries due to the fact that the sector is so diverse. With a wide range of risk factors and business models at work, a wide range of investments is necessary to reduce systematic risk. Here is a look at our top choices...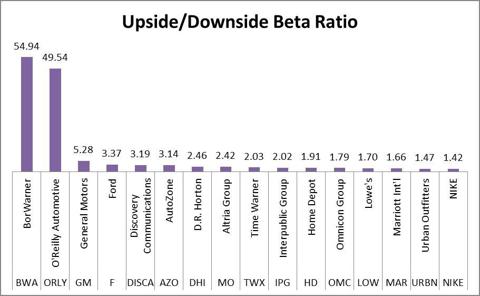 Ideal Allocation
Again with this sector, I have weighted each pick by its upside/downside beta ratio. Companies with tiny or inverse downside betas have been modified to have a downside ratio of 0.1 (written as -0.1 on the graphs for visual readers). This is to ensure that company weighting is not super sensitive to an insignificant amount of downside beta. Here is the appropriate allocation...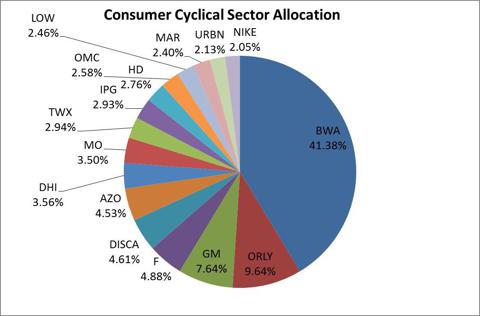 The largest component by far is auto part supplier BorgWarner, followed by auto part retailer O'Reilly Automotive. The primary reason for this is BorgWarner's massive upside potential at the cost of almost no downside. O'Reilly Automotive receives a much smaller position due to the fact that its upside/downside beta ratio is extremely sensitive to its downside beta of 0.01. Overall, the top 4 consumer cyclical positions are automobile and automobile parts businesses, accounting for about 2/3 of the sector allocation. This is somewhat of a systematic risk red flag, but the certainty of the car industry being around for the foreseeable future is reassurance enough to allow it.
The overall allocation gives a weighted upside beta of 2.15, a weighted downside beta of 0.36 (negative), and a weighted traditional beta of 1.15. These betas yield a weighted upside/downside beta ratio of 5.98. The wide array of companies (16) chosen goes a long way toward reducing the systematic risk caused by allocating so much to automobile and auto parts companies, but still seems riskier than the consumer defensive allocation in Part 1.
Coming Up...
The next analysis (Part 3) will tackle the utilities sector and another fundamental dual-beta insight. Much of the insight I provide is from research driven by feedback from readers, so please do not hesitate to give me your thoughts.
Disclosure: I am long ANF.
Business relationship disclosure: I have a current employment relationship with Abercrombie & Fitch (NYSE:ANF) on a part-time basis. I am not in a position to know non-public information, nor do I believe my employer nor myself will be affected in any way by this article. My opinions are my own, and not made on behalf of my employer.