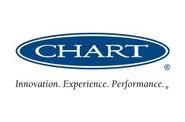 Chart Industries (NASDAQ:GTLS) manufactures and supplies engineered equipment used in the production, storage, and end-use of industrial gases in the United States, China, Germany, and internationally. Chart's Distribution and Storage segment provides cryogenic solutions for the storage, distribution, vaporization, and application of natural gas. It's new strategy of mobile delivery of LNG is a catalyst boosting growth in China and the United States. The stock is richly valued and is up 70% YTD. It is a BUY for those bold enough to jump in the market now. The more prudent move would be to put it on your buy list and wait for a market correction to offer a better entry point.
I actually considered Chart for inclusion in my Natural Gas Transportation portfolio of five stocks back in January. At the time GTLS looked richly priced and I passed on it. Big mistake. What I missed was the strong catalyst that mobile delivery of natural gas in liquefied form by the company's "Orca" trucks would be. Mobile LNG delivery is discussed with Chart's CEO Sam Thomas in this Jim Cramer video.
For a company whose NYSE symbol is based on "Gas To Liquid Systems," it is no surprise that Chart's May 2013 investor presentation was titled "Chart Delivers Natural Gas Solutions." Indeed, of the company's three segments, Distribution and Storage was 47% of sales in FY 2012 and is well diversified geographically and from a product offering standpoint: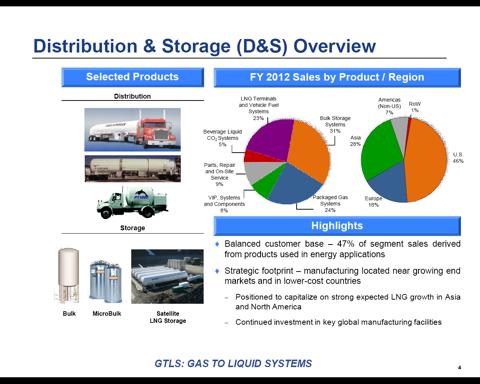 The other two segments of Chart's business are Energy and Chemicals (32% of FY 2012 sales) and Biomedical (21%). More than half of the company's total sales are internationally and are in the energy market. The company is poised to profit from its unique position to grow based on some worldwide fundamental catalysts:
Strong economics for natural gas over oil
A worldwide focus on reducing emissions
A worldwide move toward energy independence, reducing reliance on OPEC, and diversifying away from oil, gasoline, and diesel
The company's efforts in delivering cheap and clean LNG are paying dividends. The investor presentation reports a $90 WTI price for oil (April 2013) compared to a $23.20/boe price for natural gas (based on $4.00/MMBtu) as well as emissions levels of 56 for natural gas versus 79 for oil and 100 for coal. The advantages of natural gas are simply overwhelming.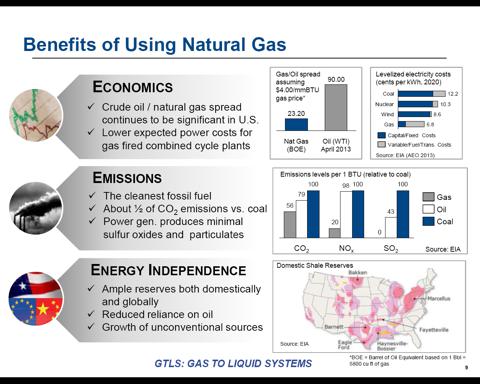 Although the US has been slow to cash-in on the advantages of natural gas transportation, especially since the US has the lowest domestic nat gas prices in the world, China is embracing it. We learned in the Cramer video that Chart has over 500 of its mobile "Orca" self contained LNG filling station trucks in China and "several hundred" in the US. These trucks can be taken to job sites around drilling sites (for instance) and refuel 10-25 NGVs. Chart CEO Sam Thomas says that China's goal began with replacing 10-15% of diesel rigs over to natural gas, but now it wants to replace "all of them." Since China has a very limited natural gas pipeline system, the only way to effectively reach its goal is to employ trucks like Chart's Orca to transport LNG from China's coastal LNG import terminals to the country's interior end user locations. China is clearly leading the US in adopting natural gas transportation -- both from a policy perspective and in actual implementation. And this is represents a phenomenal opportunity for Chart Industries.
Chart also makes full service fixed natural gas refueling stations and is building over 100 stations in the US for Shell (NYSE:RDS.A). Chart will build "hundreds" in China as well. While Thomas sees the best near-term growth in this market being in China, he sites the success of Cummins' (NYSE:CMI) engines as a reason growth in the US will begin to pick up strongly in the second half of 2014. Current economics point to a payback in natural gas trucks in only 12-18 months. Then they have a 30% savings on fuel going forward. That's huge.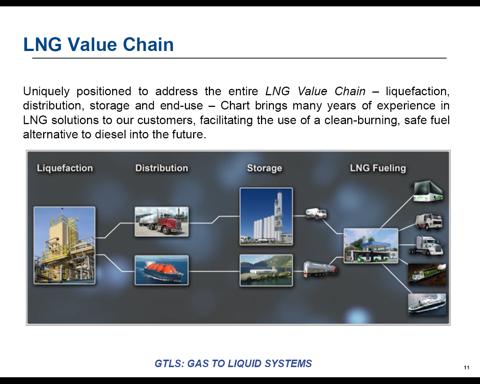 As a result, operating income and backlogs are growing strongly, as is the stock price. Chart recently reported an excellent Q2 2013.
Highlights include:
Sales up 24% from prior year quarter
Record D&S order intake of $222.1 million led by LNG demand
Record backlog of $664.0 million
Receives awards for small scale LNG production plant and ethylene plant
Announces new third quarter award in excess of $50 million to provide LNG equipment to PetroChina
Summary and Conclusion
Chart is a great company operating in one of the most exciting sectors of the natural gas revolution: distribution, storage, and refueling. The company is poised to cash in on China's priority to replace diesel with cheaper and cleaner natural gas. It will do the same in the US. The company will thrive working with companies like Shell (refueling) and Cummins (long-haul trucking) who are embracing the natural gas revolution.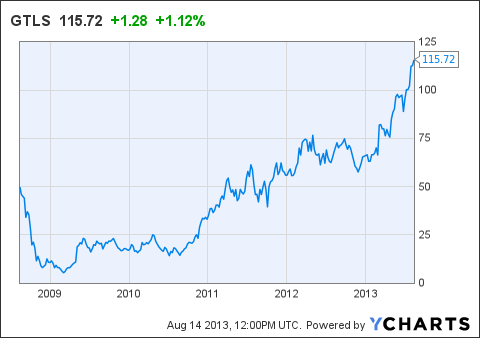 All that said, I am still wary of the valuation here considering we are entering an historically seasonal period of stock market weakness. With a current P/E of 49 and no dividend yield to help prop the stock up in times of market turmoil, I am hesitant to put a BUY on the stock. But just like earlier in the year when I decided to pass on the stock, it continues to outperform and is currently up another 2+ points today (at the time of writing). Chart is a stock to put on your buy list should a stock market correction allow you a cheaper entry point. That said, fortune favors the bold, and the bold bet would be to buy GTLS now. The stock is on fire and the fire is being fueled by the overwhelming economic and environmental benefits of using natural gas transportation. Chart is in a very unique position to profit from the natural gas transportation revolution. I suspect $50 million contracts like the recent one with PetroChina (NYSE:PTR) will become more frequent as China struggles with increasingly serious smog and pollution as a result of burning coal and diesel opposed to cleaner and cheaper natural gas. Chart may well keep its premium valuation and trade up to $150 in the next 6-12 months (up +30%).
Disclosure: I have no positions in any stocks mentioned, but may initiate a long position in GTLS over the next 72 hours. I wrote this article myself, and it expresses my own opinions. I am not receiving compensation for it (other than from Seeking Alpha). I have no business relationship with any company whose stock is mentioned in this article.
Additional disclosure: I am an engineer, not a CFA. The information and data presented in this article were obtained from company documents and/or sources believed to be reliable, but has not been independently verified. Therefore, the author cannot guarantee its accuracy. Please do your own research and contact a qualified investment advisor. I am not responsible for investment decisions you make. Thanks for reading and good luck! NOTE: the author may purchase shares in GTLS over the next 48 hours.