Business Overview:
Active Network (NYSE:ACTV) is the leading provider of cloud-based, Software-as-a-Service, Activity and Participant (APM) technology solutions. The Company provides the technology to help manage the process from registration/signup for events, through the actual event, and the subsequent follow-up relationship management. Active Network operates through four main customer verticals: Sports (ie, Triathlons), Community Activities (ie, schools), Outdoor Activities (ie, camping grounds), and Businesses (ie conferences/trade shows). The Company has relationships with 55,000 organizations who are its primary customers.
The Company generates 90% of its revenue from its technology, with the balance coming from marketing services. Technology services come from two sources:
Licensing, maintenance, and implementation (24% of technology revenue)
Registrations for events (76% of technology revenue)
Technology revenue has both a fixed and variable component, but on a blended, net registration basis, the Company generates about $3 of revenue for each person that registers for an event.
Active Network recently released its 2Q13 earnings and soundly beat Wall Street estimates for both revenue and EBITDA (sales: $132.4mm vs. $130.5mm; EBITDA: $23.7mm vs. 19.6mm, respectively). Registrations also came in at 10% higher year over year. The Company's midpoint guidance for the full year 2013 is $54mm of EBITDA, which it appears to be well positioned to achieve given its strong Q2.
The Company is continuing on a trajectory of strong growth, achieving a 20.7% increase in revenue in 2011 and a 24.2% increase in 2012. Profitability has increased even more rapidly, growing 41% in 2013 if the $54mm EBITDA target is achieved.
Investment Thesis:
Given its recent strong financial performance, I decided to take a closer look at this Company to analyze its prospects for future growth. In my view, Active Network is a buy for its growth opportunities based on the following thesis:
Powerful Value Proposition to its Customers
Category Creator in a Largely Untapped Market
Increased Sales Team Bandwidth
Strong Partner in ESPN / Walt Disney
Proprietary Technology it is Constantly Improving
Attractive Financial Characteristics
Powerful Value Proposition to its Customers:
Before Active Network developed its full automation platform, event organizers had to do an enormous amount of manual paperwork to set up an event. Since so much of the work was manual, events were much less organized and the focus could not be placed on growing the size of the event, ie, adding more participants and revenue. Event organizers also had to pay a large staff to complete all of these manual, labor-intensive processes. Further, there was no method to keep track of event results electronically and to follow up with participants after the event to encourage participation in future events.
Active Network has solved all of these problems by introducing its software-as-a-service solution. The Company's solutions save the event organizers money, maximize participants and therefore revenue, automate the entire event process, provide useful results and tools to the actual participants, and assist the event organizers with relationship management to ensure successful future events. The chart below shows an example of the value the NYC Triathlon received by using Active Network.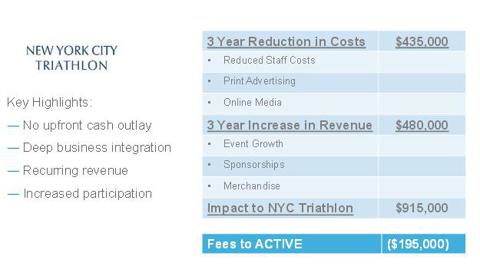 Source: Company Presentation
As you can see, the NYC Triathlon realized both cost savings and increased revenues, far outpacing Active Network's fees by over $700k over the term of its 3 year contract. It's hard to argue with these economics which makes Active Network's solutions so attractive to event organizers. I believe that offering such a compelling value proposition will continue to fuel growth as Active Network works to drive further penetration into the marketplace.
Category Creator in a Largely Untapped Market:
Active Network is a pioneer of its niche corner in the cloud software industry. According to a 2010 survey commissioned by the Company, there are 800,000 potential organizations in North America who could use Active Network's services, generating roughly $110billion of total event fees. Using Active Network's estimated 9% technology fee, the North American addressable market size is approximately $10billion of revenue for Active Network. That means that Active Network, who is the leader in the industry, has only penetrated the market by about 4.5%. For me, a low penetration rate combined with a high customer value proposition is a recipe for continued high growth.
Another point worth mentioning is that on the 2Q13 earnings call, Management alluded to the fact that a few suitors have contacted its Board with regard to a potential buyout offer. While I would not recommend buying Active Network on this fact alone, I view it was highly positive that other larger players in adjacent segments see value in the Company and perhaps would be willing to pay a premium to own it. Large customer relationship management software companies, like Salesforce (NYSE:CRM), could have an interest in owning this technology as an additional leg to the stool of its enterprise product software offering.
Increased Sales Team Bandwidth:
During 2Q13, the Company added 31 members to its sales team and announced plans to continue growing its sales force. I believe that Management is correct to view this as a high priority initiative. By its very business model, Active Network is a platform that represents a high fixed cost (its investment in technology), but very low variable costs (adding more events). A stronger sales team should ideally land more customer wins, which not only generates increased revenue for the first event, but represents a recurring revenue stream as future events are held for that customer. Many customer contracts are for 3-7 years, and with such a low incremental cost for future events, Active Network locks in a very profitable revenue stream with each customer win. A stronger sales team should support growth that will pay dividends for years to come.
It's worth noting that Active Network has an impressive customer list, which may serve as an additional selling tool for the sales team to point to in their selling effort. The Company has organized events for large corporations, like Cisco, Starbucks, and IBM, nonprofits such as YMCA, sporting organizations such as the PGA, and most state and local governments as it relates to park and camping events.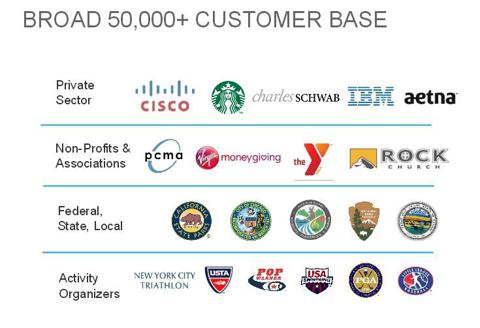 Source: Company Presentation
Strong Partner in Walt Disney / ESPN:
Walt Disney is a 10% shareholder of Active Network. Disney has been a good partner not only as an investor, but also in driving revenue growth for the Company. During 2Q13, Active Network generated $800k of revenue from events organized by Disney or ESPN. While this number is not material enough to pose a risk of loss, I view it as a positive that Disney has skin in the game to do its best to help Active Network continue to grow. This relationship can only add further support for Active Network's growth.
Proprietary Technology it is Constantly Improving:
Active Network is not simply sitting back and monetizing its current technology platform. Instead, it is constantly evolving its platform to more fully satisfy the needs of its customers and event participants. This makes it difficult for a competitor to compete in the space as Active Network is continuously investing to maintain its edge.
One area the Company has been focused on is their Active Works technology, which is an integrated system that ties together all of the many aspects of the software. It has put a lot of time into creating better user interfaces to develop an improved user experience. Another area of focus has been the development of communication tools for participants at events. Think of this as a mini social network experience which further immerses the participants in the event experience. For me, this is very attractive because it is a win for everyone - participants are more likely to make friends and sign up for future events leading to more registrations. Finally, Active Network has been working on further developing its mobile applications. The Company has seen a 49% increase in mobile traffic from events year over year due to this investment. Mobile isn't just to get people to sign up for events, but like all of its software, it integrates and manages the full user experience. In the example below, Active Network managed a U.S. Olympic Trials swimming event. Not only does its software manage the registration, but it actually managed the event, placing individuals in swimming heats and tracking their results. Swimmers could pull up their results on their smart phones to see where they stood in the event. Friends and family could also use their phones, or log on to a website to view results as well.
I believe this swimming example highlights the attractiveness of the Active Network software not only to the event organizers, but to the participants themselves. This investment in technology and subsequent increase in value proposition and customer satisfaction will continue to support Active Network's growth.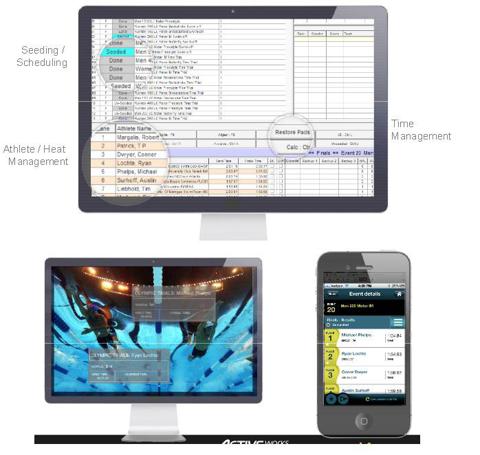 Source: Company Presentation
Another interesting point with regard to new technology was raised by Management on its 2Q13 earnings call. The rapid rise in popularity of wearable health devices is a trend that Management is exploring strategic partnerships to benefit from. Yesterday, Fitbit announced that it raised $43mm in funding to expand their business. With companies like Fitbit growing so quickly in a very related market, it only makes sense that Active Network could develop a partnership which could help strengthen its product offering. I can imagine integrated data that would post metrics onto the participant's web portal and mobile site on Active Network's platform, which would enhance the participant's user experience.
Attractive Financial Characteristics:
As mentioned above, Active Network benefits from signing 3-7 year contracts with its customers for running events through its established platform. This creates an operating leverage effect in that the platform is a fixed cost and incremental events are profitable cash streams. For this reason, Active Network's EBITDA margins have been growing substantially over the past few years. The Company has provided guidance that it could see EBITDA margins rise 2-3% by the end of the year and into 2014.
Active Network also maintains a very solid balance sheet, with no long term debt other than a small amount of capital leases, though it does have a facility available to draw on should it need to. The Company also has a cash surplus of $109mm, which should be more than enough to continue to fund its own growth. Free cash flow has grown rapidly this year, expected to reach $40mm this year, which is an increase of over 300% from 2012. With such attractive components of the business model in its high profitability and strong cash flow generation, I believe that the Company can continue to fund its own growth, even at its high growth rates.
Conclusion:
Active Network is a first mover, market leader in a niche, but growing, software space of cloud computing solutions for events. The Company is faced with a huge runway for growth, having penetrated only about 4.5% of the addressable North American market.
Using the Company's $54mm EBITDA target for 2013, it is trading at 9.4x FY 2013 EBITDA. With EBAY's (NASDAQ:EBAY) current EBITDA multiple of 14x, Salesforce of 362x, and OpenTable (NASDAQ:OPEN) of 27x, this multiple looks light compared to its peers, especially given the high level of growth that Active Network has achieved and I believe will continue to achieve. In my view, for all the reasons outlined in my investment thesis above, Active Network could achieve EBITDA of $70mm for FY 2014. If this level of earnings growth materializes, a very conservative 9x EBITDA multiple would result in a 24% increase in the stock price. If the EBITDA multiple expands to a multiple of 14x, which would be more in line with internet/software peers, the share price would stand to double from current levels by the end of 2014. In my opinion, Active Network is a buy for its growth opportunities and very reasonable valuation for such high potential growth.
Disclosure: I have no positions in any stocks mentioned, but may initiate a long position in ACTV over the next 72 hours. I wrote this article myself, and it expresses my own opinions. I am not receiving compensation for it (other than from Seeking Alpha). I have no business relationship with any company whose stock is mentioned in this article.