by Randy Holcombe
Video games. Depending on who you talk to, are either the best or the worst creation of the millennial generation. Video games inspire ingenuity or spawn laziness and a lack of productivity. Regardless of your take on video games, you can't argue with the fact that they are a cash cow.
Last year, $24.9 billion was spent on console games, and that doesn't include money spent on the consoles themselves. Despite the new age of mobile and PC gaming, console gaming is still the largest segment of the gaming world and accounts for 42% of the industry. Now, tech giant Google GOOG wants a slice of the pie.
Last month, the Wall Street Journal reported that Google is developing a game console. Google's Android software is successful in smartphones and tablets, so why not create an Android console? I understand the thought process, but I'm not buying it.
Here are three reasons why Google should stay out of this game:
1. This market ain't big enough for the four of us
Google should be wary of what marketers call "The Rule of Three." This rule asserts that in a mature industry, there are almost always three competitors with meaningful market share. Others have two options: be successful on a small scale in a niche part of the market, or fail trying to climb a barrier that is too high.
This rule can be seen in many markets, from phone service providers [Verizon (NYSE:VZ), AT&T (NYSE:T), and Sprint (NYSE:S))], to mobile operating systems (Android, iOS, and Windows), and even in consumables like soda [Coca-Cola (KO), PepsiCo,(NYSE:PEP) and Dr. Pepper/Snapple (NYSE:DPS)].
In the global video game market, three competitors are already established: Microsoft MSFT, Sony SNE, and Nintendo. These three make up 100% of the global market, with Sony's PlayStation 3 owning the largest share in 2013 at just over 50%. The handheld gaming market is under control as well, as the Nintendo and Sony dominate the market with 2013 shares of 21% and 79% respectively.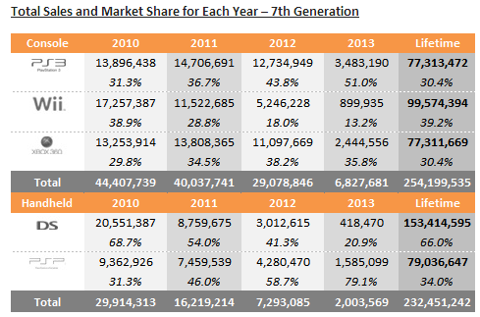 Source: VGCharts.com
The big three have this market in a choke hold. There simply isn't room for a fourth player, and I don't see Google as a company willing to shoot for a small-scale niche piece of the market.
2. Barriers going up
As if to make things harder for Google, Microsoft and Sony recently unveiled their next generation consoles, which are to be released this fall. Both Microsoft's Xbox One and Sony's PlayStation 4 are expected to be major profit drivers for their companies. These consoles will widen the economic moat that the big three have blocking competitors.
Google entering the market when Microsoft and Sony are releasing new consoles would be like me trying out with the Miami Heat when Lebron James and Dwayne Wade are due contract extensions. The Heat wouldn't bother with me, and consumers won't bother with Google.
3. Focus, Focus, Focus
A focused company is a successful company. Google is enormous, but even large companies can spread themselves too thinly.
Google is involved in many lines of business: search engines, web browsers, smartphones, tablets, finance, email, social networking, mapping, shopping, music, and YouTube to name a few. Google is big, and with revenues of $37.9 billion and $46 billion in 2011 and 2012 respectively, the company seems invincible.
Still, entering the video game market would be one of most daunting tasks Google has ever undertaken. The sheer amount of marketing capital necessary for a slight penetration should make Google stop and think. After all, Google doesn't want a repeat of Google+.
When Google+ was released in 2011, the site was touted a threat to Facebook. How did it turn out? In March of 2013, the average Google+ user spent a total of seven minutes (for the entire month!) on the social networking site. Compare that to the average Facebook user: six hours and 44 minutes. And now Google is shifting focus to a gaming console? Google needs to focus on a better search engine, not the crowded console market.
Bottom line
Could Google make a worthwhile console? Maybe. And maybe an Android console would be better than a Wii, an Xbox, or a PlayStation. But as long as the rule of three holds true, even a better console isn't likely to translate into profits.
The challenge for Google would be convincing the gaming world to throw aside consoles they've played since childhood. Consoles that have established games such as Call of Duty, Halo, and Grand Theft Auto. Google would be asking gamers to take a leap of faith, and the amount of capital Google would have to spend to convince gamers to take that leap would be outrageous.
Some barriers are just too big to climb. Even for Google.
Disclosure: I have no positions in any stocks mentioned, and no plans to initiate any positions within the next 72 hours. I wrote this article myself, and it expresses my own opinions. I am not receiving compensation for it (other than from Seeking Alpha). I have no business relationship with any company whose stock is mentioned in this article..