Insys (NASDAQ:INSY) is a commercial-stage specialty pharmaceutical company with two specialty products in the supportive care space. In March 2012, Insys launched Subsys, which is a single dose, proprietary sublingual fentanyl spray for breakthrough pain in cancer patients. Prior to the Subsys launch, in December 2011, Insys also introduced Dronabinol SG Capsule which is a generic version of Marinol, used in second-line treatment for chemotherapy-induced nausea and vomiting (CINV) and anorexia associated with weight loss in patients with AIDS. The company is also developing an improved oral formulation of the dronabinol capsule that it will submit to the FDA in the second half of 2013. In addition, the company plans to explore a range of pipeline opportunities, including new indications for Subsys and additional molecules delivered by the sublingual spray device used in Subsys. This platform technology thus potentially creates a renewable source of value with relatively modest levels of investment and clinical and regulatory risk.
The Company's Products:
1. Subsys - Subsys is a drug/device combination, in which the company delivers fentanyl, a fairly common opioid, but one well suited to this particular application, through its proprietary sublingual spray device for breakthrough cancer pain in opioid-tolerant patients. The device has a somewhat error-proof design, allowing patients to rest the spray nozzle on their bottom teeth and spray the drug beneath their tongue. The company's delivery mechanism, which is patent protected and for which the company has exclusive rights to pharmaceutical use, is the source of the product's differentiation and value.
Subsys was approved in the U.S. in January 2012 for the management of cancer breakthrough pain in opioid-tolerant patients. The approved doses of Subsys are 100, 200, 400, 600, 800, 1,200, and 1,600 µg, representing the broadest range of doses for any approved immediate-release fentanyl product. Moreover, the approved doses include the highest-approved doses for immediate-release fentanyl.
Insys has two pending U.S. patent applications for Subsys. When issued, these patents would cover formulations and methods of use relating to the product and would be expected to expire in 2027 and 2028, respectively. In addition to intellectual property protection for Subsys, Insys has an exclusive license agreement with Aptar for the proprietary sublingual spray device, which would provide further protection against potential ANDA filers. Currently, Subsys is protected by three years of New Drug Product Exclusivity, from the time of approval.
Insys markets Subsys through its 60-representative specialty sales force, which targets primarily pain specialists and, increasingly, oncologists. The sales force is comprised of 60 sales representatives and seven regional sales managers.
2. Dronabinol SG - Insys' Dronabinol SG Capsule is a soft gelatin capsule that is a generic equivalent to AbbVie's (NYSE:ABBV) Marinol. It was launched in the U.S. in December 2011 by Insys's distribution partner Mylan (NASDAQ:MYL). As with Marinol, the product is approved for second-line treatment of chemotherapy-induced nausea and vomiting (CINV), and anorexia associated with weight loss in patients with AIDS. Marinol and its generic equivalents are currently formulated in sesame oil and encapsulated in soft gelatin capsules that must be stored in cool storage conditions or in a refrigerator. Insys has submitted a supplemental Abbreviated New Drug Application (ANDA) for a room temperature-stable version of the Dronabinol SG capsule, referred to as Dronabinol RT Capsule.
Insys has one issued patent in the U.S. and four pending U.S. patent applications. The claims in these patents and applications cover formulations of Dronabinol, opioid-cannabinoid compositions, and methods of manufacturing and packaging dronabinol to provide for room-temperature stability. The issued patent will expire in 2028 and the additional patents would be expected to expire in 2025 and 2033.
Under the May 2011 agreement, Mylan distributes the product and maintains commercial relationships, and Insys manages the dronabinol manufacturing and supply chain. Insys pays Mylan a 10-20% royalty and single-digit distribution and storage fee.
3. Dronabinol Oral Solution (OS) - Beyond the Dronabinol SG Capsule, Insys is developing additional proprietary dronabinol formulations, the most advanced of which is the Dronabinol Oral Solution. This is a proprietary oral liquid formulation of the drug containing ingredients to enhance absorption. Insys has completed a pivotal bioequivalence study in 2012 and has already had a pre-NDA meeting with the FDA. The company expects to submit an NDA in the second half of 2013. If approved, Dronabinol OS could potentially offer benefits over the already marketed dronabinol products, including increasing flexibility in dosing, providing a more convenient delivery, and improving the absorption profile in patients. Dronabinol Oral would represent Insys' second branded product in the broader supportive care space.
Market Opportunities:
Cancer Breakthrough Pain - The Worldwide Marketing Research estimates that the U.S. cancer pain market was $3.1 billion in 2008 and is projected to increase to $5.3 billion by 2018. The U.S. market for transmucosal immediate-release fentanyl (TIRF) products in breakthrough cancer pain was approximately $390 million in 2012 and is led by Cephalon's (a wholly owned subsidiary of Teva Pharmaceutical) Actiq and Fentora. In addition, there are two other approved products in the transmucosal immediate-release fentanyl market, Meda AB (OTC:MDABF)/BioDelivery Sciences' (NASDAQ:BDSI) Onsolis and Depomed's (NASDAQ:DEPO) Lazanda. Onsolis is a buccal patch, applied to the inner cheek to deliver drug directly via the oral mucosa. The product was approved in June 2009; however, it has been off the market due to manufacturing issues since approximately mid-2011. BioDelivery Sciences recently stated that a proposal to reintroduce Onsolis into the U.S. market has been submitted to the FDA and the product could be available in the second half of 2013 or 2014. Lazanda is a nasal spray formulation of fentanyl that was launched in the U.S. in late 2011. The key points of differentiation for Subsys are its rapid onset of action (5 minutes), high bioavailability (76%), availability of a broad range of dose levels, and ease of use.
Subsys was launched in March 2012 and generated $18.5 million in net revenue during the second quarter of 2013, up 90.8% quarter-over-quarter from $9.7 million in the first quarter of 2013. JMP Securities analysts conservatively project 2013 and 2014 Subsys sales of $61 million and $92 million respectively, and by mid 2015 they anticipate sales of approximately $130 million.
Chemotherapy-Induced Nausea and Vomiting (CINV) - According to Symphony Health Solutions, CINV class of products generated roughly $175 million in sales in 2012. However, sales of the currently marketed dronabinol product were only $6.9 million in 2012, and are currently annualizing at an even smaller rate, with $0.3 million in sales reported for 2Q13.
With the Oral Dronabinol favorable characteristics (faster absorption and lower dose-to-dose variability), Insys believes it can reaccelerate growth in the CINV market. JMP Securities analysts anticipate Oral Dronabinol will acquire a roughly 15% ($14 million) market share by 2015. These estimates should be consider as conservative considering Dronabinol SG Capsule already holds a 9.4% share of the market in 2Q13 with less favorable characteristics.
Financial Position
The company has recently announced that it has achieved its second quarter of profitability, and the continued growth it has achieved allows the company to accelerate reinvestment in both its research and development and sales and marketing efforts. At the end of the second quarter 2013, the company had $21.7 million in cash and cash equivalents, $4.2 million in working capital (excluding cash and cash equivalents), no debt, and $34.2 million in stockholders' equity. Given the company's profitability, the current cash balance is sufficient into 2014.
Conclusion
Insys is driving continued revenue growth with an aim of increasing profitability in 2013. It is establishing its lead product Subsys as a best in class product, taking market share from both market-leading branded and generic competition. That said, Subsys has the potential to drive strong organic revenue and profitability growth, due to the company's focused commercialization infrastructure. Additionally, Dronabinol Oral Solution, for which Insys is expected to file an NDA in H2:13, can provide an additional source of diversification and organic growth with another proprietary, differentiated product.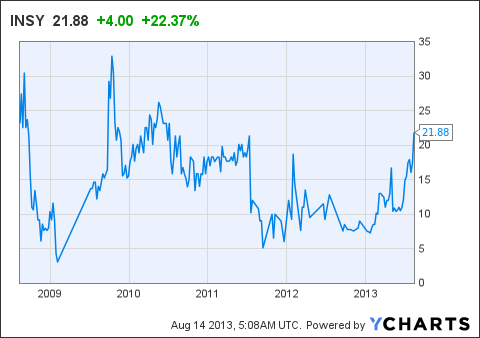 Disclosure: I have no positions in any stocks mentioned, and no plans to initiate any positions within the next 72 hours. I wrote this article myself, and it expresses my own opinions. I am not receiving compensation for it (other than from Seeking Alpha). I have no business relationship with any company whose stock is mentioned in this article.
Additional disclosure: Biomed Group is a group of investment professionals and writers. This article was written by Amit Cohen. This information is not to be construed as an offer to buy or sell any security mentioned on this article.