Mobile technology is one of the fastest growing industries in the world, growing at an alarming rate. Industry leaders claim mobile data tripled in 2010 and expect data requirements to increase some 10-fold over the next five years. Because my investment strategy is more value based and depends on a significant margin of safety, I have always been skeptical of mobile tech companies and their patterns of growth. In this article, I will analyze American Tower Corporation (NYSE:AMT) from an intrinsic value standpoint using an owner's earnings model (more on this later). Let us begin with a thorough breakdown of AMT's business model.
Background: American Tower Corporation, a real estate investment trust, operates as a wireless and broadcast communications infrastructure company. It develops, owns and operates communications sites. The company's rental and management operations include leasing antenna space on multi-tenant communications sites to wireless service providers, radio and television broadcast companies, wireless data providers, government agencies and municipalities, and tenants in various other industries; managing rooftop and tower sites for property owners; operating in-building and outdoor distributed antenna system (DAS) networks; and managing lease property interests under carrier or other third-party communications sites. It also provides network development services, such as tower-related services comprising site acquisition, zoning and permitting services, and structural analysis services. As of December 31, 2011, the company owned and operated approximately 21,320 towers in the United States and approximately 23,900 towers in Brazil, Chile, Colombia, Ghana, India, Mexico, Peru and South Africa; approximately 260 DAS networks; and approximately 1,810 communications sites. It has elected to be taxed as a real estate investment trust. As a result, the company would not be subject to corporate income tax on that portion of its net income that is distributed to shareholders. American Tower Corporation was founded in 1995 and is headquartered in Boston, Massachusetts. (Source: Yahoo Finance Profile Section)
Current Service Map (By Year Launched):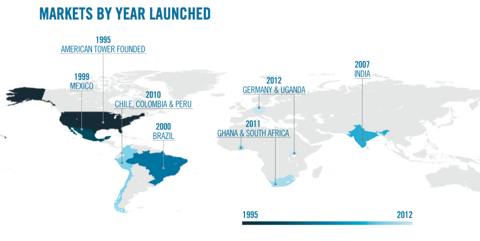 (Source: AMT Annual Report)
Company Analysis
Products and Services
Rental and Management Operations:
This segment accounts for the vast majority of corporate revenues for AMT - it accounted for approximately 97 percent, 98 percent and 98 percent of revenues for 2012, 2011 and 2010, respectively. That includes 67 percent, 72 percent and 79 percent for domestic revenues for the same respective years and 30 percent, 26 percent and 19 percent for international services of the same type. Revenue for this segment is generated through the creation of tenant leases for the various towers that AMT owns. The tenants generally lease these towers, providing their own equipment and the revenues from each lease vary depending on several factors including tower capacity, type of tenant and ground space required by the tenant. These leases have an annually increasing rent charge for the property. AMT states in its 2012 annual report that cash flows from these lease programs are nearly guaranteed due to the following:
Consistent Demand for Real Estate: The company believes, rightfully so, that the demand for these sites greatly exceeds the current supply and are utilized to take advantage of lease premium opportunities. Furthermore, this means that there is little risk that tenants will break or cancel the lease upon its termination date.
Limited Tenant Options for Site Shift: Customers of AMT generally will choose to pay a higher rate on a lease than to change sites. This is generally due to the great cost and highly sensitive nature of changing a site within their networks.
Low Capital Expenditure Requirements: The sites are relatively simple to maintain so very little cost is incurred by the company on an annual basis for upkeep of real estate.
Customer List
Domestic Tenants: AT&T Mobility, Sprint Nextel, Verizon and T-Mobile.
Foreign Tenants: Telefónica (Brazil, Chile, Colombia, Mexico and Peru), MTN Group Ltd. (Ghana, South Africa and Uganda), Grupo Iusacell, S.A. de C.V. (Mexico), Nextel International (Brazil, Chile, and Mexico) and Vodafone (India, Germany, Ghana, South Africa, and Uganda).
Network Development Services
This segment accounted for the other 3 percent, 2 percent and 2 percent of revenues in 2012, 2011 and 2010, respectively. These services in general are designed to aid in the creation of networks and integration of tenant networks to the rental properties.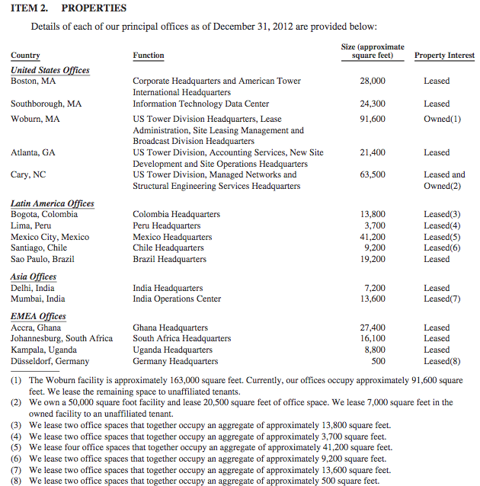 List of active sites. (Source: AMT Annual Report)
Operational Strategy
Only the briefest of explanations is necessary for this section. Because the company operates as a REIT, its main strategies are to "increase the leasing of…existing communications real estate portfolio," "invest in and selectively grow…communications real estate portfolio," "further improve on…operational performance," "maintain a strong balance sheet."
Note: the most interesting bit here is that it maintains a relatively prudent leverage ratio in comparison to the rest of the REIT industry. This means that growth is more organic than other companies and includes less inherent risk in the business model.
Porter's Five Forces
Threat of Substitutes - Low
There are very few methods to communicate wirelessly or have a reliable wireless network than to purchase or lease a network tower, therefore, there are few possible substitutes beyond WiFi networks, which are not nearly as reliable or common.
Threat of New Entrants - Low
The nature of the industry is to be extremely capital intensive. In order for a new group to become involved in the industry, the group would first have to acquire assets. The capital required to excavate and take advantage of these assets is extremely prohibitive.
Existing Rivalry - High
The industry as a whole is extremely competitive and is filled with several extremely well established and profitable firms. However, AMT is dedicated to providing a better service at a better rate and more reliably than its competitors. This is apparent through the comparison of fundamentals. The competitors that AMT management lists in the 2012 annual report include Crown Castle International Corp. (NYSE:CCI), SBA Communications Corporation (SBAC) and GTL Infrastructure, all of which have less impressive numbers than American Tower Corporation.
Power of Suppliers - Low
Suppliers are utilities and construction companies. These are not likely to interfere with AMT's business operations as they are all based on market rates and there are many substitutes.
Power of Buyer - Medium
Lessees can choose to use other real estate holdings at lower rates, but again, AMT provides a better service in general and therefore limits the incentive for a buyer to cause issues in the lease negotiation process.
Risk Factors
Technological changes
Delays or changes mobile technology development
Governmental licensing of spectrum or restricting/revoking spectrum licenses
Mergers or consolidations among wireless service providers
Increased use of network sharing
Decrease in consumer demand
Financial distress in mobile provider market
The above are risk factors stated on the 2012 AMT annual report. Most of these risk factors have commonalities in either technology or demand shifts, and most are fairly mild or unlikely as they are common risks associated with the industry. However, the main issue is that the company depends on a limited number of large clients to gain revenues. Therefore, AMT's revenues could be adversely affected if any of those clients choose to either discontinue or share services with another firm. For more information on risk factors, I have included a link to the source of the 2012 annual report here. There is an extensive risk factor section, so in the interest of saving time and space, I will simply direct you there. The depth of the section is quite impressive and shows a certain level of transparency that I have not often seen from companies of this type.
Industry Outlook
According to the company, data plan penetration with regard to the U.S. mobile market was approximately 60 percent by the end of last year (2012). However, 4G usage, which is far more lucrative and has larger data requirements, is only at around 10 percent penetration. This being said, the industry expects to see large growth in all areas of service. Major providers are projecting supply requirement increases of nearly 1,000 percent over the next four years.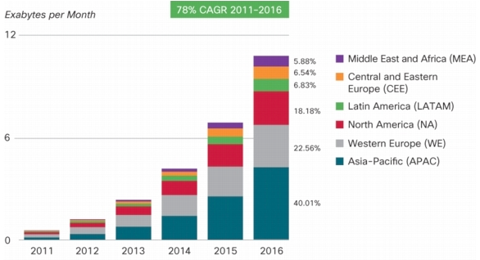 Projected demand percentages by year. (Source: Industry Analyst Report)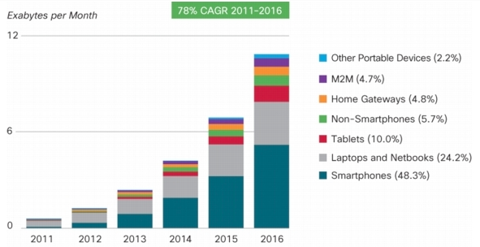 Projected demand percentages by device type. (Source: Industry Analyst Report)
AMT alone has grown its assets by an astounding amount. In the last five years alone, AMT increased its assets by nearly 100 percent. Increasing the number of towers under its control from 22,807 in 2005 to 54,604 at the end of 2012, all the while maintaining a leverage ratio of around 3.5 (low for a rapidly expanding company, particularly in a growth industry).
Company Outlook
Short-Term
The prospects for this company look good in the short-term. Its positions as a global leader in wireless broadcasting and networking puts it in a good position to gain not only from the expansion of the industry as a whole, but also improvement in the economy. Wireless broadband and 4G devices are a luxury currently, but are quickly becoming the norm as companies move to mobile platforms from formerly internet-based strategies. In the near term, American Tower Corporation will benefit from continued revenues providing the company with financial stability and good liquidity numbers relative to their leverage ratios.
Long-Term
AMT stands to become the industry leader in mobile telecommunications real estate. Over recent years, management has shown that it is capable of running the firm in such a way that its margins increase year-over-year and its current ratio (liquidity) and leverage ratios remain at attractive levels given the company's fast expansion. Barring a systemic movement from mobile broadcasting to more modern technology, AMT stands to profit enormously in the future. And in closing, anyone who is worried about a shift like the one just mentioned, remember that this company is fairly liquid and can deploy capital more quickly than competitors in the case of a technology shift.
Additional Notes
In addition to the more tangible statements above, I thought I would mention two more aspects, the philanthropic and the "green" practices of the company.
Philanthropy
American Tower Corporation has what it calls a "Philanthropic Signature Program." The program is "aimed at improving education by leveraging technology resources." Charities that are helped by this program include DonorsChoose.org, Grayston Internship Programme, Hole-in-the-Wall Education Ltd., Save the Children Foundation and VE-Global. AMT aids these charities in the form of both donations and volunteer hours.
Environmental Awareness
This section is not terribly large because AMT has a small carbon footprint to begin with. However, AMT has begun an initiative to share its site power generation systems with carriers. This allows customers to share tower infrastructure and thus limits over-construction of assets, reduces emissions and helps to maintain the natural resources in the areas of construction. AMT also helps to ensure that species near future sites are disturbed as little as possible by new construction.
Financial Analysis
Liquidity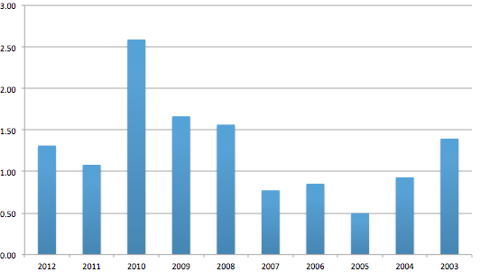 (Source: AMT Annual Report)
American Tower Corporation has a higher historical current ratio (current assets/current liabilities) than its peers in the industry and a current ratio nearly twice the average current ratio of other REITs. What this means is that the firm has managed to stay liquid while expanding quickly. This bodes well for future profits and cost reduction and means that the company can quickly deploy capital if there were an emergency that needed to be taken care of to maintain revenue streams.
Valuation
I approached the analysis for this company slightly differently than in my most recent articles, so I will try to explain it as close to step by step as I can. The method that I used for this analysis is an owner's earnings model. Warren Buffett and Berkshire Hathaway made this method popular.
Essentially the point of this model is to sort out some of the accounting manipulation and show a more accurate true value through manipulation of the income statement and balance sheet accounts. To begin the model, owner's earnings must be calculated. To perform this step, you must add depreciation and amortization expense to your net income figure (should increase the number so you don't add as a negative). Second, you must add required reinvestment to this figure (change in PPE from the previous year and the change in working capital). For reference, working capital is current assets minus current liabilities and the change in this is just the difference from one year to another. Now, when you have owner's earnings (which is the result of the above procedure) you need to find the discount rate. For this example, I used a simple CAPM calculation to find the value.
The risk free rate is the yield for the 10-year U.S. Treasury Bond (2.72%), the Beta value for AMT is 0.46, and the expected market return that I used is 8 percent. Plugging the values into the equation, I got a value of 3.72 percent, but I adjusted it upward by one percent to account for extra volatility despite the low Beta value. This actually makes the model more conservative.
After obtaining this value, I simply used it to find the PV of future cash flows. I used a perpetual growth rate of 3 percent and a short-term growth rate of 5 percent, which is more than reasonable given the projected expansion of the industry and the company's large assets in developing countries. I have included a screen capture of my model conclusion below.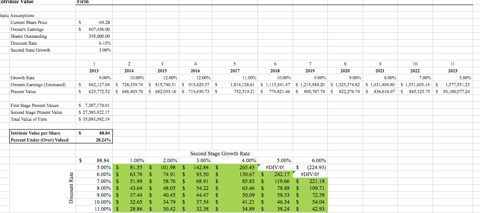 (Created by Author: Source AMT financial statements)
Conclusion
My valuation put a value of approximately $109.98 per share on the common stock of AMT. This model was designed to be fairly conservative through several methods and uses conservative growth rates relative to projections. I believe that this stock has a high enough margin of safety to be deemed significantly under fair value and I think it would make a good addition to any portfolio as a base security and as a dividend play. Thank you for reading!
Disclosure: I have no positions in any stocks mentioned, but may initiate a long position in AMT over the next 72 hours. I wrote this article myself, and it expresses my own opinions. I am not receiving compensation for it (other than from Seeking Alpha). I have no business relationship with any company whose stock is mentioned in this article.