Cogo Group, Inc. (COGO) announced a series of module design wins within multiple Smartphone and Smartbook products on both Windows Mobile and Android platforms.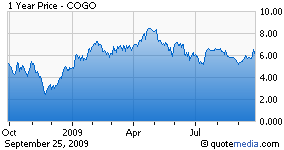 The company's initial wins include blue chip Chinese handset vendors such as Huawei and ZTE, and it expects to secure contracts with other domestic China handset vendors as well. Cogo expects to begin recording small amounts of revenue from these contracts in the third quarter of 2009, with sales ramping up through the end of 2009 and into 2010.
As with the mainstream market, Cogo's current Smartphone designs are mainly based on the Windows Mobile platform. The company expects to unveil an Android product in the fourth quarter of 2009. Since Windows Mobile and Android are broadly-accepted platforms in the global market, it will help Cogo's customers expand their export business.
The company continues to experience growth in its combined digital media and handset business and has good visibility with design wins for new features and applications, including modules for motion sensors and the expected ramp-up of 3G and CMMB (China's mobile TV standard).
Cogo Group is a leading technology platform service provider of customized module and subsystem design solutions in China. The company believes it acts as a proxy to China's technology industry, as it works with virtually all the major ODMs and OEMs in China. Major competitors include Arrow Electronics Inc. (NYSE:ARW), Avnet Inc. (NYSE:AVT) and Oclaro Inc. (NASDAQ:OCLR).