Xerox Shares Overreacting to ACS Deal
Iconic but lethargic printing and "services" firm Xerox (XRX) has agreed to purchase business process outsourcing (BPO) firm Affiliated Computer Systems (ACS) for $63 in cash and stock. The dual cash and stock nature of the deal is used to reduce the out-of-pocket cash expense for Xerox, and to incentivize ACS employees with a stake in their new firm. Xerox shares are off almost 17% on the news - a total overreaction, and I'm buying shares this morning.
The offer to ACS consists of $18.60 in cash and 4.935 shares of XRX for each ACS share they own -->> this amounted to $63 per share based on Friday's closing price for Xerox, but today the market is punishing Xerox, with shares trading all the way down to $7.55. Thanks to the stock nature of the deal, this reduces the offer to ACS shareholders to $55 from $63. Ouch.
Why is Xerox off so much? They're purchasing a company with double the profit margin, and for a pretty decent price. At the $64 offer price and considering ACS' cash balance, it looked to me that Xerox was paying a
FCFY (Free Cash Flow Yield)
of 11%. At this lower price based on where shares are now trading, it looks more like 13%. And this is before major cost-cutting (no I won't say "synergies"!) adds a point or more to that.
ACS' revenue and Free Cash Flow: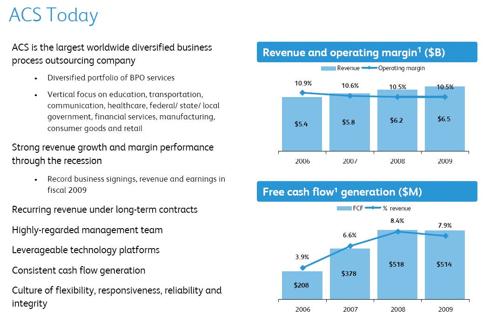 ...And the combined entity's projected Free Cash Flow - big numbers:

I'd say the biggest reason Xerox shares are off is worries about the ability to finance the deal, which was not mentioned much in the presentation slides this morning, nor in the press release. Xerox has a massive debt load, but they also generate massive cash flow, leading to a FCFY of almost 20% based on the current stock market
value. Xerox is looking at a drop of 16% in revenue this year, and is picking up a company that is growing revenues at 7%. There's execution risk here, financing risk, etc., but the Xerox stock drop more than reflects the worries. I understand skepticism around a deal like this, where a company

that is already struggling attempts to integrate a truly transformative acquisition. But as I said, I think the skepticism is more than reflected in the stock price. I'd say Xerox shares will head higher, and should be bought on this news.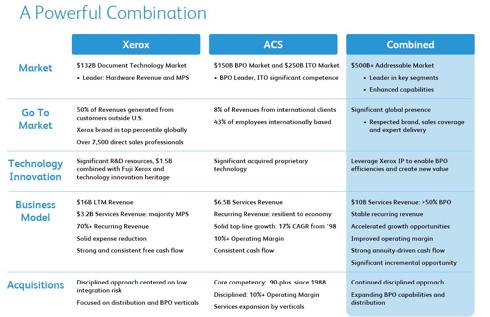 Disclosure: long XRX as of this morning
This article was written by
Brendan Wagner is a portfolio manager at Spectrum Advisory Services in Atlanta. In addition to managing portfolios for private individuals, families and corporations, Spectrum is the advisor for the Marathon Value Portfolio (MVPFX) mutual fund. After graduating with a finance degree from Boston College in 2000, Brendan has worked in equity research and portfolio management ever since. www.spectrumadvisory.com