Introduction:
It has long been my opinion that Dividend Growth Investing (DGI) is a strategy that will serve younger investors well. There are many younger investors who believe that a growth strategy might be a better one for them, but I tend to disagree.
My own children started a DG portfolio back in 2006 and that portfolio was funded by an inheritance they received from my sister's estate.
In that regard, the children began with $100k and invested that money into 10 stocks, with an allocation of $10k per position. The 10 original stocks were: Abbott Labs (NYSE:ABT), Colgate Palmolive (NYSE:CL), Coca Cola (NYSE:KO), Johnson and Johnson (NYSE:JNJ), Kimberly Clark (NYSE:KMB), McDonalds (NYSE:MCD), Procter & Gamble (NYSE:PG), AT&T (NYSE:T), Wal-Mart (NYSE:WMT), and Exxon Mobil (NYSE:XOM).
Most younger people don't begin a portfolio with $100k. Instead, they may go a while before beginning to invest in any kind of retirement plan, instead focusing on what seems to be more pressing matters as they begin their careers.
For many, it might not be until they begin approaching their 30s that they begin to start thinking about saving and investing and I have to tell you - -that's okay. It just works out like that sometimes.
But having a plan and getting started will make all the difference in the world as far as reaching financial independence. So, it might be a 401k on the job, a Roth, or an IRA. Regardless, make plans to begin saving and investing.
What You Should Know:
I am a Dividend Growth Investor. My own criteria for adding stocks to my portfolio are finding companies that are priced at a value to their intrinsic worth. I like companies that pay dividends and increase those dividends annually. I target companies with a 3% yield and a Dividend Growth Rate of 6% for 1-3-5-and 10 year time frames. I am an active investor.
For me, that means "buy and monitor." In reality, most of my stock positions are long-term holds, but I usually add one or two new ones every year. I am in the practice of balancing my portfolio, which means that I will trim positions to get things back into some semblance of balance with the other positions in my portfolio. I currently own stocks that do not have a DGR of 6%, but overall, my portfolio does in fact, have a DGR in excess of 6%.
There are investment strategies that are different than Dividend Growth. In fact, many investors use a combination of investment strategies, including Growth or Growth and Income, and some use a strategy that is known as "Balanced," which is a combination of stocks and bonds.
What I Know:
In a recent article, "Dividend Growth Investing And Beating The SP 500", I made the statement that many DG investors really don't spend a lot of time measuring their portfolio performance against the SP 500, or any other index.
The idea that many DG investors don't measure performance against an index seemed to be odd to a number of people and the comment stream began to go back and forth with the pros and cons of benchmarking against the SP 500 Index.
From the comments, it became clear to me that a lot of the people who were pro benchmarking against the index were primarily "Growth" investors. As I stated earlier, there are many different investing strategies and many different "practices" within each one of those strategies. But for all intents and purposes, benchmarking portfolio performance appears to be a rather common practice among those who would fall into the Growth investor category. And it's all well and good.
A Contrast in Styles:
Getting back to the premise of the article -- that is, Dividend Growth Investing is a strategy that younger investors might want to adopt -- as I began to think about the contrasts between a Growth investor and a Dividend Growth investor, I began to see a picture of each investor begin to develop. We will call our Growth Investor, "Investor A" and we will call our Dividend Growth Investor, "Investor B."
Assuming that both are in their early 30s and beginning a savings and investment plan, I wanted to contrast how a 30-year investment window might look from these two investment styles.
So I set about creating some additional assumptions for each investor relative to the input garnered from some of the comments made by different people in my article thread. So, let's set this up, shall we?
Investor A and Investor B are both going to start an investment portfolio with an initial $5500 contribution and they will both employ a Roth IRA. Each will contribute $5500 a year for the next 30 years.
Investor A (the Growth Investor) has an expectation of his portfolio growing at an annualized 6.5%. That sounds very reasonable, in light of the performance of the SP 500 Index over the last 30 years. Since 1983, the SP 500 has averaged and annualized growth of 8.1%; since 1993, 6.8%; since 2003, 5.5%; and since 2008 5.7%.
Investor B (the Dividend Growth Investor) will be investing in DG stocks with a "target" in mind as well. He is going to focus on stocks that have a dividend yield of 3% and a Dividend Growth Rate of 6% annualized. Let us also assume that since Investor B will be investing in "slower" growth stocks, that his annualized rate of return will only be 3% over the 30-year investment period.
Results for Investor A:
Over the 30-year investment time period, Investor A has contributed $165,000 of his own money to his Roth IRA. His annualized growth rate has added and additional $340,940 to his own investment, bringing his total portfolio value to $505,940.
Results for Investor B: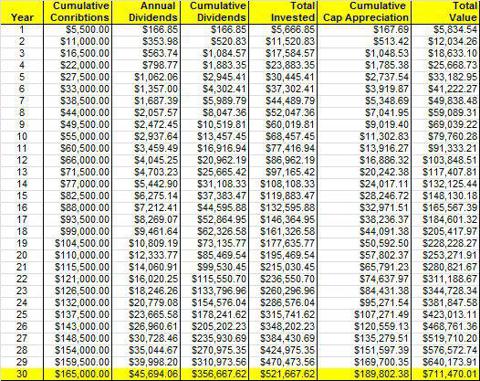 Investor B has also contributed $165,000 of his own money to his Roth IRA. His investments have yielded 3% with a 6% annual DGR, which gave him an additional $356,667 dollars in dividends, bringing his portfolio value to $521,667. While his portfolio appreciated at a lower rate than Investor A's portfolio, the annualized 3% appreciation brought an additional $189,802, which makes the portfolio value a total of $711,470.
Investor B, in year 30, received $45,694 in dividends. But in the coming year (31), his dividend income will be $48,435 or $4036 a month. In year 32, his dividend income will be $51,341 or $4278 per month. In year 33, $54421 or $4535 a month, and so on.
Every year, his dividend income should be growing at his targeted 6% a year. This is income that Investor B could be using to delay Social Security payments until age 70 so he maximizes his benefit and he can continue to have an increasing income stream without ever having to sell a single share if he chooses not to.
Conclusion and Summary:
Dividend Growth Investing has a primary goal of creating a growing income stream for those who use this strategy. At the same time, during the accumulation phase, DGI can deliver excellent results toward that end, with dividends being reinvested back into the portfolio.
As in our example, even with the lower annualized capital appreciation metric, Investor B was able to grow his portfolio over Investor A by $205,540.
At the same time, while Investor B will continue to have a growing income stream, Investor A, without having created an income stream, will likely have to liquidate shares from his portfolio to supplement his income in retirement.
Acknowledgement:
Special thanks to Greg Player, a fellow Seeking Alpha member, for his work in creating the spreadsheets used for this article. While I used a summary portion of his complete work, I could not have put together these examples without his generous contribution and the many e-mail conversations that we had discussing this article and its content.
Disclosure: I am long ABT, CL, JNJ, KMB, MCD, PG, T, WMT, XOM, KO. I wrote this article myself, and it expresses my own opinions. I am not receiving compensation for it (other than from Seeking Alpha). I have no business relationship with any company whose stock is mentioned in this article.