Preferred stock investors have endured a difficult stretch over the last several months. Since peaking in early May, preferreds as an asset class have declined sharply. This, of course, stands in stark contrast to the stock market, which managed to shake off some early summer turbulence to advance to fresh new highs. But despite this divergence in performance, stock investors may be well served to pay close attention to the recent direction of preferreds, for they may be foreshadowing that a stock market correction may be approaching in the near future.
Preferred stock performance had been most impressive until recently. For the first four months of the year, the category drifted quietly higher with minimal volatility. Along the way, the category as measured by the iShares S&P U.S. Preferred Stock Index ETF (NYSEARCA:PFF) had posted a gain in a remarkable 71% of trading days year-to-date through May 8. This was a most pleasant development for the many investors including more conservative fixed income oriented retirees that had flocked to the asset class in search of yield. But then, suddenly everything changed.
Preferred stocks have recently fallen on very hard times. Since peaking on May 8, the category has corrected by over -6% amid an explosion of volatility. Whereas before the peak, the average daily change in either direction for preferreds was just 0.12% year-to-date, since that time the average daily change has jumped to 0.41%. Moreover, preferreds are down declining in 59% of all trading days. In short, daily price swings in preferreds have more than tripled over the last three months, with a majority of these days moving to the downside. As a result, preferred investors that were once sitting on a solid +5% year-to-date gain only a few months ago are now dealing with a decline of roughly -1.5% for 2013.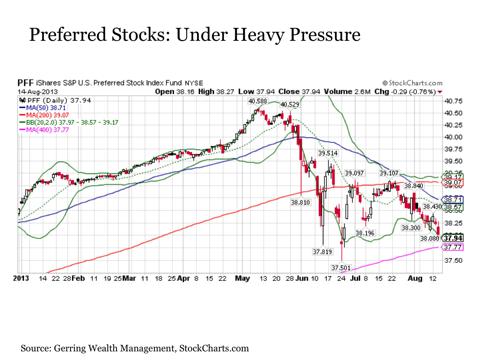 It should be noted that this dramatic shift has been felt almost universally across the entire preferred stock market. This includes financial preferreds as represented by the PowerShares Financial Preferred (NYSE:PGF), non-financial preferreds as represented by the Market Vectors Preferred Securities ex Financials (NYSEARCA:PFXF) as well as other leading broad market preferred stock ETFs including the PowerShares Preferred (NYSE:PGX) and the SPDR Wells Fargo Preferred Stock (NYSEARCA:PSK).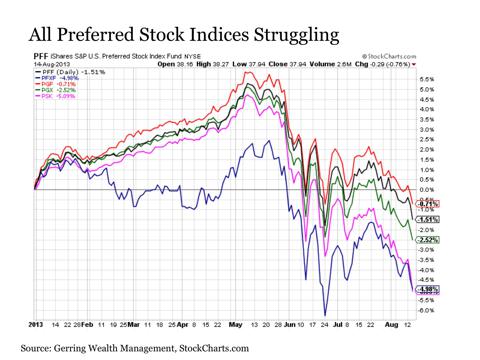 Of course, a natural explanation for why preferreds have done so poorly in recent months would be the spike in interest rates. After all, it has been over virtually the same time period that 10-year U.S. Treasury yields have spiked from a low of 1.61% on May 1 to 2.71% as of Wednesday's close. Clearly, this has played role in pressuring preferred stock performance over the last few months. But is it telling the entire story? Or are other forces at work in the category that may soon spread to the common stock market (NYSEARCA:SPY) before it is all said and done?
Stock investors would be well served to at least take notice to the events unfolding in the preferred stock market. This is due to the fact that the performance of preferred stocks over time is much more highly correlated to the stock market than interest rates. For example, preferred stock returns have historically been uncorrelated to slightly negatively correlated to the inverse of the changes in the 10-year U.S. Treasury yield dating back to before the outbreak of the financial crisis with an overall weekly correlation of -0.13. However, preferred stock returns have been highly positively correlated to the performance of the stock market over the same time period with a weekly returns correlation of +0.63. Thus, while the recent spike in interest rates may indeed be placing a drag on preferred stocks, it is still notable that the performance of common stocks and preferreds has deviated so widely as a result.
Examining the performance of preferred stocks versus the common stock market over the last several years reinforces the close relationship these two categories have experienced over time. Dating back to before the financial crisis, stocks and preferreds have traveled on a very similar path. Both categories were severely drubbed during the depths of the financial crisis, with preferreds suffering a disproportionately large hit due to their heavy concentration in financials. Both also experienced a comparably swift recovery in the aftermath of the crisis. And while preferreds were frequently in the lead along the way over the last several years, such performance gaps would regularly compress over time.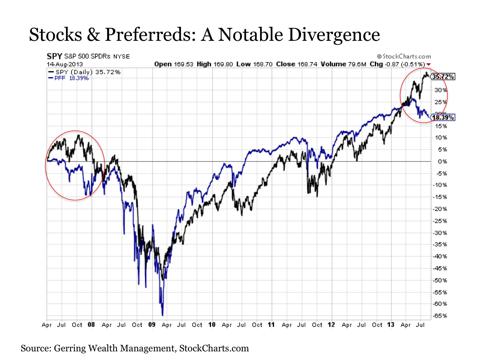 Thus, the recent performance divergence between stocks and preferreds is particularly notable given their close long-term relationship. Today, the relative returns gap for stocks over preferreds stands at over 17 percentage points, all of which has taken place over the last three months since early May. It should be noted that the last time that common stocks were experiencing a comparable performance gap over preferred stocks was back in late 2007 when the stock market was reaching new highs while the preferred stock market was in steady retreat. Eventually these two markets converged in early 2008 with stocks joining back up with preferreds to the downside. And we all know what happened from there.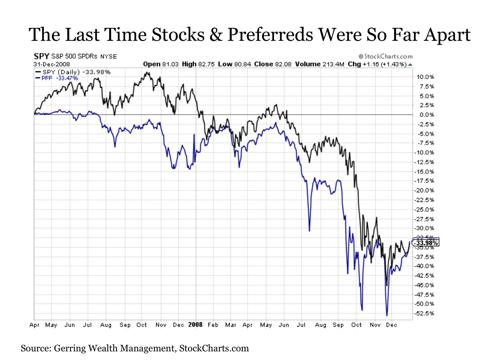 With all of this being said, it should be explicitly stated that 2013 is not 2007. Market conditions are distinctly different today than they were six years ago, and it is very possible that preferred stocks may eventually rally to rejoin common stocks to the upside.
But the mere fact that this wide divergence exists between stocks and preferreds should be noted and monitored closely, for it implies that something is clearly amiss with the fundamental state of capital markets. Perhaps it will end up being nothing and it will simply resolve itself over time. Then again, it may be something very substantial. Only time will tell.
This post is for information purposes only. There are risks involved with investing including loss of principal. Gerring Wealth Management (GWM) makes no explicit or implicit guarantee with respect to performance or the outcome of any investment or projections made by GWM. There is no guarantee that the goals of the strategies discussed by GWM will be met.
Disclosure: I have no positions in any stocks mentioned, and no plans to initiate any positions within the next 72 hours. I wrote this article myself, and it expresses my own opinions. I am not receiving compensation for it (other than from Seeking Alpha). I have no business relationship with any company whose stock is mentioned in this article.
Additional disclosure: I am currently long the common stock market via the VOO, XLI and XLF. All are considered short-term positions. My largest portfolio allocation is to cash.