Note: This article covers a micro-cap stock. Please be aware of the risks associated with these stocks.
Iluvien:
pSivida (NASDAQ:PSDV) has a good bit of experience in developing sustained release drugs to treat back of the eye diseases. Below is an image that captures the various products pSivida developed, with ILUVIEN being the most recent. ILUVIEN is a small insert that delivers a low dose of fluocinolone acetonide for a duration of 3 years.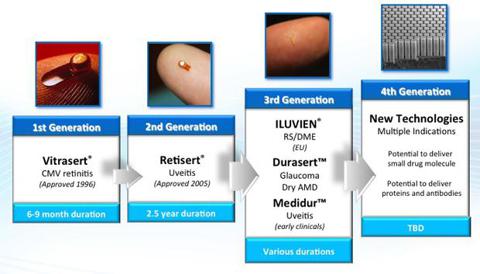 Alimera Sciences (NASDAQ:ALIM) has the worldwide marketing rights for ILUVIEN. pSivida retains the rights for posterior uveitis and is currently conducting a phase 3 study in that indication. It is currently approved in six European countries for chronic DME including Austria, the United Kingdom, Portugal, France, Spain and Germany.
Alimera is planning to commercialize ILUVIEN in Germany, the United Kingdom and France until they achieve positive cash flow and sustainability. The milestones expected in the next few months related to ILUVIEN are:
Final guidance from NICE in September following a positive appraisal issued in June which could lead to coverage by NHS in the 4th quarter.
Conclusion of contract negotiations with krankenkassens (KKs) in Germany.
Conclusion of price negotiations in France following a positive opinion from France's Transparency Commission in June.
Approval decision in the US - PDUFA date of October 17th.
Alimera is wise to focus on these 3 countries to limit marketing expenses. Shares of Alimera took a hit after the earnings release on August 12th. The revenues (90% from Germany) were $179K for the 2 months ILUVIEN was in the market during the 2nd quarter. A total of 30 chronic DME patients were treated with ILUVIEN so far representing total revenue of at least $300K (some patients received 2 inserts). While this number looks modest, it is not due to a lack of demand for the product but a result of not having final contracts with the major Krankenkassens (KKs) in Germany. In prepared remarks, Alimera's CEO Daniel Myers indicated that "the number of individual funding request under consideration for reimbursement in Germany is more than 3x the number of patients who've actually received ILUVIEN." That is a potential revenue of $900k (approximately), waiting for individual funding requests to be approved. Many retinal specialists prescribe Lucentis in wet AMD if the insurance covers it, otherwise they resort to off-label treatments like Avastin. Similarly, I expect adoption of ILUVIEN to pick up pace once Alimera finalizes its reimbursement contracts with the KKs in Germany.
Reimbursement will not be an issue in UK and France. In UK, Alimera has agreed to a patient access scheme that will allow NHS to start covering ILUVIEN soon after NICE final guidance is issued. In France, Alimera expects Iluvien to be reimbursed for 100% of the cost under Affection de Longue Duree, a program for severe chronic diseases. ILUVIEN revenues should pick up by the end of the year. DME is a chronic disease and there is a desperate need for a sustained release treatment and ILUVIEN fills that need very well.
DME vs. Chronic DME (VEGF vs. Steroids)
The pathophysiology of diabetic macular edema (DME) is complex and involves intracellular hyperglycemia, which induces free radicals (oxidative stress), protein kinase C (PKC) activation, and formation of advanced glycation end-products. This process results in hypoxia, ischemia, inflammation, and alteration of vitreomacular interface. Among subjects with chronic DME (duration >3 yrs), there are things of an inflammatory nature that an anti-VEGF treatment may not address leaving room for steroids treatment options. About 47% of DME patients treated with Lucentis in the RESTORE European study didn't achieve 20/40 outcome after 12 months. In the RESTORE extension study, the patients who responded better to Lucentis treatment were the ones who were more recently diagnosed with DME, leaving room for steroids to fill the need for chronic DME subjects. Steroids are used in DME subjects as 2nd line therapy after a VEGF treatment like Lucentis fails to improve vision. Ozurdex is another sustained release steroid implant that is marketed by Allergan. Allergan recently announced that it submitted the applications for approval of Ozurdex in DME in both the US and EU. The data for Ozurdex in DME subjects has not been released yet. It is well known among retinal specialists that performance of Ozurdex peaks at three to four months after implant. Iluvien is the most sustained release (3 years) steroid implant that is injectable at a regular office visit, without the need for surgery, and is the more suitable steroid treatment for chronic DME subjects. The market for chronic DME is about 20-30% of the overall DME market. While Alimera estimates this to be about a $400 million opportunity in Europe, I expect ILUVIEN to reach peak sales of $150-$200 million in Europe. The market is undervaluing both Alimera ($ALIM) and pSivida ($PSDV) based just on these EU projections. If ILUVIEN does get approval in the US, that represents an additional upside of $200 million in sales potential.
Some useful links on the use of steroids in DME:
Treating DME: Laser, Anti-VEGF or Steroids?
DME: What Trials Tell Us About Treatment -Even though anti-VEGF agents appear to be effective, surgeons would like a long-term solution.
Evidence‐based DME Algorithm: How I Utilize the Current Options.
Debate: Management of Center-Involved DME and 20/50 in a Pseudophake - Corticosteroids.
Tethadur:
Ask any retinal specialist and they will tell you that an ideal treatment for wet AMD and DME eye disorders is one with the safety and efficacy profile of the VEGF treatments like Lucentis and Eylea, but requires less frequent eye injections. Tethadur is a technology that attempts to do exactly that. Tethadur is nanostructured porous silicon that is biodegradable. pSivida can control the size of the pores making it suitable for delivery of proteins, peptides and antibodies. Tethadur has been in development for several years but it is worth paying close attention now since it is in final pre-clinical stages (slide 4). Below is a slide with pre-clinical data of Lucentis using Tethadur technology. One of the 2013 milestones listed by pSivida in the June investor presentation is to release "pre-clinical peptide and protein delivery data." So, I expect additional Tethadur pre-clinical data later this year.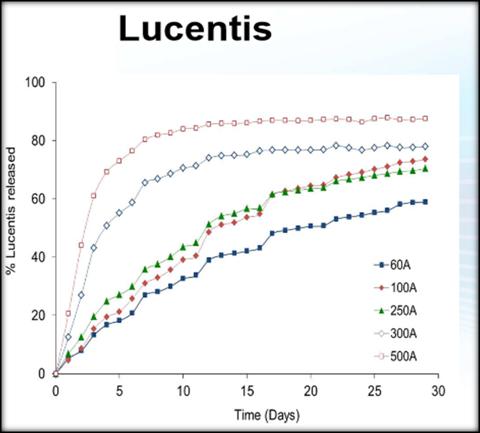 pSivida has 3 tech evaluations ongoing (announced on July 30th 2012, April 4th 2013, and May 29th 2013) with pharmaceutical companies and 2 of those are based on Tethadur technology. Given that pSivida develops treatments for eye disorders, it is not unreasonable to expect one or both of these tech evaluations to be related to VEGF treatments like Avastin, Lucentis, or Eylea. Lucentis and Eylea had a combined worldwide sales of $1.45 billion USD in Q2 2013 (Lucentis= $1.03 billion + Eylea= $425.6 Million), which translates to an annualized rate of $5.8 billion. If one of these Tethadur agreements materializes and moves into the clinic, I expect the path to approval in indications like wet AMD and DME to be much faster relative to traditional development. The efficacy and safety profile of these VEGF based treatments is already well established.
Summary:
ILUVIEN will find its place in treating chronic DME subjects. Retinal specialists are clamoring for sustained release formulations that will reduce the burden of frequent eye injections and ILUVIEN fills that need among chronic DME subjects. The sales potential of ILUVIEN in EU and the US remains intact and I expect sales in EU to pick up by the end of the year. I am long ALIM and PSDV for that reason.
Tethadur technology could lead to a sustained release treatment option for wet AMD and DME, a market that is worth several billion dollars. While many traders of pSivida are focused on ILUVIEN, Tethadur can transform pSivida into a huge success. It is worth keeping 'Tethadur' on your radar.
Disclosure: I am long ALIM, PSDV. I wrote this article myself, and it expresses my own opinions. I am not receiving compensation for it. I have no business relationship with any company whose stock is mentioned in this article.