Editors' Note: This article covers micro-cap stocks. Please be aware of the risks associated with these stocks.
I recently wrote an article about how the most likely "beneficiary*" of the EPA's Renewable Fuels Standard II or RFS2 program would ironically be "Big Oil." In the article I used Valero (NYSE:VLO) as a case study, and highlighted how it most likely had the model that would succeed. I did a follow-up article detailing how biofuels companies are attractive M&A candidates for "Big Oil" to expand upon the topic. The reason I reached that conclusion was because the RFS2 created a situation that sent RIN prices soaring 2,700% year to date through July 19th, 2013, when I wrote the article regarding the topic. Renewable Identification Numbers or RINS are a market based tool used by the EPA to implement the RFS2, and the record surge in prices caught a lot of attention from "Big Oil." I was pretty sure that once the "Big Oil" bean counters got a hold of the 2nd quarter 2013 income statements, the solution would be pretty obvious, and that solution would be to follow the VLO model.
The VLO model is pretty simple. It basically boils down to if you face two choices, 1) get punched in the nose or 2) get punched in the nose and kicked in the groin, choose getting punched in the nose. In the above paragraph I put beneficiaries in quotes and with an asterisk. The reason I did that was because the way "Big Oil" benefits from the EPA's RFS2 is by attempting to minimize the pain. It can't eliminate the pain, but it can try to mitigate it. As long as the RFS2 remains in place, "Big Oil" will have to pay the RIN regulatory "tax," but it can choose who they pay the tax to. "Big Oil" can either pay the RIN "tax" to some other firm, or it can buy that other firm and pay the RIN "tax" to themselves. Because that decision is highly quantifiable, it is easy to take the capitalization of a biofuels company, the number of gallons and RINs that biofuels plant produces per year, convert those numbers to RIN "tax" savings per year, and do a cost benefit analysis by comparing the RIN "tax" savings to the capitalization of the firm. Earlier this year when I wrote the above linked articles, ethanol RINs were trading around $1.50, so the RIN tax was significant.
With RINs trading around $1.50, the work of the "Big Oil" bean counters was easy. The conclusion was to buy biofuels plants. Ethanol RINs have since fallen back below $1.00 but the economics are still very much in favor of "Big Oil" buying up biofuels plants. Just today, August 14th, 2013, Ethanol Producer Magazine is reporting that Marathon Petroleum Company (NYSE:MPC), a member of the "Big Oil" brothehood, has recently aquired an interest in 3 ethanol plants.
On Aug. 1, 2013, Marathon Petroleum Corp. acquired from Mitsui & Co. (U.S.A.) Inc. its interests in three ethanol companies for $75 million in cash. Under the agreement MPC acquired an additional 24 percent interest in The Andersons Clymers Ethanol LLC, a 34 percent interest in The Andersons Ethanol Investment LLC, and a 40 percent interest in The Andersons Albion Ethanol LLC.
The "Big Oil" Brotherhood:
BP (NYSE:BP)

Royal Dutch Shell (NYSE:RDS.A)

ConocoPhillips (NYSE:COP)

ExxonMobil (NYSE:XOM)

Chevron (NYSE:CVX)

Phillips 66 (NYSE:PSX)

Marathon Petroleum Company

Valero
Buying ethanol plants is the least risky way for "Big Oil" to avoid the RIN "tax." Ethanol is the largest component of RFS2, it has an already established market, the process is very low tech, it is a direct way to hedge the "blend wall" issue and the production process is stable, proven and reliable. For those reasons, ethanol companies are the most likely to be M&A targets for "Big Oil."
M&A targets could include:
BioFuel Energy (NASDAQ:BIOF)

Pacific Ethanol (NASDAQ:PEIX)

Rex American Resources (NYSE:REX)

Green Plains Renewable Energy (NASDAQ:GPRE)

Archer Daniels Midland (NYSE:ADM)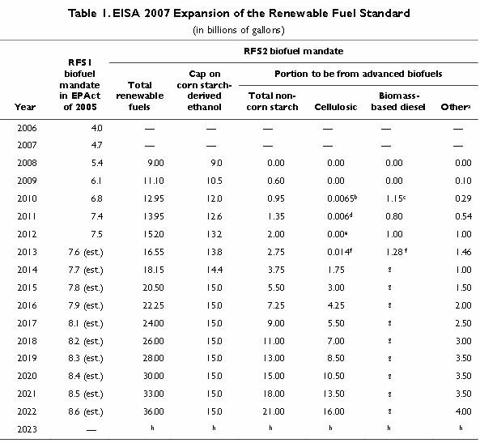 Buying biodiesel plants would be another low risk approach. The problem with biodiesel is it only makes up a very small part of the RFS2 (see graphic above). The 2013 quota is 1.28 billion gallons, as opposed to the 13.8 billion gallons for ethanol. Biodiesel is also low tech and has a stable and reliable production process as well as an established market. The advantages biodiesel has over ethanol is that 1) it is a fuel that has fewer blending problems than ethanol 2) each gallon of biodiesel produces 1.5 RINs vs ethanol which only produces 1 RIN per gallon 3) biodiesel can be made out of fats, waste oils and greases (FOG), so it is more environmentally friendly and doesn't disrupt the food supply as much as ethanol, and 4) biodiesel produces what are called D4 RINs which can be used to satisfy an ethanol or D6 RIN quota. D6 RINs cannot be used as D4 RINs, but D4 RINs can be used as D6 RINs. There is a "nesting" structure that makes D4 RINs more valuable and flexible than D6 RINs. The most likely biodiesel M&A target would be Renewable Energy Group (NASDAQ:REGI). It has the largest, most varied and geographically diverse portfolio of biodiesel plants. REGI alone produces around 1/5 of the 2013 RFS2 quota. Another M&A target would be the much smaller Biox (OTC:BXIOF).
Buying renewable diesel and gasoline companies would be another way for "Big Oil" to mitigate the RIN "tax," but it is a more risky route. Renewable fuels have the benefit of being 1) drop-in, with no chance of a "blend wall" issue 2) produce 1.7 D4 RINs per gallon vs the 1.5 D4 RINs with biodiesel and 1 D6 RIN with ethanol 3) theoretical margins per gallon are higher 4) they can use a variety of feedstocks, including cellulose which will dominate the RFS2 going forward. There are problems with renewable fuels in that they are high tech, unproven, some are first and one of a kind plants, expensive, subject to patent and other legal disputes and don't have a consistent and reliable production process. Even with all these problems, companies like Syntroleum (NASDAQ:SYNM) are attracting M&A interest. The other company in this field, KiOR (NASDAQ:KIOR), has an expensive process that is having difficulty reaching consistent production which has resulted in a lawsuit. KIOR however is totally focused on using cellulose as a feedstock, SYNM has the ability to use cellulose as a feedstock, and Rentech (NYSEMKT:RTK) has the technology to use celluose as a feedstock if it ever wants to return to the alternative energy market, so these companies may have their best opportunities ahead of them, when the RFS2 cellulosic based fuels quota dramatically increases. A private company Poet also can use cellulose, and may be something to consider if they ever have an IPO.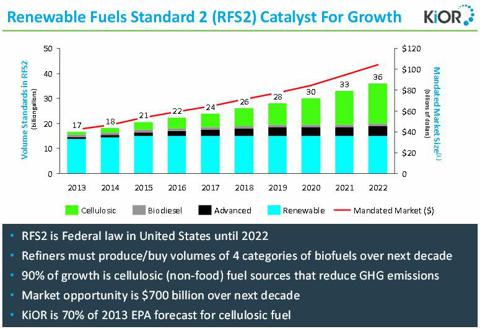 In conclusion, I would expect the trend of "Big Oil" buying up biofuels companies to continue. The ethanol "blend wall" and the dramatic increase is the cellulosic based fuels quota will likely keep the RIN "tax" high enough to encourage "Big Oil" to consider M&A as a way to mitigate the regulatory pain. Ethanol plants are the most likely targets followed by biodiesel and then renewable fuels. Because we currently aren't producing any cellulose based fuels to speak of, and the 2022 cellulosic quota rivals the ethanol quota of today, I would expect those companies to be targeted in the future. The greatest threat to all these companies and this M&A theory is the political risk. The RFS2 is a political construct, and is largely founded in the belief that CO2 produced by man is causing climate change. If temperature trends continue as they are, that being flat for the last 10 to 15 years, and there is a landslide political election that results in Congress investigating the "science" that supports all these policies, the RFS2 may not make it to its target date of 2022.
Disclosure: I am long SYNM. I wrote this article myself, and it expresses my own opinions. I am not receiving compensation for it (other than from Seeking Alpha). I have no business relationship with any company whose stock is mentioned in this article.
Disclaimer: This article is not an investment recommendation. Any analysis presented in this article is illustrative in nature, is based on an incomplete set of information and has limitations to its accuracy, and is not meant to be relied upon for investment decisions. Please consult a qualified investment advisor. The information upon which this material is based was obtained from sources believed to be reliable, but has not been independently verified. Therefore, the author cannot guarantee its accuracy. Any opinions or estimates constitute the author's best judgment as of the date of publication, and are subject to change without notice.