Can You Name Today's Two Best Green Energy Pure Plays? How about EnerNOC (NASDAQ:ENOC) and Comverge (NASDAQ:COMV)?
Lost amid the usual torrent of energy news last week was this item from the Independent System Operator/Regional Transmission Organization Council (IRC), a group representing the operators of North America's 10 independently-managed high-voltage power grids. The amount of electricity being saved through "demand response" programs routed over IRC-managed systems has risen 85% over 2006 levels.
Quick, name another business that is thriving as much as demand response, or DR, continues to thrive even during this "Great Recession."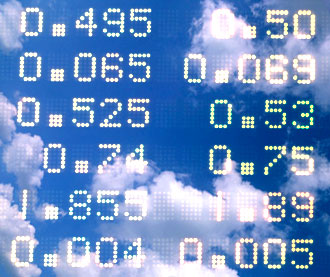 In general, DR programs utilize sophisticated software in ways that enable mostly large power users to get paid for being willing to cut their electricity consumption during periods of peak demand. It also enables utilities not to have to build "peakers," power plants that generally operate only during periods of peak demand, and reduces the chance of a utility having to pay through the nose for emergency power in the open market.
While so many other alternative energy movers and shakers are diversified behemoths for which electricity is but a piece of the pie, DR features two pure plays. Their immediate and long-term futures would appear to be very bright, given the growing number of aging coal-fired power plants being shut down by owners who don't want to pay for expensive new pollution-control equipment and the continued political opposition to new nuclear power plants. (Together, coal and nuclear equal roughly three-fourths of America's total electrical generating capacity.)
The two plays are EnerNOC Inc. (ENOC), and Comverge Inc. (COMV).
Neither is in the black – yet. And both have been flying high in recent months, roughly tripling in price on the NASDAQ. But there's every reason to believe they may continue on an upward trajectory for years to come.
EnerNOC just announced that it is broadening its product offerings to include greenhouse gas (GHG) management, which could be plenty lucrative now that the U.S. Environmental Protection Agency has issued a final ruling that will require tens of thousands of manufacturing concerns to start reporting their GHG in 2011.
Meanwhile, Comverge, whose DR efforts focus more on what happens inside a building, vs. EnerNOC's outside emphasis, just announced that its in-home display (IHD) product was just Zigbee certified. With Zigbee starting to emerge as "the" protocol for indoor energy-saving devices, and with the IHD market for controlling and reducing power consumption expected to be very lucrative, Comverge's announcement is important.
Again, neither firm is yet in the black, and neither stock is cheap. Still, if you're looking for an energy pure play with potential, both would appear to warrant closer looks.