Mueller Water Products (NYSE:MWA) is into the business of providing "Infrastructure to transmit and distribute Water". Mueller was one of the companies which bore the brunt of the 2008 financial crisis when the housing industry collapsed. In order to survive, the company had to make some tough decisions and restructure itself. It divested nonperforming assets like US Pipes and emerged leaner.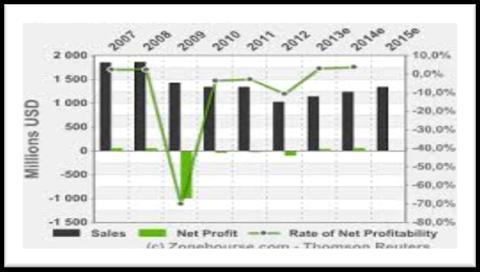 Over the past eighteen months the company has made a slow, but steady recovery and is poised to take off again. In this write-up we discuss the company fundamentals, corporate structure, and the market dynamics in which Mueller operates to decipher whether to buy or sell Mueller shares today.
Mueller Products and Customers
Mueller Water Products has consolidated most of its brands and services under two business segments. These are Anvil International and Mueller Its product offerings include iron pipes, valves, fire hydrants, pipe fittings, and water meters. It also offers a host of services like leakage detection, a form of smart metering which leverages cutting edge technologies.
Mueller is recognized as the market leader in several of the product segments in which it operates. Its customer base is predominantly in the construction industry, government municipalities which fulfil water services to communities, in addition to Oil and Gas companies. Thanks to the strong relationships that Mueller has forged with end users, its market penetration is high. Nearly 100 metropolitan city governing agencies in the U.S. have recommended and mandated the usage of Mueller products and solutions.
Competitive Landscape
Competition to Mueller is fragmented. Victaulic, Ward, and Wisconsin are the few companies which compete with Mueller in Energy and construction verticals. Sensus, Badger Meter, and Itron are Mueller's competing companies in the nascent smart metering space.
Company fundamentals
Mueller share is trading at around $7.50 as of close of business on August 13. Its market cap is $1.17 Billion with an average 90 day volume of shares being traded of 1.4 million.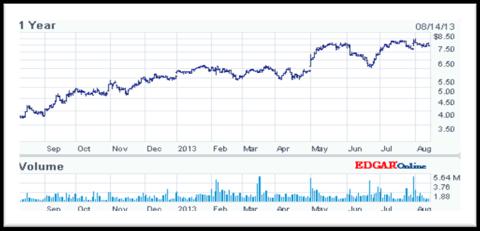 The share has been fluctuating between $8.03 (which represents a 127% increase from its lowest point) and $3.75 in the past 52 week window.
In the words of Gregory Hyland, Chairman and CEO of Mueller, "Their 3Q13 results were the best quarter results in the past five years". Following the earnings call, Mueller announced cash dividend payout of $0.0175 per share. Earnings per share, which is generally a good indicator of the overall profitability of the firm, has gone up in 3Q when compared to the same period last year. It stands at $0.09 per share. Dividend Yield is 0.93%. 3Q sales have seen an 8.5% increase in comparison to 3Q12 and stands at $299.4M. Another clear sign of the good health of Mueller was the upward trend seen in its operating income which went up by 25.4% compared to 3Q13.
Contributing factors for the robust sales growth in 3Q13
In its statutory filings, Mueller has called out increased municipal authority spending on water infrastructure and upturn in the residential construction activity as two major reasons for the robust increase in sales in 3Q13. Sustained increase in new house construction over the months of March, April, May, and June as reported by the U.S. Census Bureau and Thomson Reuters report on increased funding by municipalities support the above conclusion of Mueller management. Mueller also added more niche products into its portfolio by acquiring AMI technology, leak detection and pipe condition assessment products. These new product sets have shown double digit growth in comparison to previous quarters.
Other Positive Fundamentals
Another strong indicator of the soundness of Mueller financial health is the manner in which it has managed its debt liability. Its total debt stands at a little over $600 Million at end of 3Q13 which means debt leverage is 4X as of March 13. This is a far cry from 2010 when Mueller was forced to pay high yields in order to retain investors.
The company has managed to repay debt of close to $926 Million from the lows of 2006.
Fresh Cash Flow
It has also managed its working capital better in tandem with capital expenditure, thereby generating free cash flow of $45.5 Million in FY12. Mueller has also managed to reduce its operating costs by consolidating its smaller manufacturing and distribution centers.
Muellers Market Potential and Contributing Factors
As discussed in the earlier paragraphs, municipal spending on upgrading the existing water transport infrastructure, labeled as "repair and replacement", market is expected to grow incrementally over the next few decades.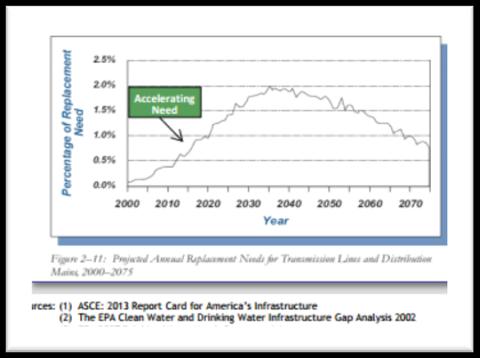 These projections are based on a 2013 report findings by ASCE on the status of infrastructure in North America. As per this report, up to 40 US cities have been decreed to repair or replace their ageing drinking water transmission systems. Mueller has a lion's share of these old pipe systems which in some cases are between 40 to 50 years old. It is expected that the new products of Mueller will replace the old ones, thus ensuring a strong demand for Mueller products.
Development of New infrastructure to port drinking water
As per the same ASCE report, the expenditure government agencies are slated to incur over the next 20 years on water infrastructure for $335 Billion.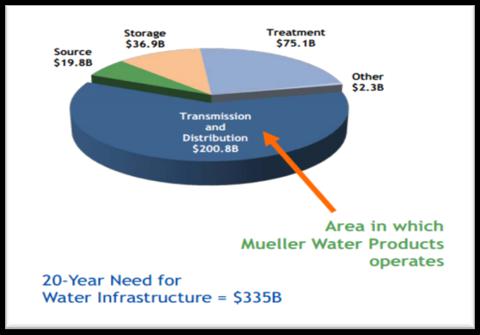 Over $200 billion of the above investment is expected to be spent on setting up the distribution and transmission infrastructure, which happens to be Mueller's sweet spot with very limited competition.
Mueller is also well placed to maximize the sales potential in the emerging markets of smart metering and leak detection, thanks to its investment in acquiring companies strong in these solution areas. These markets are expected to grow in the range of 20% over the next couple of years. Mueller can leverage its strong brand image and existing installation base to push more of these new solutions into the market. Mueller is also actively evaluating export markets into which it can sell its flagship products.
Given its dominant market share, new product offerings coupled with the imminent increase in spending by two of its key customers, the municipalities and construction industry, Mueller is poised to post strong quarters of growth. The company valuation is bound to go up as its net income increases on the back of strong sales. It is a fantastic time to buy Mueller now.
Disclosure: I have no positions in any stocks mentioned, and no plans to initiate any positions within the next 72 hours.
Business relationship disclosure: The article has been written by an Analyst at ResearchCows, ResearchCows is not receiving compensation for it (other than from Seeking Alpha). ResearchCows has no business relationship with any company whose stock is mentioned in this article. Any analysis presented herein is illustrative in nature, limited in scope, based on an incomplete set of information, and has limitations to its accuracy. The author recommends that potential and existing investors conduct thorough investment research of their own, including detailed review of the company's SEC filings, and consult a qualified investment advisor. The information upon which this material is based was obtained from sources believed to be reliable, but has not been independently verified. Therefore, the author cannot guarantee its accuracy. Any opinions or estimates constitute the author's best judgment as of the date of publication, and are subject to change without notice.