The market is down for the third day in a row, and analysts are speculating about the depth and length of the correction. Jim Cramer pointed to Macy's (NYSE:M) earnings call to sound an alarm of sorts about a potentially weakening consumer. Citing what we believe to be data and barometers that give an incomplete picture misses very real signs of a strengthening consumer. However, wage growth remains the real area of concern, and whether its effect is mitigated by other factors. However, we look to several areas of the recovery: the housing sector, lower unemployment (NYSE:UE) and lower UE claims, consumer confidence, lending, and oil prices. These areas, along with a handful of companies that offer an inside look on the strength of the consumer, point to a foundation for a continuing bull market. We would like to buy on this weakness.
Consumers, who make up close to 70% of the U.S. economy, have been resilient in light of the reversal of the payroll tax and relatively high gas prices. First, data from Gallup, which surveys consumers on the amounts of their spending, points to spending back at pre-recession levels:

Indeed, household net worth is also back to pre-recession levels: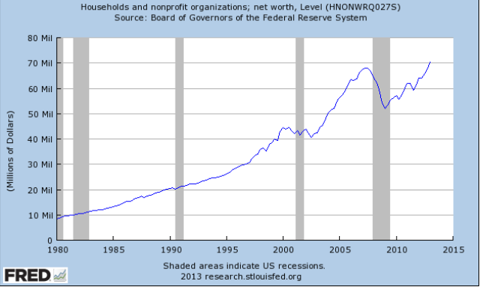 We are also believers that strong household balance sheets and high consumer confidence will lead consumers to use credit, especially in light of stagnant wage growth. As we approach back-to-school and the holiday season, we believe the consumer is poised to spend with conviction and help boost earnings for companies like Apple (NASDAQ:AAPL), Home Depot (NYSE:HD) and Lumber Liquidators (NYSE:LL) and other market leaders in their respective segments.
A major aspect of the net worth dynamic depicted above is the housing recovery (though a bull market for the last few years or so also helps). Since several indicators of the housing sector, like rising home values, home builder sentiment, pent up demand, and earnings calls from major players like Home Depot points to an optimistic outlook, we believe home values will continue to serve as a strong backdrop for a confident consumer to spend. CFO Carol Tome of Home Depot put it simply, "[we are] projecting sales and earnings to be higher than we originally planned."
Unemployment is at its lowest levels since reaching over 10% during the depth of the recession, and jobless claims are at four-year lows. Wage growth comes into the picture here however, so it is discouraging to see stagnancy, as rising wages could help strengthen the consumer even further. With oil prices near 52-week highs, these drags are real, but are not winning the day given the aforementioned strength of the consumer.
Macy's earnings are undoubtedly important, but they should not carry the weight of the argument against the consumer. Retailers like Michael Kors (NYSE:KORS) have blown out earnings and have guided for impending strength. In fact, Walmart's (NYSE:WMT) miss should warrant more consideration. But the idea that the U.S. consumer may be pulling back and could end up being a drag on the expansion is not borne out by several important indicators. As a result, we are buying on weakness as the sell-off appears to be under way this week, and may continue. Position the portfolio to take advantage of a strong back-to-school and holiday season in order to be able to reap gains from a consumer that could come through strongly.
Disclosure: I am long HD, KORS. I wrote this article myself, and it expresses my own opinions. I am not receiving compensation for it (other than from Seeking Alpha). I have no business relationship with any company whose stock is mentioned in this article.