Editors' Note: This article covers micro-cap stocks. Please be aware of the risks associated with these stocks.
In the rough-and-tumble world of emerging technology, a company's luck can change in an instant. Such was the case on Monday, August 12, when ECOtality's (ECTY) stock abruptly dropped over 80% at the open on the news that it lost its bread-and-butter contract with the Department of Energy. Pushed out of the comfortable nest of lavish government support, the company fell like a stone. ECOtality now says it is on the fast track to bankruptcy or a fire sale.
As with any spectacular flame-out in a nascent industry, ECOtality's catastrophic failure has investors wondering if this is a harbinger of doom for the entire EV infrastructure industry. Before jumping to conclusions, it is worth taking some time to determine whether ECOtality's woes are endemic or systemic. As it turns out, ECOtality's darling status with the federal government obscured a flawed business model and helped perpetuate the myth that ECOtality was a prolific manufacturer of EVSE (electric vehicle supply equipment) and in complete control of a vast empire of EV charging stations. In fact, it is neither.
At the other end of the spectrum is ECOtality's direct competitor, Car Charging Group (OTCPK:CCGI). With practically no government support, the company has done what ECOtality could not: Build an EV charging network it can legitimately call its own and a compelling value proposition that doesn't depend on extraordinary government subsidies.
What Is ECOtality Really?
The first step in trying to understand what killed ECOtality is to understand what ECOtality really is. It seems there is a lot of confusion on this point. Perhaps because its installations are branded and publicized as the Blink Network, a lot of investors seem to think ECOtality is the owner and operator of one of the largest networks of EV charging stations in the world in the same sense that Royal Dutch Shell PLC (RDS.A) operates one of the largest networks of gas stations in the world. It is not. ECOtality merely supplies EV chargers that are installed at sites it does not own and over which it has no control. The Blink Network is only a network in the sense that its EV chargers are networked together on the back-end by ECOtality's proprietary payment and management software. It's the difference between Shell and lesser-known gasoline pump manufacturer Gilbarco Veeder-Root.
So is ECOtality an EVSE manufacturer? That's closer to the truth, but saying ECOtality makes its money selling and manufacturing EV chargers is like saying McDonald's makes its money selling health food. It's actually a very small portion of what ECOtality does. Plus, most of that is outsourced. According to ECOtality's first quarter 10-Q filing, its Level 2 chargers are actually manufactured by Roush Enterprises, with global power and technology firm ABB, Inc. supplying the power electronics. The only hand ECOtality has in the manufacture of its own products is through its Innergy segment, which owns a production facility in Mexico. This facility splits its capacity between manufacturing and assembling solar products and energy storage devices, and assembling EV chargers from parts manufactured by Roush and ABB. Ultimately, the numbers show that ECOtality only derives a small portion of its income from EV chargers and other products: Total product sales only accounted for about 12% of ECOtality's $15.9 million in first quarter revenues.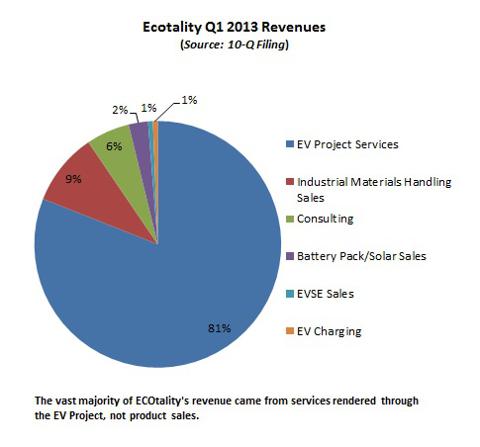 This begs the question - how did ECOtality make the other 88% of its income? The answer is a bit of an inconvenient truth for those who invested in ECOtality because they thought it was an EVSE manufacturer: 81% or $12.8 million of ECOtality's 1st quarter revenues came from working for the federal government as a project manager on the EV Project. This work was performed by ECOtality's ECONA segment, which the company says is engaged in "research, development and testing of advanced transportation and energy systems." The word "manufacturing" is conspicuously missing from that description. Make no mistake: by the numbers, ECOtality is by and large an R&D lab that works for the federal government and it can't survive without that work. That is why on August 12, just four days after ECOtality was notified by the Department of Energy that it would be suspending payments and future contracts under the EV Project, ECOtality abruptly filed a Form 8-K with the SEC warning that it may have to file for bankruptcy in the near future.
The Successor: Car Charging Group
With ECOtality rapidly heading for bankruptcy, it may be time for investors to take a fresh look at its closest competitor, Car Charging Group (OTCPK:CCGI). Beyond the fact that both constitute pure-play EV charging infrastructure investment opportunities, the two actually have little in common.
First things first: Like ECOtality, Car Charging Group is not yet profitable. It is a micro-cap, OTC-traded company, so it is subject to significant volatility and low liquidity that investors should consider carefully. It exhibited some of that volatility on the day of the ECOtality announcement, though the fact that it only experienced an 11% drop (a little over 14% of ECOtality's 79% drop) on August 12 provides a clue that these two companies are very different and that ECOtality's misfortune may not be contagious.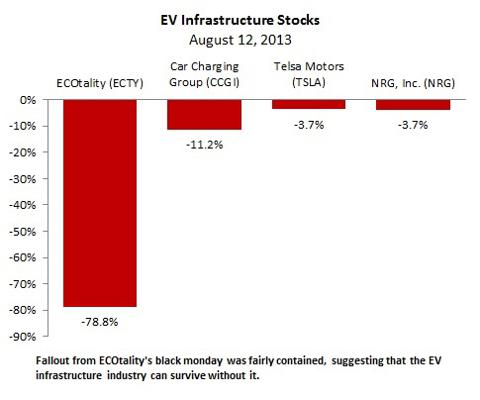 The biggest difference is that the $100million grant ECOtality received for being the project manager on the EV Project effectively put the federal government in the driver's seat. In stark contrast, Car Charging has only received $10,594 in grant revenue (see page F-2) since inception and thus remains in control of its own destiny. As we have pointed out before, the government's insistence that 75% of the Blink chargers deployed under the EV Project be installed at private residences deprived ECOtality of any ongoing revenue from charging (it all goes straight to the private homeowner's utility company). Thus, after the heavily subsidized revenues from those installations were booked and the EV Project began to wind-down, ECOtality was left with little to show for its efforts. Car Charging Group, on the other hand, has been free to focus its efforts on placing EV chargers at commercially-owned locations as opposed to consumer-owned locations.
There is a subtle but very important difference between the two scenarios. The bulk of day-in, day-out EV charging occurs overnight wherever EVs are parked. However, 40% of all U.S. residences do not have private parking. This means that a significant portion of EV chargers will not be directly owned by consumers but provided as an amenity by property owners. This is why Car Charging focuses its efforts on placing EV charging stations at multi-family residential properties and other commercially-owned properties such as public parking facilities, grocery stores, shopping malls and retail locations through over 85 strategic partnerships with companies like residential property owner Related Properties, shopping mall owner Simon Property Group (SPG), public parking provider Central Parking and retailers Sears (SHLD) and Walgreen (WAG). These relationships position Car Charging between the end-user and the utility, where it can receive ongoing revenue from each charging session.
The Owner-Operator Advantage
Another advantage Car Charging Group has over ECOtality and is that it is the owner-operator of its commercially-based EV charging stations. Instead of manufacturing its own brand of EV chargers and selling them to its strategic partners, Car Charging purchases EV chargers from whichever manufacturer is offering the best product at the time and retains ownership of them. Currently, most of Car Charging's network is comprised of Chargepoint units, with a significant contingent being supplied by SemaConnect and Aerovironment (AVAV). In exchange for the exclusive right to provide EV charging at each location for 21 years, Car Charging agrees to share charging revenue with the property owner.
This business model offers several advantages over the ECOtality business model. First, Car Charging merely has to sell property owners on the idea of offering EV charging at their locations. ECOtality has to sell property owners an EV charger. ECOtality's August 12 8-K filing essentially says the straw that broke the camel's back was when it sent its sales force out in the first half of 2013 to sell Blink chargers to property owners outside of the EV Project. Without special EV Project subsidies, they fell on their face. Asking property owners (most of whom probably know little if anything about EVs) to make this significant investment in a new technology just proved too daunting.
Another advantage of the owner-operator model is the ability to control pricing. When pricing control comes up in this sort of context, it is assumed that the ability to set prices higher is what makes this an advantage. Actually, it is the ability to set them lower that is necessary to promote use of commercially-based EV charging stations. A unique aspect of the EV charging business is that many commercial units can be programmed by the owner to charge by the hour or by Kilowatt/hour (kW/h). To the uninitiated property owner, hourly rates are easier to understand and at $2 to $3 per hour, they sound reasonable. In reality, EV owners with high kW/h motor models like the Tesla (TSLA) Model S essentially get a pump that flows three times faster than when it is plugged into a Nissan (OTCPK:NSANY) Leaf, General Motors (GM) Chevrolet Volt or Toyota (OTCPK:TOYOF) Prius Plug-in. Consequently, the majority of EV owners find most Blink Network charging stations too expensive. In contrast, Car Charging can set-up charging stations to charge by kW/h in any location where this is allowed (many states only allow public utilities to charge by kW/h).
This brings us to another advantage of being an owner-operator: being in control of maintenance and repair. Car Charging enters into long-term service contracts with property owners, which is in its best interest since it retains ownership of the charging points. In contrast, the lack of maintenance at Blink Network locations has prompted some EV owners to dub it the "Always On-the-Blink Network." Though it appears to be more successful at manufacturing and selling EV chargers than ECOtality ever was, Chargepoint has the same problem with its "network" of EV charging stations which it also neither owns nor operates. For example, a very popular EV charging station owned by the city of Baltimore has been out of commission for almost a year because the city's bureaucracy wasn't prepared to handle repairs and Chargepoint says the warranty doesn't cover vandalism. The hands-off approach just doesn't work.
The Benefits of Having No Benefactor
Lavish government support can lull a company in a new industry into the delusion that it is insulated from the intense pressure to develop and sell a compelling value proposition. In the end this is what happened to ECOtality. In contrast, Car Charging has had to fine-tune its value proposition on a shoestring budget, resulting in a much more workable business model. More importantly, it remains firmly in control of its own destiny, giving it the flexibility to respond to customer demands and navigate the fits and starts of the emerging EV infrastructure industry.
Disclosure: I have no positions in any stocks mentioned, and no plans to initiate any positions within the next 72 hours.
Business relationship disclosure: Market Exclusive is a team of analysts and writers. This article was written by Carlos Uribe, one of our Group contributors. We did not receive compensation for this article (other than from Seeking Alpha), and we have no business relationship with any company whose stock is mentioned in this article.
Additional disclosure: Editor's Note: This article covers one or more micro-cap stocks. Please be aware of the risks associated with these stocks.