By Jason Napodano, CFA
Back on May 15, 2013, we took an in-depth look at LabStyle Innovations Corp. (NASDAQ:DRIO), believing the stock was worth a Buy at the current price of around $2.80 per share. Since that time, the company has been working with the European regulatory authority to gain approval for Dario, a pocket-sized glucometer with a smartphone and mobile application, through CE Mark in the EU, signing distributor agreements, securing financing, and preparing for the commercial launch later this year.
We've made some minor changes to our financial model over the past three months, but still strongly believe in the LabStyle story, and specifically that Dario is a revolutionary leap forward in self-monitoring of blood glucose and the collection of important data and clinical trial experience using smartphone technology. Not only do we believe Dario will be a commercial success in terms of sales of the device and test strips, but we believe the market is vastly underestimating the ecosystem around data collection and clinical diagnostics that LabStyle will be able to quietly build following EU and U.S. commercialization.
Brief Financial Update
On August 14, 2013, LabStyle Innovations Corp. reported financial results for the second quarter ended June 30, 2013. The company did not report revenues in the second quarter. This was expected, as the company's application for European CE Mark remains under review. The U.S. 510(k) application will be filed shortly after clearance in Europe under CE Mark.
LabStyle reported operating expenses of $3.6 million in the quarter, consisting of $1.4 million in R&D and $2.2 million in SG&A. Both numbers were slightly higher than our modeling. Management noted that expenses increased in the quarter relative to the first quarter 2013 or 2012 based on increased headcount, expenses associated with launch preparations for Dario in Europe, equipment depreciation expense, capitalized inventory expense and marketing and pre-production expenses. These are all common expenses for a company gearing up for commercial launch of its first product in the next few months.
Net loss in the quarter totaled $5.3 million, or $0.29 per share. However, we note operating burn in the quarter totaled only $2.1 million, as the company recorded several non-cash expenses, including revaluation of outstanding warrant liability and stock-based compensation. LabStyle exited the June quarter with $7.0 million in cash and cash equivalents. Management expects to incur a minimum of approximately $8.0 million in expenses in order to execute on the business plan for the next 12 months. This includes the commercial launch of Dario in Europe, assuming European CE Mark is granted in the next few months.
Goals over the next 12 months include:
Initial and ramp up of mass production, marketing and sales efforts related to Dario devices and test strips,
Continued product development and related activities

including costs associated with now completed clinical trials
costs of application development and data storage capabilities
any necessary design modifications,

Continued work on registration of patents worldwide,
Filing of regulatory applications (specifically the U.S. 510(k) application).
Management believes the existing $7.0 million cash balance is sufficient to fund operations until the end of January 2014. However, we note with the stock price at $2.80 per share, there are an estimated 4.6 million warrants currently in-the-money that could provide cash to the company totaling $5.7 million. We think that management will be opportunistic about raising cash in the future. For example, on June 26, 2013, the company consummated the third tranche of a private placement dating back to August 2012. The transaction raised gross proceeds of $0.5 million. We also believe that the initial success of the Dario launch in Europe will have a meaningful impact on cash usage or cash generation over the next 12 months.
Firing Up The Business Model
Over the past few months management has been entering into distribution agreements, pursuing new patents around the world and in new areas related to blood glucose monitoring, and expanding the company's technology footprint to expand the Dario ecosystem we believe will be so important to future growth.
...Distribution...
With respect to securing distributor agreements, back in April 2013, LabStyle announced the signing of an exclusive agreement with Farla Medical, Inc., a leading medical supplies distributor located in the United Kingdom. Under the terms of the three-year agreement, Farla will market and distribute Dario and its all-in-one software system and proprietary test strips to primary-care medical practices, clinics, hospitals and patients throughout the U.K. and Belgium. According to Diabetes UK, there are more than 3 million patients with diabetes in the U.K. and there are more than 600,000 diabetics in Belgium.
A few months later, in June 2013, LabStyle announced an exclusive agreement with Harmonium Pharma for the distribution of Dario in Italy. Harmonium Pharma is a London-based company with affiliates in France and Italy focused on diabetes through marketing products, food supplements and medical devices. The company will utilize its 24 sales agents in Italy to call upon diabetologists, pharmacists and diabetic patients across Italy, with an emphasis on primary-care medical practices, clinics, hospitals and patients throughout the country. Planned marketing campaigns are directed to diabetes centers, gatherings of medical professionals, the Italian national healthcare system and social media outlets.
...Technology...
In April 2013, the company signed a non-binding memorandum of understanding with a large, multispecialty academic medical center to advance the development of clinical diagnostics utilizing smartphones. Under the framework agreed to in the memorandum, LabStyle and the academic center will leverage respective expertise to advance the development of medical devices and software utilizing smartphones for the personal monitoring of blood glucose and blood coagulation. The center will bring biomedical, clinical and commercialization expertise. LabStyle will bring intellectual property, software development and business development expertise.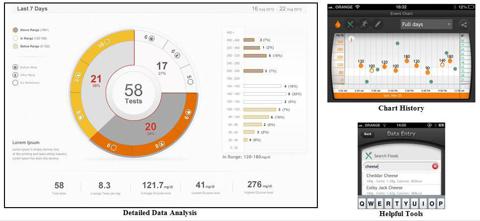 Back in May 2013, we noted that the company was pursuing new patent applications related to the monitoring of blood glucose coupled with a smartphone application and cloud-based data collection and storage services. We believe the company is looking to expand beyond blood glucose monitoring into things like urine and saliva as well. Beyond diabetes, potential applications include detection of infectious diseases (such as HIV), or measuring things like triglycerides or cholesterol levels. We expect patent applications in this regard shortly.
...The Ecosystem...
Besides the elegant design and convenience of the Dario device and sales that we expect the company to be able to generate from its proprietary test strips, we believe the ecosystem that LabStyle seeks to create around Dario models what Apple has done with iTunes. The Dario application, free with the device, is superior to almost all other diabetes applications we've seen. It offers the ability to rapidly assess results, sync and log the data, share with physicians, pharmacists, family and seamlessly move between smartphone, tablet and PC. The application software even provides feedback on diet and exercise, as well as provide personalized recommendations for insulin dosing.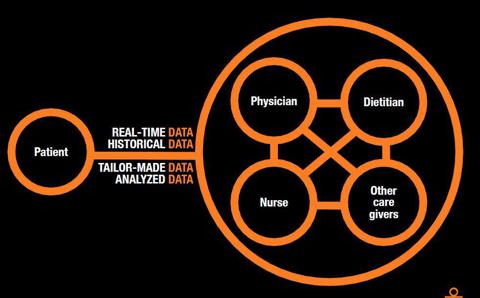 All the while that Dario is measuring blood glucose and providing personalized recommendations back to the user, the application is capturing, analyzing and storing important related information for potential use by patients, physicians, clinical investigators and pharmaceutical companies. Shortly after the launch, we believe LabStyle will have the ability to collect and analyze blood glucose monitoring data from hundreds of thousands of patients with real-world experience. The impact here should not be ignored. With data comes power, and the ability to monetize data through commercial or clinical partnerships provides a meaningful opportunity to the company.
Conclusion
We think that Dario is of elegant design, with outstanding usability and accessibility by integrating a pocket-sized glucometer with a smartphone and mobile application. Dario combines a lancing mechanism, disposable strip cartridge and glucose monitor with attached plug for insertion into a smartphone audio jack. It is the first and only product to date that we see that combines all three components, along with intuitive and valuable application software. We see the Dario glucometer and diabetes management system as revolutionary in design and function. Dario, along with sales of disposable test strips, mobile applications and community and physician interaction software, represents a $500 million peak opportunity for LabStyle Innovations in each the U.S. and EU.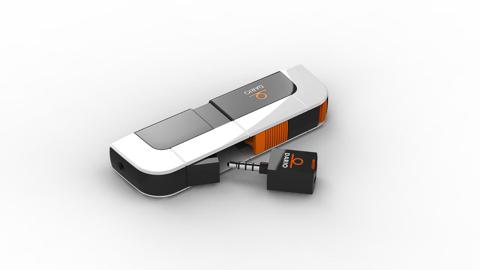 We have built an aggressive sales model for the Dario device based on our belief that the company can capture between 5 and 10% market share in the U.S. and EU. This seems achievable based on the significant differentiation of the product vs. readily available, and similarly priced, glucometers today. Sales of glucometers and test strips are dominated by only a handful of major players like Roche, Johnson & Johnson, Bayer Healthcare, Abbott Labs and Sanofi-Aventis. The big players above each hold 10-15% market share. We believe LabStyle Innovations, with Dario, can become a major player in this area given the differentiating characteristics of the device noted above. Based on this model, we believe the shares are significantly undervalued, and worth $10 per share.
Disclosure: I have no positions in any stocks mentioned, and no plans to initiate any positions within the next 72 hours. I wrote this article myself, and it expresses my own opinions. I'm not receiving compensation for it. I have no business relationship with any company whose stock is mentioned in this article.
Additional disclosure: PropThink is a team of editors, analysts, and writers. This article was written by Jason Napodano, CFA. We did not receive compensation for this article, and we have no business relationship with any company whose stock is mentioned in this article. Use of PropThink's research is at your own risk. You should do your own research and due diligence before making any investment decision with respect to securities covered herein. You should assume that as of the publication date of any report or letter, PropThink, LLC and persons or entities with whom it has relationships (collectively referred to as "PropThink") has a position in all stocks (and/or options of the stock) covered herein that is consistent with the position set forth in our research report. Following publication of any report or letter, PropThink intends to continue transacting in the securities covered herein, and we may be long, short or neutral at any time hereafter regardless of our initial recommendation. To the best of our knowledge and belief, all information contained herein is accurate and reliable, and has been obtained from public sources we believe to be accurate and reliable, and not from company insiders or persons who have a relationship with company insiders. Our full disclaimer is available at www.propthink.com/disclaimer.