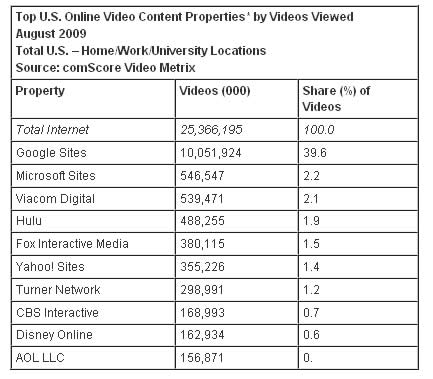 October 2009 will mark the two year anniversary of Google's (NASDAQ:GOOG) acquisition of YouTube. Before the deal even took place, I wrote that YouTube had the potential to print money. It wasn't at the time, mainly because YouTube was growing like a weed and the company's "meager" $11.5M in funding didn't [somehow] allow it to build the kind of sales organization needed.
Ultimately, with soaring bandwidth and a lack of imminent monetization plan, founders Steve Chen and Chad Hurley sold their Sequoia-backed startup to Sequoia-funded Google, for $1.65B in stock. Read my conspiracy theory suggestion here.
Last year around this time, the entire US video industry was generating about 10 billion video views. Today this figure has climbed to 25 billion and YouTube alone does over 10 billion. Read comScore's release here.
I can also attest that while YouTube has lots of upside (being kind here folks) to improve monetization, the kinds of advertisers than now advertise alongside our channel has improved exponentially, that's right, less "Punch the Monkey" or "Press the Fart Button" and more BMW, Absolut Vodka. Of course, I send YouTube a littany of complaints and suggestions, but the fact is: it's YouTube's universe and we just stream it… we all need to understand that.
Ultimately, especially in light of the fact that YouTube was a stock deal, I think that Google's $1.65B acquisition of YouTube might go down as one of the best M&A deals of all time. Maybe it's time to update this list.