Smart gold mining companies like Luna Gold (OTCPK:LGCUF) have begun to initiate aggressive cost reduction programs in the face of lower gold prices. Instead of focusing on producing as many ounces as possible, companies are getting smarter and focusing on improving operating margins, which leads to more cash flow and a stronger balance sheet.
If you are not familiar with Luna, I previously wrote an article titled "2 Brazilian Gold Miners With Enormous Upside" which makes the case that Luna is a compelling risk vs. reward gold play.
Here is a brief description of the company: Luna Gold owns and operates the Aurizona gold mine in Brazil. Luna's goal is to maximize shareholder return to producing gold at a low cost and in a sustainable and safe manner. The company is currently undergoing an extensive expansion at Aurizona which should bring them from 90K ounces a year production to over 135K a year (and potentially much, much more). The Aurizona mine hosts 4,667,000 million ounces of Measured, Indicated and Inferred resources.
Luna has a market cap of $147 million with a share price of $1.41. Their P/E is currently just 7.8 and management owns roughly 14 percent of the company.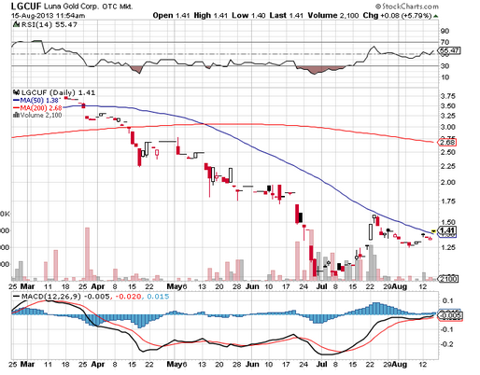 Luna has started to break out above the 50-day moving average and I believe they could head higher in the short term.
Q2 2013 Results - Low Costs, High Margins
Luna Gold's cost reduction efforts appear to have already paid off, as we've seen in the recently announced Q2 2013 results:
- Luna produced 18,853 ounces at an average unit cash cost of production of $681 per ounce and an average all-in operating cash cost of $938 per ounce. This is among the lowest costs in the industry.
- Revenues of $45.4 million at an average realized gold price of $1,525 per ounce for first half 2013
- Gross profit of $16.4 million for first half 2013
- Net income of $8.7 million ($0.08 per share) for the quarter.
-Operating Cash flow of $9.3 million in the quarter.
- Gold production guidance for the year was revised downwards, from 100K ounces to 80-90K ounces, as the company focuses on producing less gold at higher operating margins.
More Cost Reduction Plans Announced
With the Company's focus on positive cash flow and increasing margins, they have implemented further initiatives with the target to increase shareholder returns in the near term, while focusing on future growth at the Aurizona Gold Mine:
- "Salary reductions: The Board of Directors and Executive Management of the Company have initiated a 20% reduction in cash based remuneration for the following 12 month period.
- The Company has placed all Greenfield exploration programs on care and maintenance in order to preserve cash and to focus on completion of the Phase I Expansion program. As a result, a number of exploration employees have been released from the Company.
- All non-essential corporate expenditures and operating programs have been eliminated. All areas of the business have been reviewed and cost reduction programs are now in effect."
I applaud Luna Gold for making these cost reduction efforts and can only hope that other mining companies I own follow their lead.
As for Luna Gold's expansion, this is where the real opportunity lies for shareholders. If the company can successfully complete their expansion on time and budget, it could lead to enormous gains for shareholders:
- "The Aurizona process plant expansion ("Phase I Expansion") is progressing and remains on budget. The company's priority is to complete this expansion with the original budget of $50 million."
- The Company's priority remains to complete the Phase I Expansion within the original budget of $50 million.
- The expansion remains on track and on budget for completion by the end of Q4 2013.
- The Company intends to draw down the Sandstorm Subordinated Debt Facility in Q3 2013, to provide assistance in funding the completion of the Phase I Expansion.
As you'll see below the phase 1 expansion would take Luna to 135K ounces of production a year. However, the mine really has much more potential than that as the company is targeting annual production of at least 250K ounces:
"A Phase II PFS considers the Aurizona Gold Mine increasing annual gold production to between 200,000 and 300,000 ounces." (June 19 News Release).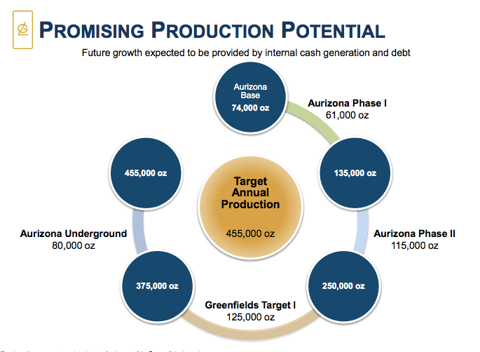 The future appears extremely bright for Luna Gold, especially now that gold prices have begun to recover. As for gold (NYSEARCA:GLD)?I personally believe gold has bottomed and will break out higher in September. I believe management is taking all the right steps to create value for shareholders and I will continue to add shares on any dips.
Disclosure: I am long OTCPK:LGCUF. I wrote this article myself, and it expresses my own opinions. I am not receiving compensation for it (other than from Seeking Alpha). I have no business relationship with any company whose stock is mentioned in this article.