This article will introduce a well-positioned Midstream company in the heart of Hardisty and Edmonton terminals in Alberta. It is also an integrated service provider to the oil and gas industry in North America.
After introducing this company and looking briefly at its history, I will discuss its Midstream activities. Then, reviewing its financials will better determine whether the company's stewardship is efficient and the business, in good financial health. Let's first take a quick look at the way that the company conducts its operating activities.
Gibson Energy (OTC:GBNXF)
Gibson is one of the largest independent Midstream energy companies in Canada and an integrated service provider to the oil and gas industry in North America. The company is engaged in the movement, storage, blending, processing, marketing and distribution of crude oil, condensate, natural gas liquids, water, oilfield waste, and refined products.
The company transports energy products by utilizing its network of terminals, pipelines, storage tanks and trucks located throughout western Canada and through its significant truck transportation and injection station network in the U.S. Gibson also provides emulsion treating, water disposal and oilfield waste management services. It is also the second-largest retail propane distribution company in Canada.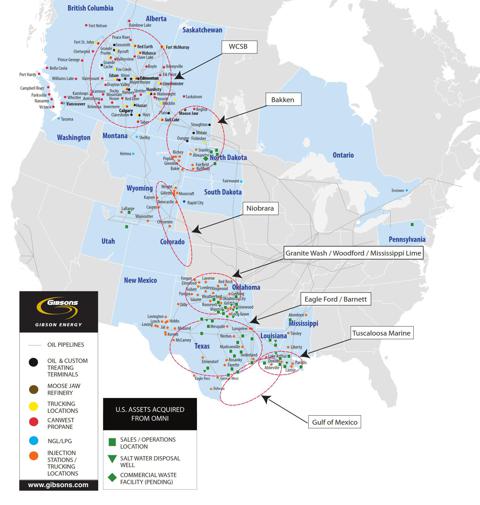 Source: Gibson Energy
Gibson's integrated operations allow it to participate across the full Midstream energy value chain, from the hydrocarbon producing regions in Canada and the U.S., through the company's strategically located terminals in Hardisty and Edmonton. It also includes injection stations and small terminals in the U.S., as well as refineries via major pipelines.
Gibson has provided market access to oil and gas industry participants in western Canada for the last 60 years. The company has grown its business by diversifying its service offerings to meet customers' needs and it has expanded geographically to key hydrocarbon producing regions throughout the U.S.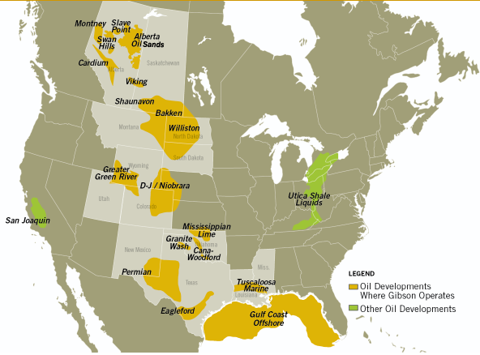 Source: Gibson's Investor Presentation, June 2013
Most recently, Gibson further expanded its services to include emulsion treating, water disposal and oilfield waste management in both Canada and the U.S. as well.
The company began Midstream services in 1953, when it sold its first parcel of crude oil (365 barrels) on behalf of Anglo American Oils (OTCQX:AAUKF) to the British American Oil Company.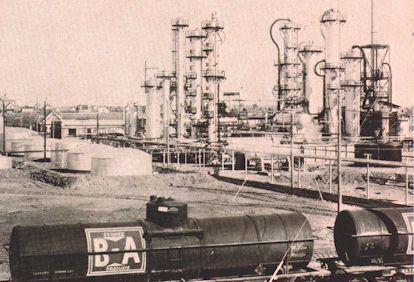 Source: British American Oil
Then, the company built terminals at Hardisty in 1957 and Edmonton in 1961. In 1965, the Truck Transportation Division fleet was initiated with two crude oil trailers. The company now has more than 1900 units hauling over 250,000Bls/d (barrels per day) of energy products.
In 1982, a fractionation plant was built in Hardisty to receive trucked NGLs (natural gas liquids) from small gas plants in order to provide retail's propane, butane and diluent to local markets. In 1990, Canwest Propane was acquired to provide synergies for the transportation and retail distribution of propane from locations across western Canada. Finally, the company acquired the Moose Jaw Refinery in 2002. The Gibson's affiliate is currently a leading provider of road asphalt, wellsite fluids and roofing flux for the North American marketplace.
Midstream Assets
Gibson's experienced marketing department generates value for buyers and sellers of energy products across North America. The integrated services provided through the application of assets, logistics, trucking, pipelining, terminalling and risk management, ensure delivery to customers as well as reliable take levels and optimum netbacks.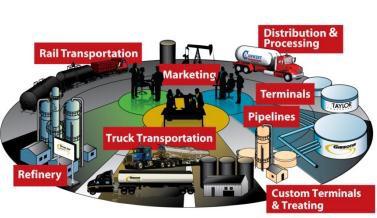 Source: Theenergyreport.com
The company markets the following energy products:
Crude oil and diluent: Gibson purchases approximately 250,000Bls/d of all grades of western Canadian crude and condensate at the wellhead or on the stream from various producers

Natural gas liquids: Marketing and transportation of NGLs and LPGs (liquefied petroleum gases) throughout North America via truck, rail and pipeline

Asphalt and refined products: Via its Moose Jaw Refinery, which is Canada's largest supplier of roofing flux. The company also produces high quality road-grade asphalt for Canadian and U.S. markets. Refined products include light and heavy naphtha, distillate, fractioning fluid and light sour tops material

Wellsite fluid products & services: Gibson produces and markets solvents, drilling base oil and fracturing fluids. These products are processed at its manufacturing facilities located in Hardisty and at the Moose Jaw Refinery. In addition, Gibson reconditions and reclaims used Gibson Clear frac oil or other competitive oils for reuse in the fracturing industry. The company offers numerous supply points, storage locations and logistical options for delivery to its customers
Moose Jaw Refinery
The Moose Jaw Refinery processes over 3 million barrels of Saskatchewan and Alberta heavy crude oil per year, which produces in excess of one million barrels of asphalt. The crude unit at the refinery, has a processing capacity of about 15,000 barrels of crude oil per day. Typical Canadian asphalt grades produced are 85/100A, 150/200A and 200/300A.
The market is concentrated in Saskatchewan, Alberta, Manitoba, North Dakota and Montana, but the refinery also ships outside of these boundaries to more distant Canadian and U.S. markets. Specific heavy crudes can be segregated and run to produce the most demanding and specific performance-graded asphalts.
Additionally, the Moose Jaw Refinery is the largest PMA (polymer modified asphalt) manufacturing facility in western Canada, producing over 1.5 million barrels of asphalt per year. PMA is a premium grade of asphalt in which elastomeric polymers are added to create a paving grade asphalt with enhanced performance characteristics.
Besides paving asphalts, the refinery also produces cutback asphalt. Cutbacks are a blend of asphalt cement and petroleum diluent. Upon exposure to atmospheric conditions, the diluents evaporate, leaving the asphalt to perform its function of cementing and waterproofing.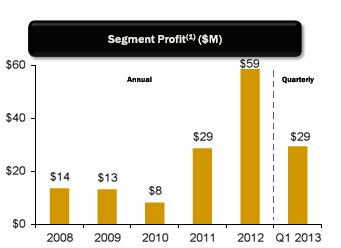 Distribution and Processing
Canwest Propane is the second-largest retail propane distributor in Canada, offering propane supply, equipment and related services to over 40,000 customers. The subsidiary has 40 strategically-located branch offices and storage facilities across western Canada.
Furthermore, the Gibson Gas Liquids Department markets and transports NGLs via truck, rail and pipeline. It operates five strategically located propane storage facilities with combined storage of 930,000 USWG. Over 205 million gallons of NGLs are sold to customers.
Gibson's fractionation plant at Hardisty has a processing capacity of 5,800Bls/d of NGLs, serving NGL production facilities throughout Central and southeast Alberta.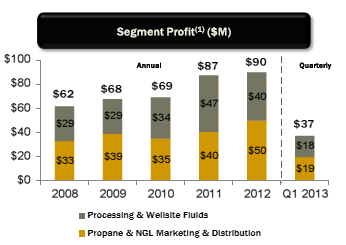 Truck Transportation
Gibson's truck fleet of over 1900 units are dispatched from strategically-located terminals and injection stations throughout North America. It primarily moves crude oil, asphalt, diluent, frac oils, chemicals, NGLs and LPGs through its affiliate, Chief Hauling. The size of the fleet allows Gibson to carry out logistically complex jobs of mixed volumes. The company also uses next-generation trailers. It has 2,379 trailers and access to 1,332 tractors.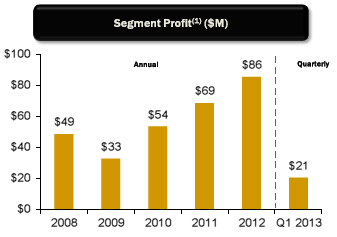 Terminals and Pipelines
Gibson offers industry-leading storage, terminalling and pipeline services for oil, condensate and refined products. It owns and operates two major petroleum terminals and two pipelines in Alberta.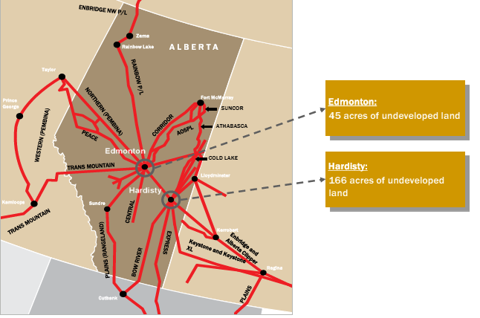 Source: Gibson's Investor Presentation, June 2013
Hardisty Terminal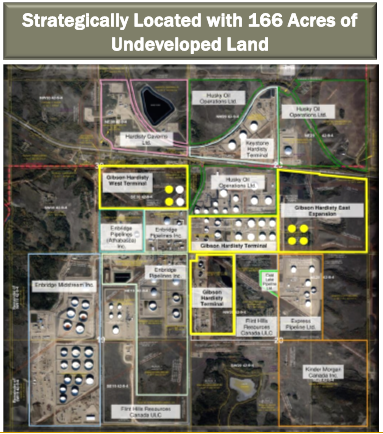 Source: Gibson's Investor Presentation, June 2013
The Hardisty Terminal is located within an important crude oil transportation hub that provides both stream and merchant customers with diverse terminalling services, including truck loading and offloading, blending and storage. With 4.3 million barrels of storage, its terminal is fully connected and can receive crude oil volumes from Enbridge (NYSE:ENB) as well as other major pipelines in the Hardisty area.
The company's delivery systems allow its customers to deliver to all major transmission pipelines in the Hardisty area, which enable access to the major markets in North America. With significant undeveloped land, Gibson is able to provide new and existing customers, the ability to grow their storage needs.
Edmonton Terminal
Source: Gibson's Investor Presentation, June 2013
The Edmonton Terminal is strategically located in the heart of "Pipeline Alley," and is positioned to grow its terminal business with undeveloped land and access to East and West markets via rail and pipeline. Currently, Gibson's terminal handles crude oil and condensates as well as diesel fuel and LPG.
With the terminal being serviced by both CN (NYSE:CNI) and CP (NYSE:CP) rail systems, a connection to multiple inlet pipelines and both major export pipelines as well as truck loading, offloading and rail capabilities, the terminal is highly flexible.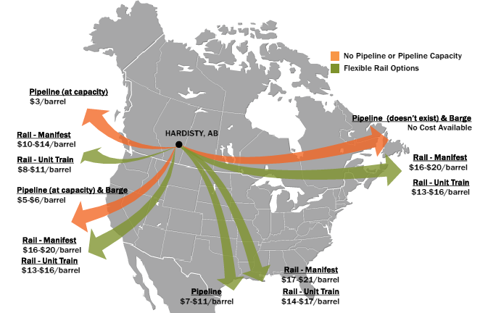 Source: Gibson's Investor Presentation, June 2013
Provost and Bellshill Pipelines
The Provost and Bellshill Pipeline gathering systems consisting of 307.5 miles of pipelines, deliver crude oil to its Hardisty Terminal from over 30 individual producer-owned production facilities.
The Terminals and Pipelines segment has a presence with 78 crude oil injection stations located throughout the oil producing regions of the U.S.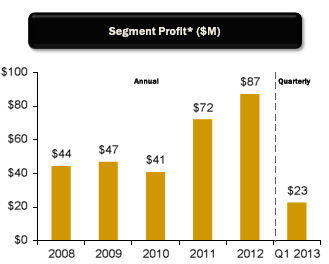 Environmental Services
The Environmental Services Division provides waste management and resource recovery solutions to the oil and gas industry in western Canada. Gibson keeps abreast of new developments and applications in the waste management, oil treatment and recovery as well as water treatment and recovery space, by investigating and applying solutions that are economically attractive and technically feasible.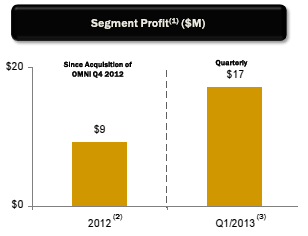 Financial Highlights
Revenue increased by 44% in Q2 of 2013 compared to Q2 of 2012 and by 31% in the six months for the quarter compared to the six months ended for the same period last year. The increase was primarily due to increased activity in the company's segments, including the impact of the acquisition of the parent holding company of OMNI Energy Services in Q4 of 2012.
The following chart shows the year-on-year quarterly revenues growth for the company. After a considerable drop that occurred in January 2012, Gibson is on the way to recover the lost ground since its revenues are growing steadily exactly a year after, representing a 43.82% growth.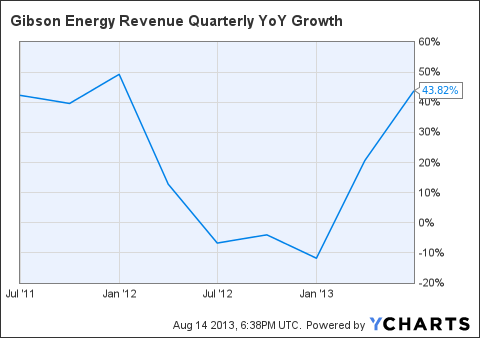 Segment profit increased by 38% to $89.0 million in the quarter compared to $64.7 million in Q2 of 2012 and by 51% to $216.0 million in the six months for the quarter compared to $143.1 million for the same period in 2012, with increases in all segments except for the Truck Transportation segment. The following chart shows the segment profit breakdown for 2012 in million dollars.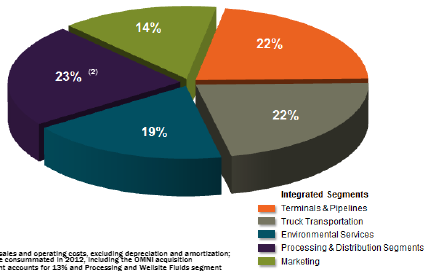 Source: Gibson's Investor Presentation, June 2013
After the impact of non-cash debt extinguishment costs of $38.2 million, the company reported a net loss of $5.2 million in the quarter compared to a net income of $9.5 million achieved in Q2 of 2012. The net income was $40.5 million in the six months for the quarter compared to $49.6 million achieved for the same period last year.
Capital expenditures were $95.2 million in the six months for the quarter compared to $87.9 million for the same period last year. From $95.2 million, $66.4 million were related to growth capital. Growth capex are primarily related to the construction of tankage and pipeline connections at the company's facilities, in particular at Hardisty and the expansion of the Environmental Services business unit.
The primary drivers of cash flow from operating activities are the collection of amounts related to sales of crude oil, propane, NGLs, asphalt and other products and fees for services provided associated with the company's Truck Transportation, Terminals and Pipelines and Environmental Services segments. Offsetting these collections are payments for purchases of crude oil and other products, and other expenses.
Cash provided by operations in the quarter and in the six months for the quarter was $80.5 million and $168.5 million, respectively, compared to $56.1 million and $120.8 million for Q2 of 2012 and the same period last year, respectively.
Finally, Gibson's balance sheet can be assessed as fair but it is not as flexible as I would like it to be. The long-term debt to equity ratio is high at 56 compared to its industry's average of 16.80.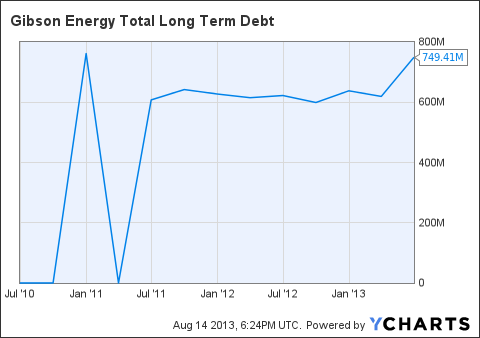 Its price to free cash flow ratio is very high at 46.27 compared to its industry's average of 3.13, suggesting that the company is trading at more than 46 times its free cash flow, meaning that Gibson's value is very high compared to its peers.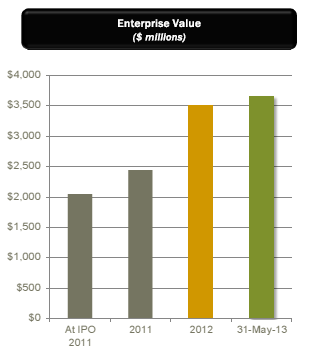 Source: Gibson's Investor Presentation, June 2013
Future Outlook
On July 15, 2013, the company announced that it has signed a long-term contract with Statoil Canada (NYSE:STO) to build infrastructure at the western side of the company's Edmonton Terminal. Gibson will construct pipeline and connection infrastructure to multiple major pipelines in the Edmonton area, one 300,000 barrel crude oil storage tank and a new rail loading rack, subject to pipeline connection agreements. The in-service date for the new facilities is expected to be in the first half of 2015.
On August 6, 2013, the company announced that it has partnered with USDG (U.S. Development Group) to construct a new state-of-the-art unit train rail loading facility near Hardisty with pipeline connectivity from Gibson's Hardisty Terminal. It will install required pumping equipment and construct a pipeline for the transfer of crude from its Hardisty Terminal to the USDG crude-by-rail facility. The project is scheduled to begin operation in Q1 of 2014.
According to its Q2 of 2013 earnings release, with respect to 2014, the company expects its growth capital spending to be in excess of $300 million, that is primarily related to the expansion of its Hardisty and Edmonton Terminals, of which over half of it relates to previously announced projects.
In accordance with the company's long-range strategic plan, Gibson is continuously evaluating organic growth opportunities and potential acquisitions. As a part of the company's strategic plan, the acquisitions of OMNI and Palko have expanded and increased capabilities to provide environmental and production support services to the oil and gas industry in the U.S.
Notably, the proposed TransCanada's (NYSE:TRP) Keystone XL Pipeline Project, if approved, will help provide a growing supply of Canadian crude oil to the largest refining markets in the U.S. The pipeline will locate its initiating pump station adjacent to Gibson's Hardisty Terminal, which could provide increased opportunities for the company's services.
Furthermore, Enbridge's twinning of the southern section of its Athabasca pipeline and Inter Pipeline Fund's (OTCPK:IPPLF) planned twinning of its Cold Lake pipeline should provide for additional volumes into the Hardisty area and could provide increased opportunities for the company's services as well.
Gibson believes that cash on hand, together with cash from operations and borrowings under its revolving credit facility, will be adequate to meet its working capital needs, upgrade and replacement capital expenditures, currently sanctioned growth capital projects, debt service, targeted dividend level and other cash requirements for at least the next twelve months. With respect to potential growth capital, the company had unrestricted cash of $130.7 million and $450.5 million available under its revolving credit facility.
Bottom Line
Gibson's business segments allow the company to earn revenue, several times, from a barrel of crude oil during its life cycle. I would say it's one of the most vertically integrated companies in North America that is neither a producer nor a refiner.
Its terminals at the heavy oil hubs of Hardisty and Edmonton, which have lots of room to grow, gives Gibson its own touch to the Canadian oil sands.
Notably, if the company was to be unable to "touch" a barrel of oil during its lifecycle, it would still be able to make money with the volatility and widening of Canadian oil prices as a buyer. Contrary to exploration and production companies that must compose with lower realized price per barrel sold, widening differentials present Gibson with an opportunity to capture higher marketing margins.
Its pipelines segment also benefits from capacity constraints due to fast production growth. In order to capitalize on rising production volumes across North America, Gibson is working on several projects including terminals and refinery expansions.
What makes the company even more attractive is when organic growth combined with opportunistic acquisitions result in growing cash flow and a higher dividend. I believe that Gibson has that ability as it is unique in its own market by its position, its Midstream assets in place and its ability to generate value through capital growth.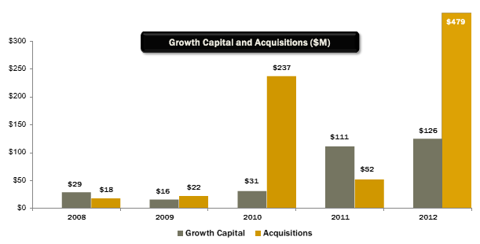 Source: Gibson's Investor Presentation, June 2013
I like the fundamentals of its liquids industry as well as its strategic infrastructure asset base, which is well positioned for growth. Gibson offers an adequate dividend yield of 4.4% for its size, which compares favorably with the average of 2.32% of its industry.
Going long with the stock would be a nice addition to any portfolio for investors looking in getting in the Canadian oil sands play without the risks involved with the exploration and production of crude.
Disclosure: I have no positions in any stocks mentioned, and no plans to initiate any positions within the next 72 hours. I wrote this article myself, and it expresses my own opinions. I am not receiving compensation for it (other than from Seeking Alpha). I have no business relationship with any company whose stock is mentioned in this article.