Introduction
Within the S&P 500 (NYSEARCA:SPY), the energy sector has broadly underperformed since late 2011, as measured by the Energy Select Sector ETF (NYSEARCA:XLE). While large oil majors such as Exxon Mobil (NYSE:XOM) and Chevron (NYSE:CVX) have held up, the exploration and production (E&P) subsector has underperformed the broad energy sector.
From a sector theme perspective - the weak performance can be tied partially to weak commodity pricing and a global economy that has been slowing. Furthermore, aggressive monetary policy from the Federal Reserve (and other central banks) has had more of an influence with those sectors on the front end of the economic cycle such as Financials (NYSEARCA:XLF) and Consumer Discretionary (NYSEARCA:XLY) as we normalize to pre-recession levels.
However, as we have seen in the past, subsectors at times can look attractive and worth a further dive. Within the energy sector, several E&P companies have hit our value radar. In this note, we do some of our own exploring into Devon Energy (NYSE:DVN), which has the making of an interesting investment story based on improving profitability, growing production, and a valuation with very low expectations.
Relative Performance
The energy sector based on a 40 week moving average has been in decline relative to the S&P 500 since mid-to-late 2011. The E&P subsector (NYSEARCA:XOP) also based also on the 40 week moving relative to the broad energy sector has been in decline since mid-2011. While the overall trend remains negative, it appears that with the strength this spring, the sector underperformance could be bottoming.
Figure 1: Energy Sector Relative Performance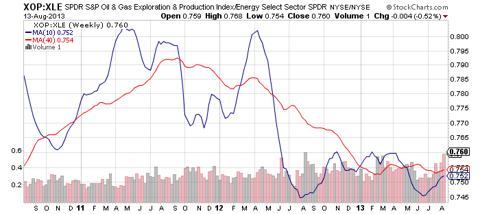 Figure 2: E&P Subsector Relative Performance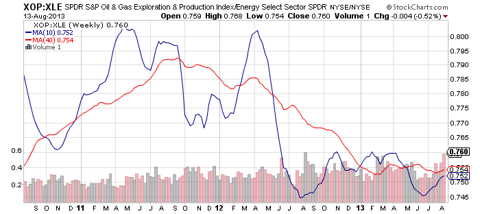 Energy Sector Valuation
Before looking at Devon Energy, first a review of the Energy group valuations. Figure 3 details a large portion of the Energy Select Sector SPDR Fund. The Enterprise Value-to-Invested Capital (EV/IC) is a short-hand measure of the premium the market is putting on the company's capital investments. The current EV/IC can then compared to its average or normalized basis using a multi-year time frame. For value opportunities, we compare it to a theoretical value based purely on the company's estimated Return on Invested Capital [ROIC] and Weighted Average Cost of Capital [WACC] or ROIC/WACC. We use the ROIC/WACC relationship to create a fair value line using a 1:1 ratio.
The table is sorted by the company's EV/IC metric from low-to-high.
Figure 3: Energy Sector Valuation Table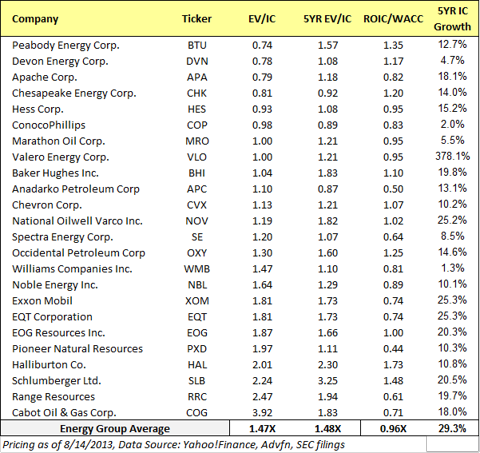 Figure 4 takes the current EV/IC multiple and compares it to a conservative fair value using the ROIC/WACC at a 1:1 relationship. We are not as concerned about companies with multiples higher than the theoretical (which is due to growth expectations and other company or industry specific factors) but with those companies below the line.
Subsectors or groups of companies will sometimes clump outside of the traditional band either over or under the value line. Within the E&P sector, companies with material exposure to shale gas in the Marcellus region (Pennsylvania) are benefiting from above average growth expectations (through actual growth or leasehold valuations). While not comprehensive, the darkened oval highlights several such companies.
Figure 4: Energy Sector Valuation Plot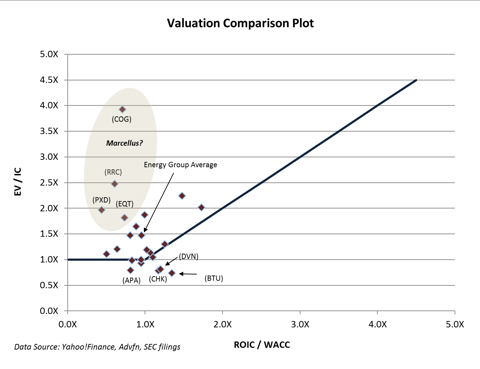 Prices as of 8/14/2013
The Devon Energy Evolution
While there are growth stories driven by regional shale gas plays, our focus is on companies that appear undervalued and fall below the value line. Within the E&P sector, Devon Energy , Apache Corporation (NYSE:APA), and Chesapeake Energy (NYSE:CHK) all jump out. Devon Energy in particular presents an interesting story based on a transformation over the past 5-6 years which the market might not fully appreciate.
Reserve Growth but will Production Follow
Devon has grown its proved reserves to 3.0 Billion Barrel of Oil Equivalents [BOE] from 1.6 Billion Boe estimated at 2005 year end. During this time, the company has divested its international properties and presence in the Gulf of Mexico and focused exclusively within the North American continent.
While Devon has significantly added proved reserves, the company's total production of oil, gas, and natural gas liquids has remained relatively flat at an average of 233 Million Boe over the past 10 years. Production over the last twelve months hit 250 Million Boe, which is near its 2004 peak annual production level of 251 Million Boe. (See Figure 5 for more details.)
A key driver for Devon's valuation will be the realization of additional production of oil in the US. The company's goal is 16%-20% increase in total oil production with accelerated growth in the US. Devon estimates 169-173 MBOPD or ~62 Million Bbls can be produced compared to the trailing 12 months of 37 Million Bbls or 35 Million Bbls produced in 2012. Strength in oil production along with Western Texas crude trading above $100 should bode well for Devon's revenue profile.
Figure 5: Annual Production Stats for Devon Energy (As Reported)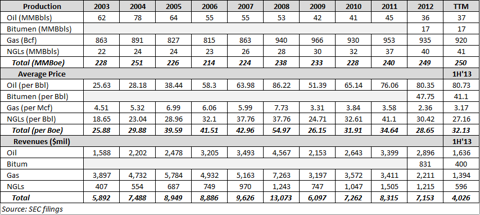 Devon's net debt position now stands at ~$5.9 billion or 21% of its Enterprise Value, compared to its average since 2005 of 14.0%. With the cash from asset sales redeployed and the 2010 $3.5 billion share buyback complete, future growth in reserves and production will be driven by operating cash flow as opposed to future balance sheet leverage. The potential IPO of Devon's midstream business in the form of an MLP would bring additional capital that could be redeployed for the acquisition of additional acreage.
Profitability is Noisy but the Trend Looks Positive
Devon's profitability, when measured against its assets, presents unique challenges. The company faces the cyclical nature of commodity prices as well as swings in the traditional business cycle. Devon's asset valuations are also subject to changes, which can understate or overstate profitability.
For instance, between the 4th quarter of 2008 and 1st quarter of 2009, Devon took a $16.9 billion (excluding tax benefit) charge to reduce the carrying value of various acreage assets. The combination of lowering asset valuations during a spike in oil prices generated an impressive average 33.4% Return on Invested Capital for the company during the six months. When adding back the $16.9 Billion charge, the ROIC performance drops to 21.5%. This is still impressive compared to the 9.7% ROIC realized in the previous 8 quarters.
The opposite dynamic occurred in 2011, when in the second quarter, Devon realized an ROIC of 2.9%. The price realized per Boe had dropped to $34.64 in 2011 compared to $54.97 in 2008. During that time, the company had also increased its Invested Capital from $23.6 Billion in Q4'08 to $36.0B in Q2'11. Furthermore, the company was still in transition in its production portfolio and had a net debt position of only $1.2 billion, which reflected capital still on the sidelines that had yet to be deployed for productive purposes.
The market's reaction to the decline in profitability in Devon's asset base has been telling. The company's market value add or MVA (defined as Enterprise Value net of Invested Capital) went from a positive $7.9 Billion in Q4'08 to only $279 million in Q2'11. That trend continued until bottoming in Q3'12 at a negative $13.5 billion in Q3'12 and the MVA as of Q2'13 at a negative $9.0 Billion. This can be seen in Figure 6.
Figure 6: Devon Energy Quarterly Estimated Enterprise Value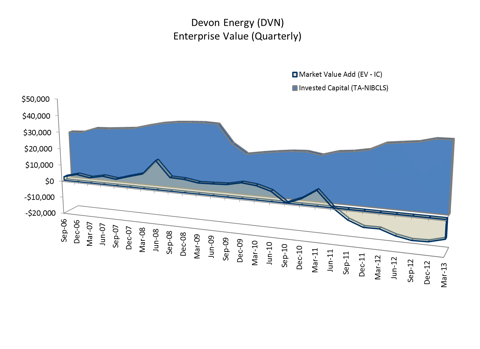 If Devon's asset profitability based on our ROIC calculation can return to its estimated weighted cost of capital of ~8.4% then the company's Enterprise Value should trade at ~1.0X its Invested Capital, or $83 per share. Devon's 6 year average EV/IC multiple 1.08X, which based on current estimated Invested Capital would reflect $90 per share (which it last saw in the spring of 2011). Figure 7 highlights the quarterly trend in both the realized EV/IC multiple and ROIC. The near-term bottom occurred in Q3'12.
Figure 7: Historical ROIC and EV/IC Profile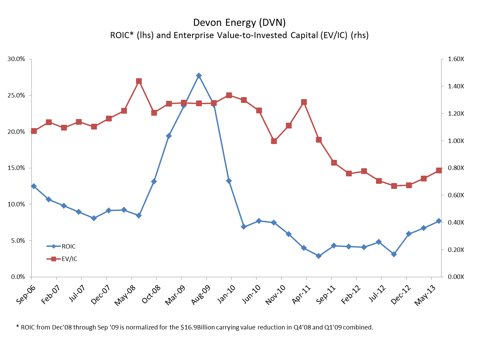 Valuation Expectations
While having price targets is helpful, we also are interested in current market expectations, i.e. what hurdles to we have to clear for a successful investment. In the case of Devon Energy - expectations are relatively low. To arrive at the recent share price, one must assume the company operates at a profitability level below its company average cost of capital. Investing capital at subpar profitability levels destroys value. To arrive at a $58 share price, we use an average 6.5% ROIC compared to an estimated 8.4% WACC (Weighted Average Cost of Capital) and assume 2% growth.
Note that the company's average ROIC since 2006 has been 9.8%, including a normalization of the spike in ROIC in late 2008/early 2009.
Figure 7: Economic Value Add Discount Model - Measuring Current Expectations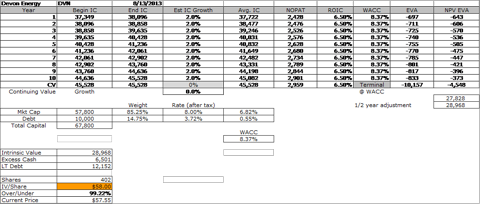 Conclusion
The energy sector has underperformed the broad market since early 2011. While energy prices play its part, strong performance in the broad market has been driven by the early cycle sectors such as financials and consumer discretionary. Despite a US economic business cycle that began its expansion in June 2009, the mid-to-late sectors that are more commodity and material based have yet to see relative strength.
One area however within the energy sector shows some promise is the E&P sector. While E&P companies with exposure to Marcellus acreage are valued at a premium - several of the large E&P companies such as Devon Energy have hit our value radar. A further review of Devon highlights a market expectation that is likely too low based on the company's completion of its transition to the North American continent, which should allow the company to expand its oil production while improving the profitability of its asset base.
Disclosure: I am long XOM. I wrote this article myself, and it expresses my own opinions. I am not receiving compensation for it (other than from Seeking Alpha). I have no business relationship with any company whose stock is mentioned in this article.
Disclaimer: Clients of Smith Patrick Financial Advisors own Exxon Mobil at the time of this writing. This is article is written for informational purposes and we believe investors should perform their own due diligence before making investment decisions.