Over a year ago, I wrote an article titled: "The Future of Facebook is Mobile Payments." At the same time, I suggested that Facebook (NASDAQ:FB) might hop in bed with eBay (NASDAQ:EBAY), rather than take eBay/PayPal's payment service head on:
- but there's no reason for Facebook to pick a zero-sum fight with PayPal for the mobile payments space when it can adopt a non-zero sum strategy and co-opt it at a lower cost to both...
This prediction turned out to be spot-on, as Josh Constine from TechCrunch now confirms:
Facebook is testing a way to make paying with a credit card easier, but it works with PayPal, not against it as AllThingsD wrote. The feature pre-fills credit card and billing info for making easier purchases through PayPal, Stripe, Braintree or other payment processors in third-party mobile apps. It's not a payment processor itself, but could help Facebook prove the ROI of its ads.
But while reliable ROI data would allow Facebook to charge more for its ad space in the near term, it's ultimately a one-off refinement. Both eBay and Facebook would be better served by skipping some of the foreplay and considering a marriage of convenience that combines Facebook's huge user base with PayPal's infrastructure.
What's In It For Facebook
To understand the benefits of such a shotgun marriage to Facebook, you first have to understand the limits on advertising on a social network.
Social networks have one product, and it's a product that tends to result in diminishing returns unless the network finds a way to re-invent the user experience. Simply put, cool is worth more than uncool. Payments are cool. Everybody likes to get paid. Ads aren't cool. They can be fun, like Superbowl ads. Occasionally, they can even be genuinely helpful.
But cool? Never in life.
A social network isn't tailor made for advertising the way a dedicated search engine is. The more Facebook bombards its users with advertisements, the more uncool Facebook becomes. The more uncool Facebook becomes, the less people will use the service. The less people use the service, the more unwanted ads Facebook will have to push, further amplifying the vicious cycle. Eventually, the network collapses as users flee to a more virtuous environment that offers comparable service without all the hassle.
That it could happen to the largest social network of them all is not unthinkable. After all, it's not as if Facebook is the first or even the fifth friend-linking online service that web surfers have posted pictures and personal information to.
Fig. 1: Myspace Users Flee to a Virtuous Network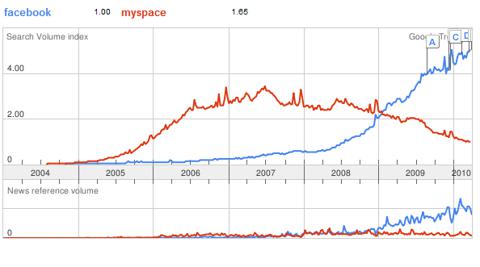 Remember, people ditched pre-programmed TV for the relative freedom web for a reason. Turning the web into prime time television may be what Hollywood wants, and what Wall Street thinks it wants, but it would be a major step backwards in terms of both user engagement and profits.
Ultimately, Facebook will have to monetize these users in a way that doesn't turn their member profiles into the digital equivalent of the Las Vegas strip, or people will shut down their accounts and go somewhere else. That's where PayPal and mobile payments come in. A wallet is a natural extension of social identity.
Each company has something that the other needs to drive continued growth for its investors. Facebook has roughly 450 million living, breathing users who are comfortable sharing their credit card data on the site.
What's In It For eBay?
The problem is that most PayPal users get their first introduction to the service through eBay, and eBay's growth is tapering off. Most PayPal users get their first introduction to the service when they buy something through the eBay Marketplaces. While this segment has resumed top-line growth amidst the switch to mobile, such growth is inherently constrained by the success of rivals like Amazon (NASDAQ:AMZN), Etsy and Square.
Fig. 2: Top 7 Websites By Active Users

(Source: Technology Bloggers)
Combining Facebook's users with a 1-click mobile payment solution and PayPal's payment infrastructure would be the ultimate you've-got-chocolate-in-my-peanut-butter moment for both companies.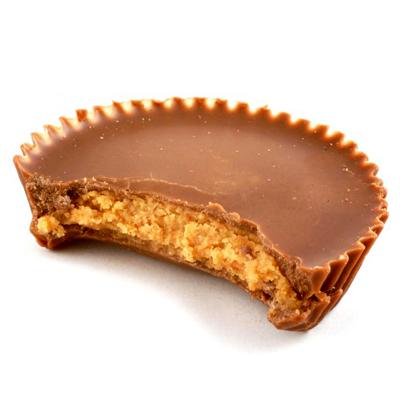 Bottom Line
With PayPal largely driving eBay's future growth, eBay investors could see as much as 50%-75% upside from here under a best-case scenario if such a marriage were consummated. While both companies are still in the dating stage, the fact that Facebook is currently much more richly valued than eBay from a fundamentals perspective (166 P/E vs. 44 P/E, 4.659 Price/Sales vs. 15.60) suggests that eBay may have more to gain by a marriage, though the relief of Facebook investors at a new revenue stream would be palpable, indeed.
Disclosure: I have no positions in any stocks mentioned, and no plans to initiate any positions within the next 72 hours. I wrote this article myself, and it expresses my own opinions. I am not receiving compensation for it (other than from Seeking Alpha). I have no business relationship with any company whose stock is mentioned in this article.