Overview
Accenture Plc. (NYSE:ACN) has provided management consulting, technology, and business process outsourcing services worldwide since 1989. Accenture, since its inception and division from accounting firm Arthur Andersen, has helped to unlock profits to many Fortune 500 clients through its expertise in technology. In 2001, Accenture went public with an initial public offering price of $14.50 per share. Since then, Accenture has rewarded loyal investors by increasing to $70/share (August 2013). Recently the share price has seen a sharp decline, reaching a new 6-week low on Wednesday, August 14th.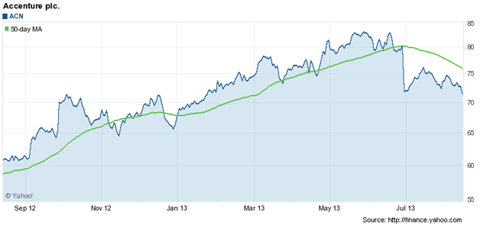 Recent Financial Performance
By analyzing the 1-year performance for Accenture, we can clearly see a gradual uptrend, which came to a screeching halt following its earning call on 27th June 2013. In the earnings report, Accenture announced a cut to its revenue outlook for fiscal 2013. In addition, Accenture lowered its expected growth to 3-4% from an earlier stated 5-8%.
Excerpts from the 3rd quarter results reported in June make clear that the performance outlook was heavily impacted both by customer geography and service offerings: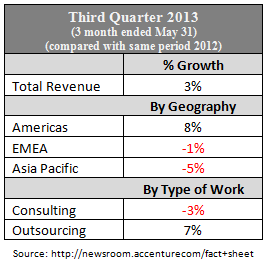 We can clearly see that Accenture has been heavily impacted by the economic and political turmoil in EMEA (Europe, the Middle East and Africa) and the Asia Pacific regions. While economic difficulties tend to have a positive impact on outsourcing as companies seek to reduce costs; consulting services are often seen as not vital to operations and are therefore first on the corporate chopping block.
Competition:
In addition to economic and political difficulties, Accenture operates in an extremely competitive market environment. Despite this, Accenture has managed to thrive in recent years. However, sophisticated and well-run companies such as IBM (NYSE:IBM), Wipro (NYSE:WIT), Computer Sciences (CSC), and Gartner (NYSE:IT) have made it extremely difficult to pull away from the competition in terms of market share. In addition, privately held companies like Deloitte Consulting LLP, HP Enterprise Services, LLC take a large chunk out of the market pie.

Accenture's P/E ratio sits well within the industry norm. And despite the revised lower forecast, Accenture was recently upgraded by Robert Baird Research company to "outperform" from "neutral" with a price target of $86.
However, peers like Gartner have cut their global IT spending forecast for 2013 from 4.1% to a mere 2.0%. In mid-July 2013, IBM reported earnings that appeared pretty solid and beat expectations, however, some of the details raised investor concern. So we can conclude that Accenture is not the only consulting firm in its market space to experience these difficult market conditions.
Measures for Long Term:
Accenture is not sitting idly by; in fact, it has undertaken one major acquisition in order to fill out its product offerings, with one more possibly in the future:
· It expanded its Product Lifecycle Management expertise with the acquisition of PRION Group. Combining PRION Group with Accenture's management consulting, technology and outsourcing capabilities is expected to create a market-leading global PLM offering for a range of industries.
· It is in talks to potentially acquire smaller rival firm, Booz & Co. A takeover of Booz would expand Accenture's Strategy & Operations consulting business.
According to recent statistics compiled by CIM data, the comprehensive PLM market experienced 11.3% growth in 2012. By organizing its organic growth and strengthening its verticals, Accenture is clearly putting its chips in the right places. Though takeovers always tend to be problematic in the consulting space, the addition of PRION Group (and possible addition of Booz & Co.) will surely position Accenture well in the long run.
Analyst Recommendations: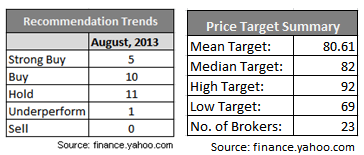 Although analyst recommendations tend to err on the high side; at a consensus low target price of $69, it would appear that Accenture is currently priced at a discount. The question remains, however, when could investors expect to see the upside?
Conclusion:
The consulting and IT industry will most likely remain flat, at best, through the continued economic uncertainties in Europe. Major corporate and government clients will continue to cut costs by eliminating consulting projects. During this time, the focus for consulting firms will also remain on internal cost-cutting measures. However, it would appear that Accenture is thinking of the long term by making strategic acquisitions at what could prove to be a discount. Last quarter's big earnings miss has revised expectations for next quarter; it may be overly optimistic to think consulting revenues will pick up much of the slack (results to be announced on October 28, 2013). So the near future may not look all that rosy for Accenture, however, buying on a downtrend may not be such a bad move for a long-term investor. After all, that's what Accenture's doing.
Disclosure: I have no positions in any stocks mentioned, and no plans to initiate any positions within the next 72 hours. I wrote this article myself, and it expresses my own opinions. I am not receiving compensation for it (other than from Seeking Alpha). I have no business relationship with any company whose stock is mentioned in this article.