As a conservative investor, I have become a lot more careful in evaluating prospects in the natural resources sector. Some may even call me a pessimist. Having been professionally exposed to a wide range of commodity exploration and production projects over the last several years, I have seen fortunes made and lost. Disappointing exploration results, shifting political climates, gyrating commodity prices, and scandalous management practices can make or destroy vast quantities of wealth almost instantly.
To achieve impressive returns in the volatile natural resources sector, investors have to take on substantial amounts of risk. My central investment thesis is that the market for oil will remain tight for the foreseeable future on account of rising demand from emerging economies and increasingly inaccessible deposits. Canada's Oil Sands provide exposure to petroleum prices, while minimizing political, regulatory, and exploration risks. As such, oil sands companies are ideal for investors looking for pure commodity price exposure. So which company gives investors the best value today? And which is best suited to your risk profile?
This article compares Suncor Energy (NYSE:SU), Cenovus Energy (NYSE:CVE), and Imperial Oil (NYSEMKT:IMO) because they share three key characteristics:
These companies derive the majority of their revenues from oil sands (Suncor, Cenovus, Imperial). The high fixed cost of oil sands production means earnings performance of oil sands companies are levered to commodity prices to a greater extent than are the earnings of conventional producers.
Large market cap with established production record. Each of these companies has a competent production record.
Integration limits exposure to regional pricing differentials. All of these companies have refining and marketing divisions which insulate them from heavy-light pricing differentials.
Company Highlights
Suncor Energy is Canada's largest integrated oil company and oil sands operator. After acquiring PetroCanada in 2009, Suncor gained downstream capacity and expanded conventional operations. Approximately 65% of its 550kboed of upstream production in 2012 came from oil sands, with conventional assets accounting for the balance. Major oil sands projects include Firebag (OTCPK:SAGD), Millenium and North Steepbank (Mining), and a 12% interest in the Syncrude mine.
Imperial Oil, which is 69% owned by Exxon Mobil (NYSE:XOM), was originally founded in 1880. Major projects include Cold Lake, a 25% interest in the Syncrude mine, and Kearl. Over 80% of the 282 kboed of production in 2012 came from oil sands operations. It's the only oil sands company that holds a AAA credit rating from Standard & Poor's.
Cenovus was formed in 2009 after it was separated from Encana. Its two major oil sands projects, Foster Creek and Christina Lake, are 50% owned by ConocoPhillips. Over 67% of the 165 kboed comes from oil sands, with the remainder coming from mostly light conventional oil.

Source: 2013 Company Presentations (Suncor, Imperial, Cenovus)
Suncor leads the pack with regards to reserves, although Cenovus enjoys a much higher reserve life due to lower levels of current production. Please note that this data only includes proved plus probable and that it excludes natural gas assets. Estimated reserve life was calculated by dividing proved and probable reserves by average production for 2012. In practice, reserve life will likely be shorter due to increasing production rates.
Upstream Production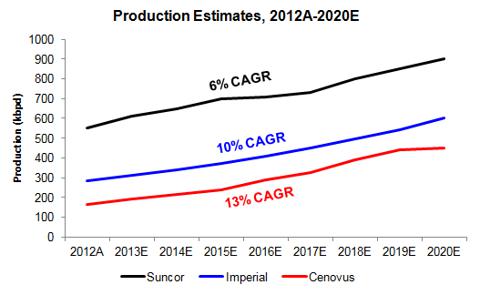 Source: Company Presentations (Suncor, Imperial, Cenovus)
The above production data was pulled from official company forecasts. Suncor is projected to maintain its lead in production, but Cenovus is forecasting the highest compound annual growth rate. It's also worth pointing out that the vast majority of this planned growth is expected to come from in-situ oil sands operations.
It's also important to examine the source of planned production. Imperial Oil and Cenovus Energy will rely on the Kearl and Christina Lake projects, respectively, to achieve their growth targets. Suncor, on the other hand, is able to add almost 200kbpd by debottlenecking, increasing upgrader efficiency, and increasing production at the existing Firebag project. Increasing production via infrastructure and operating improvements usually requires much less capital expenditure (MUTF:CAPEX) than purchasing all of the equipment necessary to begin a new operation. For these reasons, I would expect cash flow from operations to grow fastest at Cenovus on account of its rapidly increasing production. However, I would not be surprised to see free cash flow (cash flow after CAPEX) to increase fastest at Suncor on account of the company's more modest CAPEX requirements.
Imperial Oil and Cenovus enjoy lower costs on their in situ operations, largely due to the lower steam ratios.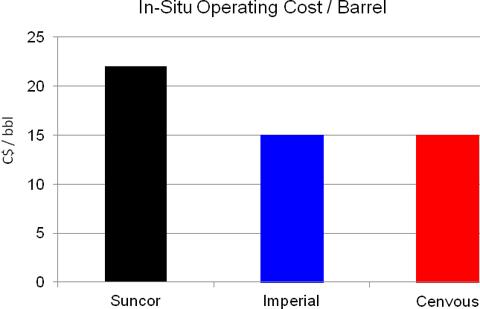 Source: Imperial Oil 2013 TD Calgary Presentation
The lower costs give Imperial and Cenovus an advantage, and is perhaps one of the reasons Imperial has been able to achieve high ROICs of over 20%.
Refining & Logistics
All three companies use several refineries, which insulate them from the pricing differential between Western Canada Select and global prices. For those of you unfamiliar with the process, the bitumen first is extracted from the deposit. The bitumen is then put through an upgrader, which converts the bitumen to synthetic crude oil. The synthetic crude oil is shipped to a refinery via pipeline or rail to be converted into jet fuel, gasoline, or other petroleum products.

All companies transport their products using both rail and pipeline. I have read recently about insufficient pipeline capacity in the region. I know that's not an issue for Suncor, and I haven't seen any evidence that suggests Cenovus or Imperial is suffering from insufficient transportation capacity.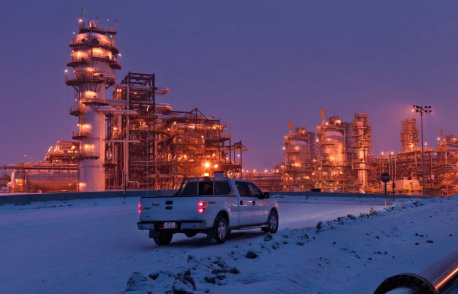 Source: IMO TD Calgary Presentation
Financial Snapshot & Management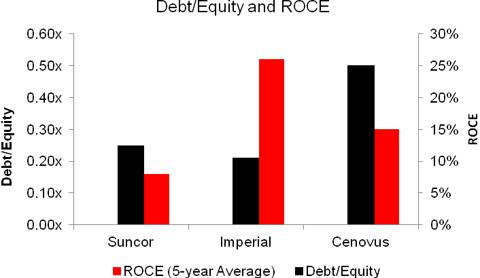 -
Source: IMO TD Calgary Presentation, Morningstar Data (08/11/2013)
Both Imperial Oil and Suncor have a low level of leverage, with a debt to equity ratio of approximately 1:5, whereas Cenovus is closer to 1:4. These leverage ratios are all quite low, I would expect all of these companies to weather a downturn in oil prices without liquidity issues.
Return on Capital Employed (ROCE) is a non-GAAP measure of a company's profitability relative to its assets. It's a frequently-cited number in the oil and gas industry, although many highlight its limitations. Imperial Oil is the clear winner in this respect, with an impressive 5-year ROCE of over 25%.
Suncor and Cenovus are independently managed, whereas Imperial Oil is 69% owned by Exxon Mobil. Although Cenovus is independently managed, it's worth noting that ConocoPhillips owns a 50% interest in Foster Creek and Christina Lake. Sometimes minority shareholders must be wary of large partners manipulating the smaller company in a way to deprive minority shareholders of profits. This doesn't seem to be true with Imperial Oil. The Company has remained wedded to a strong dividend and share repurchase strategy despite the fact it's majority-owned by XOM. Suncor has also pursued buybacks and a dividend, whereas Cenovus just follows a dividend strategy.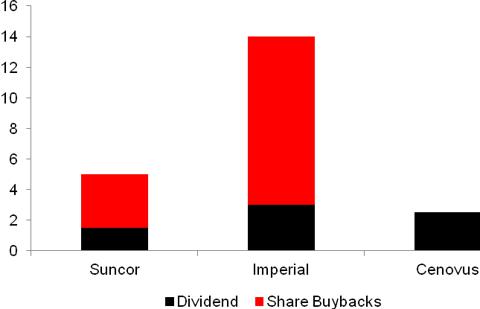 Source: IMO TD Calgary Presentation
It's important to note that although Imperial Oil leads Suncor in repurchases and dividend payouts, this could change in the near future. Suncor's annual payout rate of well over $2.5 billion in distributions and buybacks is much higher than it was before it acquired the PetroCanada assets. As far as Cenovus is concerned, I would expect to see more distributions and buybacks once the projects reach maturity.
Valuation Metrics

Source: Morningstar Data, 08/11/2013
Valuation is a subjective process and every investor has his or her preferences for particular metrics. Above are some of the most common metrics. I'd shy away from using historical P/E for these companies, as I know write-offs and accounting measures have impacted Suncor's ratio significantly. According to EV/EBITDA, Imperial looks cheaper than Cenovus and Suncor. Suncor and Cenovus look cheaper than Imperial when you look at P/CF or EV/2P Reserves, however.
With production volumes growing at CAGRs of 6-13%, I'd be hesitant to pay much higher than 10x EV/EBITDA for any of these companies. Assuming oil prices and costs remain constant, a 10% growth in production is likely to yield a 10% increase in profits. All of these companies have EV/EBITDA and forward normalized P/E ratios within this range, so none of them look too pricey at the moment. Concurrently, none of the companies are exceedingly cheap. If you're not bullish on oil prices, there isn't much safety at ~10x P/E if production volumes are growing in the neighborhood of 10% but prices come down a bit.
Concluding Remarks
Suncor appears to be the most mature and stable of these companies and has the longest track record. Its key weakness is a poor historical ROCE rating, which is probably linked to its relatively high cost of production. Nevertheless, I think the company has the potential to generate a lot of cash for investors in the near future as management focuses on expanding production by eliminating inefficiencies related to existing projects. Its valuation is lower than Imperial's or Cenovus's in many respects, which leads me to believe shareholders aren't expecting much growth in the near-mid term. Provided Suncor can execute on its existing projects, I can see it outpacing the relatively modest expectations priced into the stock. Based on the investment criteria in the introduction and my evaluation of Suncor's fundamentals, I would rate it 8/10 stars on account of minimal project risk, an experienced operational track record, and relatively attractive valuation. Negatives include its low production growth rate, relatively high cost of production, and historically low ROCE.
Imperial Oil is the most interesting to me. Imperial has distinguished itself from its peers with high levels of profitability and efficiency. It's planning to expand its production more rapidly than Suncor through the Kearl project, which will not require an upgrader. There are risks associated with the new project and the new technology. Additionally, it seems a bit more expensive than Suncor with regard to P/E, P/CF, and EV/2P. There also could be problems down the line for minority shareholders, although so far I would argue that minority shareholders have benefited rather than suffered from Imperial's association with Exxon Mobil. In accordance with my risk appetite and evaluation of the Company's story, I would rate it 8.5/10 stars on account of moderate production growth, low cost of production, fair valuation, and the upgrader-free Kearl project. Negatives include project risk regarding the economics of the Kearl Project.
Cenovus is the most aggressive play, as it has the highest growth targets and the most leverage. It's a growth play and is reinvesting its profits into its projects and, as a result, hasn't distributed as much capital to shareholders. I would argue that a solid portion of this growth is already priced into the stock, as you may note from the higher valuation ratios. They aren't as established as Imperial or Suncor, but their ability to deliver impressive results from their low cost projects has been impressive. It has a few too many risks for my taste, but it could yield excellent returns if things go according to plan. Given my investment objective, I would rate it 7/10 on account of its high growth volume, low cost, and solid project execution. Negatives include current valuation and substantial risks associated with extensive project development.
None of the stocks received above 8.5/10 due to their valuations. With oil prices already elevated, I can't see paying much more than 10x forward P/E for commodity stocks with medium to low growth on account of the risks associated with the oil price. I think future growth will stem from strong fundamentals and high oil prices, but I don't see much room for multiple expansion.
Disclosure: I am long SU. I wrote this article myself, and it expresses my own opinions. I am not receiving compensation for it. I have no business relationship with any company whose stock is mentioned in this article.