If anyone is unsure of what is riling the markets, look no further than the 10-year Treasury Note. Yields have risen sharply this year and hit resistance in the 2.7%-2.8% area. While that may be good news, there is still plenty of concerning news out there. For instance, the fact that the Egyptian news did not cause a flight to safety in U.S. securities and the Fed not backing off of its stance of discussing September as a time to ease bond buying. We doubt it would slow the program in September, as the good data we are receiving is not as good was it is perceived to be -- but definitely a step in the right direction. That is progress one does not want to stop in its tracks, so we believe a cautionary approach will be employed.
Chart of the Day
Click to enlarge images.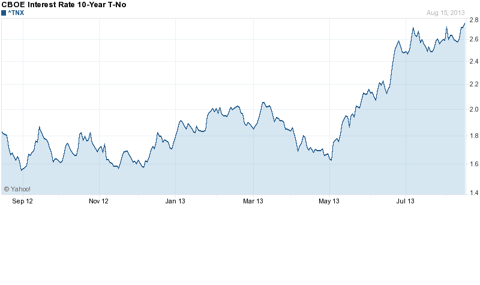 Source: Yahoo Finance.
The economic news due out today is as follows:
Housing Starts (8:30 a.m. ET): 895k
Building Permits (8:30 a.m. ET): 934k
Productivity - Preliminary (8:30 a.m. ET): 0.0%
Unit Labor Costs (8:30 a.m. ET): -0.3%
Michigan Sentiment (9:55 a.m. ET): 85.1 (expected)
Asian markets finished lower today:
All Ordinaries -- down 0.71%
Shanghai Composite -- down 0.64%
Nikkei 225 -- up 0.75%
NZSE 50 -- up 0.36%
Seoul Composite -- down 0.20%
In Europe, markets are mixed this morning:
CAC 40 -- up 0.06%
DAX -- down 0.22%
FTSE 100 -- down 0.01%
OSE -- up 0.29%
Biotechnology
The big news in the biotech industry yesterday was that the merger talks between Onyx Pharmaceuticals (NASDAQ:ONXX) and Amgen (NASDAQ:AMGN) had stalled over the reluctance of Onyx to allow Amgen to see specific data relating to drug trials. It was reported that the deal's value had been negotiated to $130/share, but that Amgen's request to see "unblinded" results/data was being resisted by Onyx. Once the two companies can agree on how much or how little of the data will be made available, it appears as if the deal would be fairly simple to close as most other issues have already been ironed out.
With no rival suitors having appeared for Onyx up to this point, we feel that they will have to open up more of the data to Amgen in order to complete the deal. But investors just have to hope that management does not chase off their suitor in the negotiations. It is a real fear right now, and Onyx shares display that as they closed at $115.34/share after falling $8.89 (7.16%) during yesterday's session. One has to hope that management does not scare away its suitor, or else the shares could return to the $80-$90/share range in short order.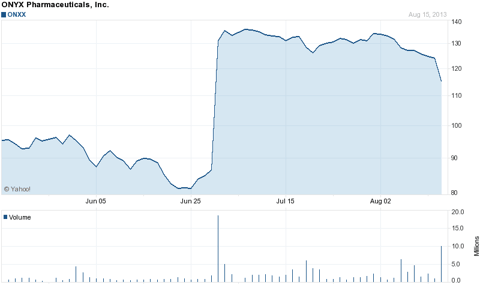 Source: Yahoo Finance.
Technology
Cree (NASDAQ:CREE) continued trading lower yesterday after the market was disappointed with their guidance going forward, which was supplied when they released their quarterly results. With the shares now around $56/share, we believe those readers looking to add a bit of risk and growth to their portfolios could begin adding Cree after this major pullback we just witnessed. LED lighting is the future and Cree is the market leader -- those are two facts one cannot argue with. New houses are utilizing more and more LED lighting, and because of the technology we are even hearing from our construction contacts that homeowners are installing more lighting than usual due to the life of the bulbs and the cheap cost to run them compared to older technologies. We are bullish of Cree at these levels.
Dividend Stocks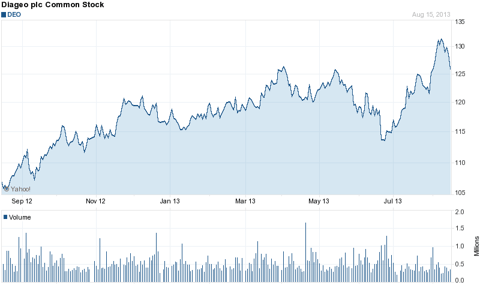 Source: Yahoo Finance.
If we are about to have a market pullback due to rates increasing, we want to be buyers of dividend paying stocks as those names will most likely be hardest hit among big market capitalization stocks. But we also want to be buying names with exposure to Europe because it truly appears that the economies of the EU are turning. Names we like because of their "Goldilocks" exposure (not too much, not too little, but just right) to the EU include BP (NYSE:BP) and Diageo (NYSE:DEO).
BP, the multinational oil company from the U.K., has a nice dividend yield right now with some legal issues, but if you can get something cheaper tomorrow, why buy today? You wouldn't. Diageo, the spirits maker, is a name that has seen considerable appreciation in its shares as the business has improved and the company saw investors flock to it due to its rich dividend yield. The yield is no longer that high, but the company is generating a lot of cash and doing some really smart things to improve the business. Because of this we like the name, but only want to be buyers on a meaningful pullback, with $115/share appearing to be a reasonable entry point.
Disclosure: I have no positions in any stocks mentioned, and no plans to initiate any positions within the next 72 hours. I wrote this article myself, and it expresses my own opinions. I am not receiving compensation for it (other than from Seeking Alpha). I have no business relationship with any company whose stock is mentioned in this article.