Formed by SemGroup in 2011, Rose Rock Midstream, L.P. (NYSE:RRMS), a Delaware limited partnership based in Tulsa, Oklahoma, engages itself in owning, operating, developing and acquiring a wide range of midstream energy assets. Rose Rock is engaged in the business of crude oil gathering, transporting, storing, distributing and marketing in Colorado, Kansas, Minnesota, Montana, North Dakota, Oklahoma, and Texas.
RRMS has exposure to the Bakken Shale in North Dakota and Montana, the Denver-Julesburg Basin, the Niobrara Shale in the Rocky Mountain region, the Granite Wash, and the Mississippi Lime Play in the Mid-Continent region.
In Oklahoma, Cushing is the largest crude oil marketing hub that connects the majority of its assets, which are strategically located in and around it. Rose Rock believes that its connectivity with Cushing - and with several other interconnections with third party pipelines, refineries and storage terminals - contributes in providing customers with access to multiple points for the receipt and delivery of crude oil.
Classification of revenues generated from specified services
Revenues generated from the fixed-margin and marketing activities are classified under the heading "product," and revenues from fee-based services are classified under the heading "service."
The table below summarizes the increase in revenue in each of the reporting segments since 2010. However, the operating and net income has declined since then. Rose Rock experienced a decline of $2.2 million in 2Q13 due to relatively lower crude oil market conditions. The fall in margin was partially offset by the cash distributions received from the White Cliffs Pipeline.

Adjusted Gross Margin - Rose Rock's financial measure in assessing company's operational results
Rose Rock believes that the computation of adjusted gross margin helps assess the financial condition of the company and results of the operations more efficiently, though this computation is not in accordance with GAAP. The basis of calculation is summarized in the table below. The adjusted gross margins generated from the various services provided by Rose Rock for six months, ended June 30, 2013, is enumerated too.

Fixed-Margin Transactions
Rose Rock purchases crude oil from producers and suppliers at an index price excluding transportation fee at a designated receipt point, and simultaneously sells it back to the same party at the same indexed price with an identical volume of crude oil at a designated delivery point. In a way, this locks in a fixed margin equivalent to the amount of the transportation fee. These arrangements are referred to as "fixed-margin" or "buy/sell" transactions, which account for the adjusted gross margin generated in the Oklahoma and Kansas pipeline system and through the Bakken Shale operations.
Approximately 23% of the adjusted gross margin was generated through fixed-margin transactions for six months, having ended in June 2013, as compared to 17% as reported in 2012.
Marketing Activities
Marketing activities account for a portion of the adjusted gross margin generated in the Kansas and Oklahoma pipeline systems, and through the Bakken Shale operations where the crude oil is purchased from producers, aggregators and traders, and then sold to other traders and refiners.
For six months, ended June 2013, marketing activity contributed approximately 23% to the adjusted gross margin.
Fee-Based Services
Rose Rock charges fees based on capacity or volume of crude oil unloaded, transported and stored along with other related ancillary services. These fee-based services include all operations in Cushing, Oklahoma, and Platteville, Colorado, along with the transportation services provided in the Kansas and Oklahoma pipeline systems. Some of the fee-based contracts are fixed regardless of the usage on a monthly basis.
Fee based services provided to customers have significant roles in contributing to the adjusted gross margin. For six months, which ended June 2013, fee based services contributed 59% to the adjusted gross margin versus 60% as reported for six months ending in 2012.
2013 Guidance
Rose Rock Midstream reaffirmed the 2013 Adjusted EBITDA guidance of $56 million to $60 million, which depicts an approximately 47% increase as compared to the midpoint guidance over 2012 results of $39.5 million. This increase is primarily due to the partial interest acquired in the White Cliffs Pipeline earlier in January 2013. The company has set aside more than $100 million for capital expenditure sin FY13, of which $47 million would have been used for the acquisition of Barcas field services on Aug. 1, 2013. It is expected that the partnership will bring in a growth rate of 15% YoY.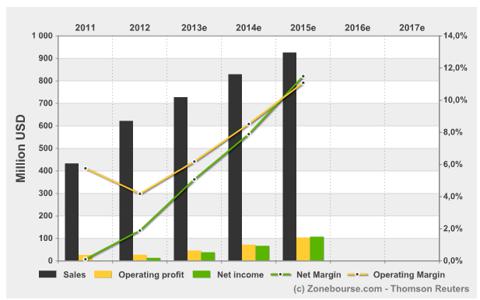 Dividend Payments
Rose Rock does not have any legal obligations to pay any quarterly distribution fees or any other distribution fees except for those provided in the partnership agreement. However, it intends to pay $0.3625 per share as a minimum quarterly distribution only if it succeeds in generating sufficient cash from the operations after deducting specified cash reserves and all other fees and expenses, which includes payments to its affiliates and general partner.
As per the partnership agreement dividends will be distributed in the following manner:

On July 25, 2013, Rose Rock announced that the Board of Directors of its general partner declared a cash distribution of $0.44 per unit ($1.76 per unit on an annualized basis) for 2Q13. The distribution represented an increase of approximately 15% over 2Q12, and approximately 2.3% increase QoQ.
Positioned to capitalize its assets
Rose Rock has outperformed the industry by posting a strong Return on Assets (TTM), which stands at 4.96% versus the industry's 2.30%. As of June 30, 2013, the assets which RRMS owns and operates include:
Strong crude oil storage capacity of 7.25 million barrels in Cushing, which is to be further enhanced by an additional 0.35 million barrels.
The gathering and transporting of crude oil through the pipeline system, which stretches to 640 miles, with an associated storage capacity over 660,000 barrels in Kansas and northern Oklahoma, connected to several third party pipelines and refineries and Cushing.
In the Bakken Shale Rose Rock owns a crude oil gathering, storage, transportation and marketing business, which reported a turnover of 8,200 barrels of crude oil per day on average for 2Q13.
In Platteville, Colorado, Rose Rock owns a modern, sixteen-lane crude oil truck unloading facility with a storage capacity of 230,000 barrels, which connects the originating point in the White Cliffs Pipeline.
Recently on Aug. 1, 2013, Rose Rock entered into an agreement with Barcas Field Services, LLC, a company engaged in owning and operating crude oil trucking fleet, to acquire assets for $47 million. The closing of the transaction is expected to occur in the 3Q13.
Recently, on Aug. 13, 2013, Rose Rock announced that it has priced an underwritten public offering of 4,750,000 common units, representing limited partner interests at an offer price of $33.44 per unit. An option has been vested in the underwriters to purchase additional 712,500 common units within a 30-day period.
The net proceeds from this offering, and from the exercise of the underwriters' option to purchase additional common units, will be used to repay outstanding borrowings under its revolving credit facility, to fund capital expenditure, and for other general partnership purposes.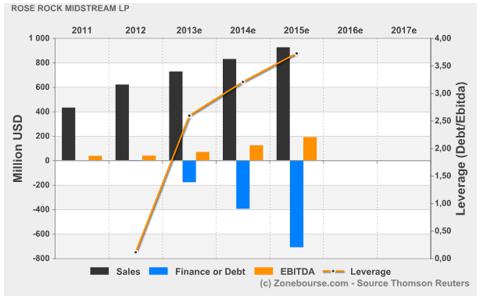 Conclusion
As discussed the dividend distribution for 2Q13 is scheduled to be paid on Aug. 14, 2013, to all unit holders as opposed to the previous date, Aug. 5, 2013. However, because the shares of Rose Rock entered into oversold territory in its trading session on Aug. 13, 2013, changing hands as low as $32.75 per share.
It is safe to assume that the stock has made a bottom and I would definitely like to do some bottom fishing at these current levels, especially considering the stock has corrected all the way from its high.
Disclosure: I have no positions in any stocks mentioned, and no plans to initiate any positions within the next 72 hours.
Business relationship disclosure: The article has been written by an Analyst at ResearchCows, ResearchCows is not receiving compensation for it (other than from Seeking Alpha). ResearchCows has no business relationship with any company whose stock is mentioned in this article. Any analysis presented herein is illustrative in nature, limited in scope, based on an incomplete set of information, and has limitations to its accuracy. The author recommends that potential and existing investors conduct thorough investment research of their own, including detailed review of the company's SEC filings, and consult a qualified investment advisor. The information upon which this material is based was obtained from sources believed to be reliable, but has not been independently verified. Therefore, the author cannot guarantee its accuracy. Any opinions or estimates constitute the author's best judgment as of the date of publication and are subject to change without notice.