On Friday, August 16 it was announced that Microsoft-news.com had leaked what it claims are the specifications for an upcoming Nokia (NYSE:NOK) Windows RT 8.1 (NASDAQ:MSFT) tablet. The rumors of a proposed tablet first surfaced in July of this year when The Verge noted that Nokia was working on an RT tablet but canceled that project to work on a slightly cheaper Windows 8 tablet.
According to Microsoft-news.com, the rumored device is said to have a 10.1" 1080p display, a Qualcomm (NASDAQ:QCOM) Snapdragon 800 CPU, 32GB of storage, and a detachable keyboard/stand, not to mention a September launch has also been discussed. In the wake of today's noted rumors, I wanted to take a closer look at not only the idea of a potential tablet, but several of the fundamental reasons why I remain quite bullish on Nokia's stock.
Breaking Down Several Of The Rumored Components
On its website, Microsoft-news.com noted a number of specific components with regard to the tablet, there are several that I think users and investors will find quite promising. It is rumored that Nokia's tablet will be fitted with both a 32GB hard drive and a Qualcomm Snapdragon 800 processor with speeds up to 2.15GHz.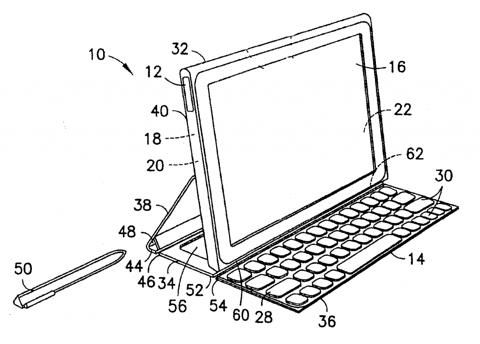 (Source: Microsoft-News.com)
According to Qualcomm's website, the Snapdragon 800 possesses a 28nm HPm quad core Krait 400 CPU at speeds as high as 2.3GHz per core. Investors should keep in mind that although Microsoft offers 32GB and 64GB versions of its Surface tablet (which will be a direct competitor of the rumored tablet), the rumored Nokia tablet may be much cheaper then the Surface's $349 32GB and $449 64GB Models.
Some Thoughts On Potential Price Points
When it comes to price point, I strongly believe the range of $269 and $299 is a pretty fair assumption especially if Nokia wants to take market share away from the likes of both Apple (NASDAQ:AAPL) and Samsung (OTC:SSNLF). Lastly is the idea that the rumored tablet will be launched in September in collaboration with AT&T (NYSE:T), which makes sense since Verizon Wireless (NYSE:VZ) offers its customers a number of tablet-based options that include but are not limited to the Apple iPad 2 an Samsung Galaxy Tab 2.
In a recent article Sneha Shah noted that, "Nokia's Lumia 520 originally had a price point of around ~$160, and it's Lumia 620 was the second cheapest Lumia with a price point of ~$220". Now Nokia has made buying these phones even more attractive by allowing exchange schemes, similar to those previously introduced by Apple and Samsung, for both its Lumia 520 and 620 models. In my opinion, the exchange program offered on its Lumia 520 and 620 models indicates that future price points of some its rumored products (similar to the above mentioned tablet) could be introduced at the lower-end of pricing especially when compared to both Apple's iPad 2 and Samsung's Galaxy Tab 2.
Performance & Trend Status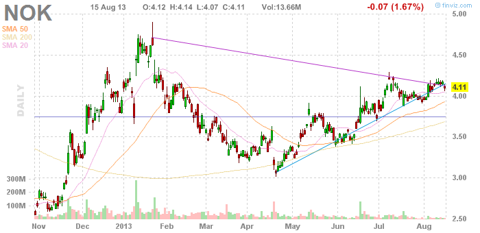 Based on Thursday's closing price, shares of NOK are trading 1.47% above their 20-day simple moving average, 4.74% above their 50-day simple moving average, and 11.67% above their 200-day simple moving average. These numbers indicate a short-term, mid-term, and long-term uptrend for the stock, which generally translates into a long-term buying mode for most traders. Shares of NOK, which currently possess a market cap of $15.26 billion, a forward P/E ratio of 33.97, and a gross margin of 31.00% settled Thursday's trading session at a price of $4.11/share. From a cash and debt perspective, it should be noted that Nokia has roughly $12.64 billion in cash and an estimated $6.97 billion of debt on its books.
Conclusion
When it comes to those who may be looking to establish a position in Nokia Corp, I'd continue to keep a watchful eye on not only what may come of the most-recent rumors surrounding a potential tablet, but the impact tablet sales may have on the company's long-term EBITDA growth. Tablet-based revenues could weigh heavily on the company's earnings performance, and since the company's sales growth is expected to fall by 19.10% on the year, strong tablet sales could positively impact those numbers.
Disclosure: I am long NOK. I wrote this article myself, and it expresses my own opinions. I am not receiving compensation for it (other than from Seeking Alpha). I have no business relationship with any company whose stock is mentioned in this article.