Dolls, Dolls, Dolls - Through Ups and Downs, the Doll Market Perseveres
If you just look at the overall sales picture of dolls and plush in the United States, you see a picture so dismal you would want to emigrate. This is what NPD numbers tell us: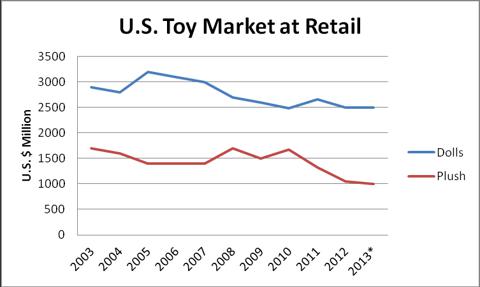 However, when you look a little closer, you will see that there is still life in this category.
The most important segment of the Doll category is fashion dolls, and as far back as we can remember, Mattel's (NASDAQ:MAT) Barbie has reigned supreme there. Only once was she challenged -- between 2004 and 2007 when MGA Entertainment's Bratz nearly got to a 50% market share in the U.S. fashion doll market. This fight for the No.1 position soon migrated from shelf space battles into court case brawls, which are still ongoing today. In any event, Barbie began to recapture lost market share territory by Summer 2010 and Bratz had virtually disappeared from the shelves by Spring 2011. Since then Bratz has somewhat recovered, but it never got back to where it had been it its heyday.
However, Mattel management had learned a valuable lesson. Yes, Barbie was a nice, wholesome, good girl but MGA proved that not all tween girls wanted a doll that was nice, wholesome and good. They wanted a doll that was edgy, pushy, bratty, and not really well behaved -- in short, Bratz. Mattel responded by creating Monster High in July 2010 and proceeded to make it a major success story. Monster High has overtaken Barbie and is now the No. 1 brand in the U.S.
However, MGA did not stand still. In the same year Mattel created Monsters, MGA launched a new line of rag dolls called Bitty Buttons. Bitty Buttons were very similar in concept to the Raggedy Ann dolls, which were first created in the 1920s and still around today. The line gained traction when MGA decided to change from Bitty Buttons to Lalaloopsy shortly after the brand launched.
While all this was going on, there were other comings and goings. Spin Master launched Liv, which was relatively short-lived, followed by Victorious, which is still hanging in there by the edge of her teeth. MGA had also launched Moxie Girlz as a companion to Bratz, but the range failed to take off and is now slowly vanishing from top retailers' shelves. The most recent ambitious entry was Jakks' (NASDAQ:JAKK) Winx Club dolls, released last year and now pretty much on clearance everywhere. Today, there are two new entrants on the horizon -- one is a new version of the original Raggedy Ann, unveiled by Hasbro (NASDAQ:HAS) at the 2013 American International Toy Fair and expected to make its appearance on toy shelves this fall. The other is Mooshka by MGA, a range of soft fabric dolls that is set to launch this fall as well..
Throughout all this, Mattel's Disney Princess (NYSE:DIS) sailed like a stately ship through these choppy waters, holding onto its No 2 or No. 3 position regardless of the ups and downs of all the other brands competing for the top spot. The Princess trend is experiencing a mild resurgence due to the very successful entry of Sofia the First, a doll range backed by a 3-D computer-animated TV series released at the beginning of this year on the Disney Channel and Disney Junior.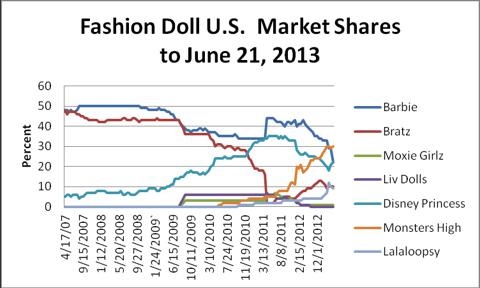 Source Klosters Retailer Panel
The above graph shows how the top brands have performed in the past six years:
Monsters is #1 with about 30 percent market share, Barbie and Disney Princess are No.2 each with about 20 percent, and Bratz and Lalaloopsy No. 3 each with about 10 percent. This lineup is, interestingly, not reflected in the shelf space each of these brands occupy. This is the picture at Wal-Mart (NYSE:WMT), Target (NYSE:TGT) and Toys "R" Us (TOYS):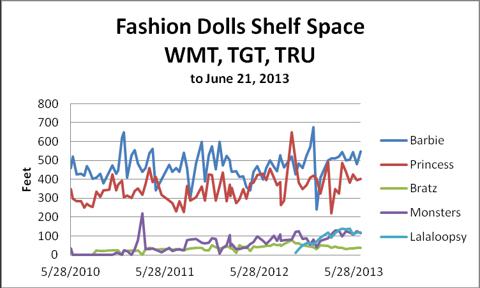 Source: Klosters Retailer Panel
You would think that the best-selling brand would also have the largest presence on the shelf, yet Monster High is way below Barbie and Disney Princess, holding about the same position as Lalaloopsy, a brand that is selling 66 percent less. How can this be? The reason is that because Monsters sales are growing extremely fast, Mattel cannot keep retailers adequately supplied. The buyers, hence, will not give a higher space allocation to a brand that has continuously empty shelves, unless they are satisfied that these shortages have been fully addressed. This will undoubtedly happen eventually and Monster High will occupy its well-deserved place in the sun.
So, while we can be pretty sure that Mattel will, for the foreseeable future, continue to dominate the fashion doll market in the U.S., the question is what that market is likely to do. Will it continue to decline or will we see a turnaround sometime soon?
Firstly, the buyers at the large retailers think that the negative sales curve for the category over the past decade is coming to an end. They point out that two major drivers are responsible. One is the KGOY [Kids Growing Older Younger] syndrome. The average age of a girl buying a doll a decade ago was about 9 years old, but it is now 6 years old and unlikely to go down any further. The second is that these trend lines denote dollar, not unit, sales. Because of the transition from U.S. manufacturing to China, costs came down and hence the price per unit dropped. In reality, they estimate that the sales in units over the last 10 years are up some 10 percent. Chinese costs are beginning to show a clear tendency to rise, which will result in higher prices and hence higher dollar sales. We will therefore probably see a reversal in direction relatively soon.
Secondly, these buyers are not overly concerned about the influence smartphones and tablets will have on toy sales in general and doll sales in particular. Yes, there are now many apps and online programs that invade doll territory and this trend is likely to continue to increase, at least in the short term. And, yes, the time kids spend on these devices is likely to eat into the time you have for other endeavors. However, the buyers do not think that one replaces the other. As one buyer put it: to play with an app instead of a real doll is the same difference as hugging a photo instead of hugging your girl friend.
Rather, they think that significant future influences on the doll market will come from two different directions. One is the marriage between electronic platforms and physical toys as demonstrated by the Skylanders franchise. This technology will undoubtedly move into doll territory sooner or later, and whoever is first to do so successfully is going to walk away with a really nice market share. The second is the type of precursor technology we do not even see today -- along the lines of 3-D printing -- which will enable consumers to adapt and change toys to their personal preference.
Whatever the case may be, dolls will continue to be around for an extremely long time.
(This article was first published by the Toy Book on August 15, 2013)
Disclosure: I have no positions in any stocks mentioned, and no plans to initiate any positions within the next 72 hours. I wrote this article myself, and it expresses my own opinions. I am not receiving compensation for it. I have no business relationship with any company whose stock is mentioned in this article.