Editor's note: This article covers a micro-cap stock. Please be aware of the risks associated with these stocks.
Celsion (NASDAQ:CLSN) certainly appears to be on its way to being revamped and looking stronger so far after its Phase III earnings crash earlier in the year. Naturally, that's going to continue to spawn new arguments from bears, shorts and anyone else betting against the company.
Celsion's CEO, Michael Tardugno, is nary amused by the steps that short sellers take - usually slinging half truths and conjecture to introduce (or as Cramer would say "foment") fear, uncertainty and doubt.
That's probably because it seems like every time Celsion seems to take another step forward, market-wise, there's usually no shortage of bearish myths or half-truths that somehow make their way out on to the investing public, causing them to tap the brakes and pull back on the price.
So far, Celsion has been holding up, staying up over $1 steadily since it has first peeked its head back over the $1 line a month and a half ago.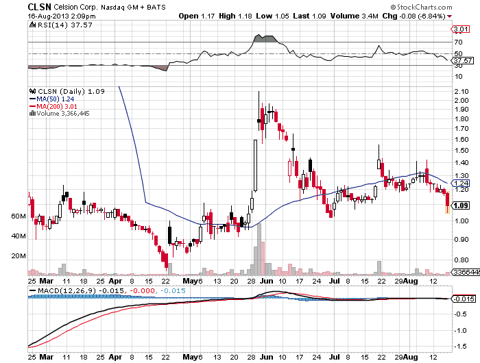 As I stated in a previous article, those who have been invested in Celsion since before the post-Phase III crash in January 2013 are likely to be sitting on losses. Those who have invested afterwards, in what I call the "new" Celsion, are up over 25% over the last three months. My first argument to reinvest in Celsion post-crash came when I wrote an article claiming the new Celsion could, at some point, be worth $4/share.
As far as refuting the shorts myths, I've done my part. On August 6th, I wrote an article called "4 More Bearish Celsion Myths Refuted," which was a second part to an article called "6 New Bearish Celsion Myths Destroyed," that I wrote on June 12th of this year. Both articles systematically dissected ludicrous arguments that were laden with hearsay from anonymous sources and general lack of facts.
Today, we once again we find ourselves in the midst of a day where disclosed shorts have come out slinging half truths and conjecture to try and influence the price of Celsion's stock downward.
Today, it's CEO Michael Tardugno and Board member Alberto Gonzalez who are doing the proverbial "short myth destroying." In response to an article posted today, CEO Michael Tardugno and Alberto Gonzalez both purchased about $5,000 worth of their own company's stock on the open market. That's a nice statement without coming out and actually making a statement.
Also, this isn't the first time this has happened. In response to another article by a disclosed short seller on June 12th, Tardugno did the same thing - came right out in the open market and basically said, "Hey, you want to talk about my company like that? I'll show you exactly how serious I am by plunking down $13,457 of my own money to show my investors that I'm serious about my company. And, I'll do it with zero days notice."
This is testament not only to the confidence that these two have in their own company, but in the competence of Celsion's market strategy team (led by VP of Corporate Strategy/CFO Jeff Church) in how to make a statement. Celsion's reporting to the market has always been professional and smart. The company with its seasoned executives could be a case study in a textbook of how to manage a public company's market communications.
It's because of this professionalism and Tardugno's confidence in his own company - combined with my already bullish sentiments on Celsion - that I'm reiterating my bullish sentiment behind the "new" Celsion Corporation.
Disclosure: I am long CLSN. I wrote this article myself, and it expresses my own opinions. I am not receiving compensation for it (other than from Seeking Alpha). I have no business relationship with any company whose stock is mentioned in this article.