In my book Bringing Home the Gold, I wrote about the joys of buying what I called "BBDP" stocks: Basic, Boring, Dull and Profitable. A good example of one such stock this past year might be Hewlett-Packard (NYSE:HPQ). Once a hi-tech darling, it fell from grace - hard. Its product line elicited yawns as a basic provider of boring commodity-type products that people would no longer be using, products like printers and desktop and laptop computers. How very dull in the new era of always-on smartphones and tablets and social media and sound bite shivering or chattering or twittering or whatever it is that people do when they have absolutely nothing of interest to say but want the whole world to hear it anyway.
The company had a devastating 4th quarter which took the stock down to $11.94 nine months ago on November 20th. It was given up for dead by most analysts and many investors. However - their R&D budget is huge, their corporate culture one of entrepreneurialism, and their products proved not so stodgy after all. Result? The company, Lazarus-like, arose from the dead and has been one of the most profitable investments of 2013. The S&P is up 20% since November 20, 2012; HPQ is up 126%, six times better than the S&P! Basic. Boring. Dull. And Profitable.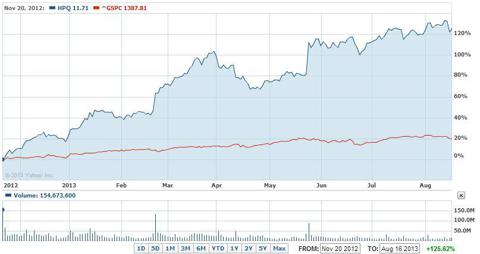 I believe I've found another company languishing, this one more in the shadows. I've just returned from a research trip to the United Kingdom in June, where I visited a number of Tesco PLC (OTCPK:TSCDY) stores and spoke with a number of their suppliers. You don't get more basic, boring and dull than a grocery company! Like HP, Tesco made a recent misstep that created a hiccup in profitability. Their ill-timed foray into the US (2007, right at the start of the recession) via the Fresh & Easy mini-grocer concept failed to catch on. This and some other transient issues in the UK cost them. But, as with HP, I think this was a momentary interruption in what I see as a march to dominance in many areas. Additionally, I think it is a great way to play consumer staples in China without dealing with the lack of transparency, questionable governance, bribery and corner-cutting involved with such basic companies based in China.
Tesco is one of the biggest retailers of any kind (supermarket, department store, clothier, etc.) in the world and the biggest and most profitable online supermarket. (Tesco.com, the online marketer, has nearly $4 billion in sales and some $225 million in annual earnings all by itself. More than Safeway, more than Kroger and, yes, more than Wal-Mart.)
TSCDY operates in numerous nations besides the UK, with successful operations in more than a dozen countries in Europe and Asia. In most of these, they rank either #1 or #2 in market share. In the UK, of course, they are The Dominator, with a 34% share in an otherwise highly-fragmented market. No one comes close, including Wal-Mart's UK subsidiary, Asda. I shopped in both while I was there. For cleanliness, freshness and a more upscale shopping experience Tesco beats Wal-Mart hands down.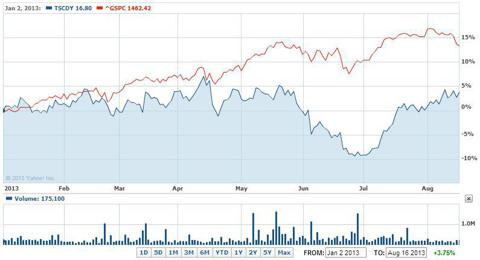 One of the other nations Tesco operates in deserves special mention: China. The company entered China in 2004. I believe they have an under-reported-upon opportunity in the country with the most mouths to feed in the world. Let's face it: Chinese consumers have lost faith in Chinese companies' willingness to provide untainted food at a fair price. Recall, please, the domestic baby formula mess of a few years back when 300,000 infants suffered debilitating kidney stones after Chinese food-providers cut their baby formula with melamine to enhance profits. Worse, the government then tried to keep this national tragedy a secret so as not to "taint" the showcase that was to become the Beijing Olympics.
"Made in China" has not covered itself in glory since then, either. Rat meat has been labeled as mutton, pork has been sold after the animals died of some sort of industrial poisoning or old age, antibiotics are used in dangerous proportions to keep animals alive, avian flu seems to have been spread by unconscionably poor sanitary procedures, and the metal cadmium (likely from air pollution) has been found in half the rice sold in heavily-populated Guangzhou province. If something is tainted, rather than deal with the problem, many companies in China would rather simply pass the problem along to someone else. (Witness the thousands of dead pigs rotting in the Huangpu River in Shanghai.)
That's why it was probably inevitable that one of our old favorites, Smithfield Foods (NYSE:SFD), the largest purveyor of pork in the world, is the subject of a takeover offer from a Chinese quasi-governmental firm. I think they are buying Smithfield in order to learn how to process mass amounts of a typically Chinese staple in more sanitary and well-controlled ways.
Human greed and cupidity has already soured 1.2 billion Chinese food consumers on trusting local food purveyors. Even without such egregious behavior, however, other less direct factors would also make them wary. China's headlong rush to force itself into a manufacturing and mining giant has left the air and water so polluted that it is inevitable that contaminants (like the cadmium settling onto the rice fields and binding to the rice) will find their way into the food supply. As The Party seeks to maintain its grip on power, it realizes it must regain the trust of China's people and one of the most basic ways to do so is to ensure a supply of food that doesn't kill them, either immediately or slowly.
This provides a huge opportunity for international firms with safe and sanitary food-handling experience like Nestle, Unilever, Pepsi, and Tesco, among others. Tesco has been in these trenches long enough to know how to capitalize on these trends. Indeed, when they opened a new supermarket in Shanghai a couple months ago, the marketing they deployed was simply: "Tesco: Food you can trust." That statement may have fallen flat in the UK, the US, continental Europe, Japan or much of Latin America. Of course we can trust our food; that's a given! But in China, such a none-too-subtle message rings with the sound of truth. As the world's 3rd-largest retailer with extensive experience in sourcing, transporting, quality control, price management, and, with more than 6000 markets and convenience stores around the world, distribution, Tesco has all the tools and skills to become the food store of choice for the world's most populous nation.
Tesco even provides home delivery. So what's the big deal? After all, Amazon (NASDAQ:AMZN) does the same thing, right? But while Amazon is brilliant at marketing, it doesn't have its own massive captive fleet of delivery trucks and distribution centers around the world. Amazon is dependent upon a hard-negotiated deal with UPS and other third-party shippers to get their products in the hands of consumers. That works great in the developed world with excellent rail, air and truck infrastructure. But what happens when those fortuitous arrangements aren't possible? Some touts have suggested that Amazon will one day supply us with just about anything we need, including fresh food. It could happen, but I am reminded of the train breakdown transporting the first refrigerated lettuce shipment in John Steinbeck's masterful East of Eden.
To reach the point of delivering fresh and refrigerated foods, Amazon would have to build or lease refrigerated storage facilities and create an armada of refrigerated transportation to get the food delivered. Do-able, maybe, but why bother? Tesco, as the world's #1 online food purveyor, has already done all that and is the "neighborhood ice cream truck" or, a better analogy perhaps, the "milkman to the world!" They not only understand what Amazon is and is doing, they learned from them firsthand: they recently pirated away Robin Terrell, the former head of Amazon UK, to run their online business. In fact, I think it would be easier for Tesco to add books, e-readers, tablets, and even appliances to its non-refrigerated trucking fleet, making incursions into Amazon's turf, than for Amazon to as easily invade Tesco's dominion.
As a result of Tesco's decision to pull back from the US - for now, anyway - and a couple of lesser problems, the stock is currently stuck in second gear. Its earnings disaster has it trading for the moment at an astronomical 232 times earnings, though it still yields a bond-beating 5.2%. And while Tesco must source their fresh food in China and apply rigorous QC, we should remember that they are selling to the Chinese, while Wal-Mart is buying from the Chinese to sell to Americans. Which might be the larger consumer staples market now and in the future? While Wal-Mart has huge gross margins of 25% (basically the premium between what they pay and the price they sell to consumers) while Tesco's is only 8%; however, the net margins for Wal-Mart are just 3.6%, while Tesco's are north of 3.8%. When you're talking billions in annual turnover, that's an important difference. And Tesco sells, in competition with others, items that are not at all discretionary. People gotta eat.
Food sourcing, storing, transporting, marketing and distribution is highly competitive; it's a rough-and-tumble business. But if you agree with my analysis that Tesco is doing way more things right than wrong, and has the possibility of a very rich future worldwide, you will be in good company: Warren Buffett's Berkshire Hathaway owns 415 million. If it works out, you can always say that you got the tip from Mr. Buffett!
Others may view Tesco as hopelessly stodgy and Amazon as the next Big Thing. But as an investor I'll take steady earnings and a good dividend. I want the steak, not the sizzle. It's more filling…
THE FINE PRINT: As Registered Investment Advisors, we see it as our responsibility to advise the following: we do not know your personal financial situation, so the information contained in this communiqué represents the opinions of the staff of Stanford Wealth Management, and should not be construed as personalized investment advice.
Past performance is no guarantee of future results, rather an obvious statement but clearly too often unheeded judging by the number of investors who buy the current #1 mutual fund only to watch it plummet next month.
We encourage you to do your own research on individual issues we recommend for your analysis to see if they might be of value in your own investing. We take our responsibility to proffer intelligent commentary seriously, but it should not be assumed that investing in any securities we are investing in will always be profitable. We do our best to get it right, and we "eat our own cooking," but we could be wrong, hence our full disclosure as to whether we own or are buying the investments we write about.
Disclosure: I am long OTCPK:TSCDY. I wrote this article myself, and it expresses my own opinions. I am not receiving compensation for it (other than from Seeking Alpha). I have no business relationship with any company whose stock is mentioned in this article.