Verizon (NYSE:VZ) has backed off from the imminent acquisition of Canada's Wind Mobile or Mobilicity - two of the smaller cell phone providers - in favor of participation in the spectrum auction to take place in January 2014.The move is a relief for incumbents Rogers Communications (NYSE:RCI), Telus (NYSE:TU), and BCE (NYSE:BCE), each of whom saw their stock move lower when Verizon first suggested it might be interested in the Canadian market.
Each has had a short-term pop with the prospect of Verizon's entry at a minimum deferred. Rogers has recently run up to $41 after touching as low as $38.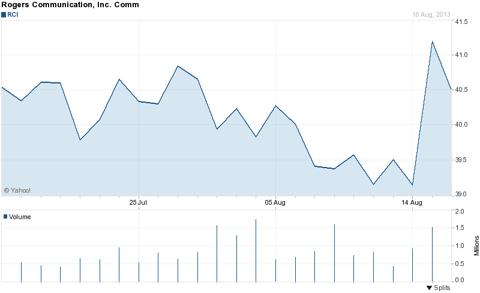 Telus has moved up to $31 after bottoming at about $29.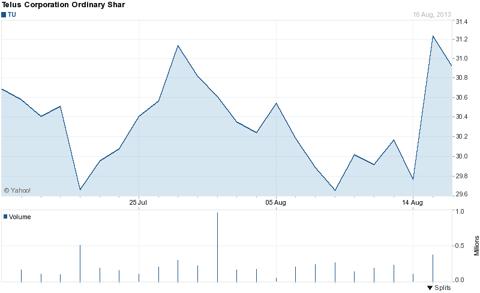 And, BCE has held its price north of $40 per share for the past 30 days or so.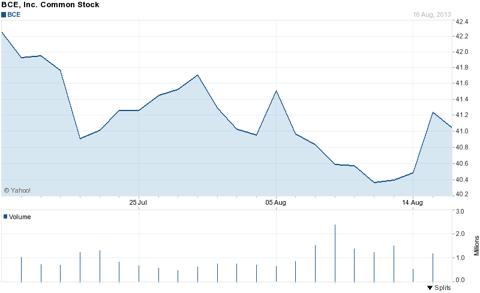 I wrote an SA article following the Verizon indication of interest suggesting that Rogers and Telus might be good shorts. I still think they are and the current bounce in their share prices makes the prospect even juicier. The issue is pretty clear - if Verizon comes, they will suffer. The question investors should ask is how much damage is each exposed to.
Rogers has average revenue per user of about $60.00 per month, as do Telus and BCE. They divide the market not quite equally, with Rogers having north of 9 million users and each of Telus and BCE about 8 million, and each is growing with the wireless market in Canada more or less. In this 3-way oligopoly, Rogers earns wireless earnings before depreciation interest and taxes (EBITDA) of about $3.5 billion and each of Telus and BCE earn about $3 billion EBITDA, so the total pie they share approaches $10 billion annual EBITDA and, with Enterprise Value to EBITDA ratios in the wireless space of 6 to 7 times, there is some $60 to $70 billion of value at stake.
I like to think of the companies based on their value per subscriber, averaging about $2,400. I bet you did not think you were worth $2,400 to your cell phone provider but the mathematics is simple - $60 billion value divided by 25 million subscribers, in round numbers.
Verizon is a big player and it is reasonable to think that over time they will become a solid competitor to the existing big three of the industry and take at least a 20% share in my view. That alone would equal 5 million subscribers and about $12 billion of value coming from the incumbents. But that is not the only damage, since Verizon competition could well pressure margins.
To get its 20 percent share, Verizon would likely compete on three basic levels:
With established U.S. operations Verizon can offer seamless and less expensive roaming to the United States, where the current crop of Canadian providers ruthlessly gouge their customers with nosebleed roaming charges;
With a longer term view and a desire to make a meaningful inroad in Canada, Verizon might offer plans that are lower cost (and lower margin) than those already in place, shrinking margins somewhat; and,
With a view to differentiate itself from the Canadian providers, Verizon might offer unlocked phones without a long-term contract, a feature that would cause many Canadians to shift to Verizon (myself included). This approach worked well for Wind Mobile, which Verizon apparently discussed acquiring.
January is not far away and until the spectrum auction there is likely to be very little information regarding Verizon's intentions. That is just the kind of market I like to establish an "event-driven" short position through the purchase of in-the-money puts. With each of Rogers, Telus and BCE at historically high prices, and put premiums relatively low this seems like a natural trade for those with a bent for risk.
Of the three, my favorite short would be Rogers. I have never liked the way Rogers treats its customers. Opaque agreements; hidden charges; locked phones; high roaming fees; spotty coverage; and, poor customer service are among my gripes. In a curious way, I think a setback or two would look good on them.
Disclosure: I have no positions in any stocks mentioned, but may initiate a short position in RCI over the next 72 hours. I wrote this article myself, and it expresses my own opinions. I am not receiving compensation for it (other than from Seeking Alpha). I have no business relationship with any company whose stock is mentioned in this article.