Recent moves to the downside in the S&P 500 have led some sections of the market to speculate that a near term top is in place for the U.S. benchmark. Early on this earnings season, we did see a long string of positive results, with a majority of the reporting companies managing to outperform analyst estimates. Later on, however, some of these encouraging trends started to show evidence of weakness and this served as a reminder for investors that this season's earnings expectations were not exactly impressive (or particularly difficult to overcome). The most recent examples of this came from Cisco Systems (NASDAQ:CSCO) and Wal-Mart (NYSE:WMT), which signified a potential slowdown in more than one industry sector. These events helped drive the SPDR S&P 500 Trust ETF (NYSEARCA:SPY) below 166, closing near the lows for the week.
Last week's activity suggests that while we might not be in store for an outright bearish reversal, a period of stalling should be expected as price momentum reaches an exhaustion point, steadily improving economic data implies the Federal Reserve will begin cutting back on stimulus injections in September, and expected growth in emerging markets continues to be revised lower. Markets are beginning to price-in a changing interest rate environment, as well, with Treasury yields rising to their highest ranges in two years. All of this taken in combination means there is little can be seen in the way of fundamental drivers to fuel new rallies near term.
All ten industry groups in the S&P 500 have taken part in the latest drop-off in the index, so there are relatively few arguments to be made that support a broad positive outlook near term. At this stage, it is clear that the Fed has placed a majority of its focus on the labor market, and with last week's jobless claims falling to their lowest levels in six years, there is less of a reason for the central bank to continue with its current policy stance. At the same time, inflationary pressures have started to build, making it more difficult for the Fed to maintain its zero-interest rate environment. For these reasons, improving macro data is actually a negative for stock values and this will create headwinds for the SPDR S&P 500 Trust ETF in coming months.
Roughly two-thirds of the market is expecting the Fed to start its tapered exit strategy at next month's meeting and early estimates suggest that the reductions in monthly bond purchases will be seen in the amount of $10 billion. The biggest risk for stocks at this stage would be seen in the Fed opted to reduce stimulus by something larger than this figure. As this unofficial deadline draws near, public statements from voting members at the Fed will continue to generate volatility and it will not be surprising to see another round of profit taking in the S&P before this occurs. It pays to remember that the index has held on to most of the 20% gains seen so far this year, with nearly 450 companies showing a positive performance on the year. This type of strength has not been seen in over two decades, so some degree of caution is warranted for those trading with shorter term time horizons.
SPY Chart Perspective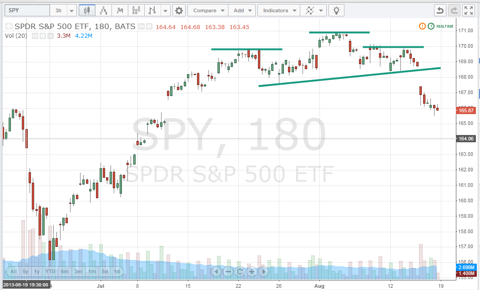 SPY has shown some very interesting activity from a chart perspective, as well, with the ETF recently completing a well-defined head and shoulder pattern on the 3-hour charts. This is one of the strongest bear patterns, so the subsequent declines have not been altogether surprising. We have yet to test key Fibonacci support at below 165 (the 38.2% retracement of the move from 155), so it is unlikely that we have posted a near-term bottom in SPY.
Disclosure: I have no positions in any stocks mentioned, and no plans to initiate any positions within the next 72 hours. I wrote this article myself, and it expresses my own opinions. I am not receiving compensation for it (other than from Seeking Alpha). I have no business relationship with any company whose stock is mentioned in this article.