The global telecommunications industry has over the years produced successful cash cows. Many investors struggle to grab a stake in a company that they think has a profitable financial future worldwide. Carlos Slim, the world's second richest man and owner of America Movil (NYSE:AMX), is a living a living testimony to the saying. America Movil is the largest telecommunications company in Mexico. Founded in the year 2000, it grew and gained a lot of popularity in Latin American countries and the Caribbean islands, becoming the fourth biggest mobile operator, relative to its equity subscribers. This company controls over 70% of the telecommunications market in Mexico and other Latin American countries.
The only telecommunications operator which comes close to AMX is Telefonica (NYSE:TEF), a Spanish company. In the recent past, Telefonica has shown interest in the European telecommunications market; venturing in the market forming strategic alliances with other reputable telecommunication businesses. TEF formed a strategic alliance with KPN in the Netherlands, having a 30% stake in the venture. TEF established a venture with Austrian Telekom having 23% stake in the venture. Despite a few setbacks in the European market, Mr. Slim foresees growth in the European markets which is reflected in his inclination to invest further a sum of $9.58 billion to acquire KPN.
America Movil's financial status is appealing as it shows a steady growth. A comparison between 2Q13 and 2Q12 in the graph below provides a convincing argument.
Accesses: Table from the Financial Report of the 2Q13 of America Movil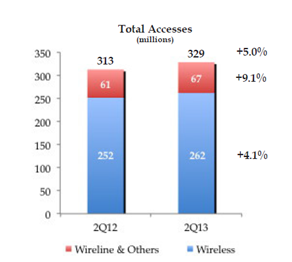 Here is a summary of the change in income statement and balance sheet percentage variances that would be important to shareholders in ascertaining the financial growth of the company.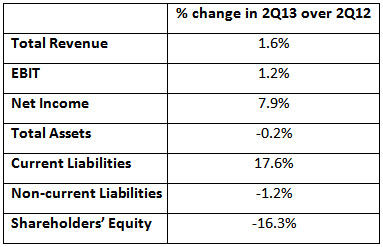 KPN is the biggest and oldest telecommunications company in the Netherlands, serving more than 45.1 million customers. It reported revenue of $16.90 billion last year. Its core business is fixed-line and wireless, which has been facing stiff competition in the home market. KPN found that the increased use of smartphones cut into its business, ultimately reducing its wireless services' market to 40%. KPN's value-added services, particularly text-messaging, suffered a setback as users migrated to cheaper options like Skype and WhatsApp. The migration received momentum with the advent of smartphones which make these options easily accessible. This significantly reduced KPN's profits. These events increased the overall debt on its balance sheet and significantly reduced its market value. Tough market conditions further damaged its value, making it a prospective acquisition target.
Later, KPN offered to sell its German brand, E-plus, which has a market share of 15% in the mobile network operators' market in Germany. The shares of E-Plus traded at $2.13 mid-July this year, but after America Movil's market rival Telefonica offered to buy E-plus, America Movil also made its offer. America Movil offered a 20% premium of the closing price on a bid to buy the 70% of KPN that they did not already own.
This was a move by America Movil after Telefonica announced its interest in E-plus, where Telefonica offered to acquire the brand at a price of $10.78 billion, a price that includes all of the stock and cash of the German brand of KPN. American Movil made another offer to buy the remainder of KPN for $9.58 billion. America Movil's owner, Mr. Carlos Slim, announced his offer on Thursday, August 8, 2013. KPN said that they are looking into America Movil's deal.
Mr. Slim's ambitions in the European market are very dynamic, but his recent actions in the KPN bid can be said to be aggressive. He wants to lead in all markets over his competition, particularly in Latin America and Europe. For Telefonica to get approval for the purchase of E-plus, it would need to get approval from the representatives of America Movil on the board of KPN, which is seemingly impossible. This could also be a move to stop the selling of E-plus. Conversely, it can be viewed as Movil's strategy to make Telefonica raise its bid on the deal, thereby losing a portion of their resources that could be used to bolster their market strength.
Chief Financial Officer of AMX Carlos García Moreno stated, "KPN is a great company with great possessions. They only need to unlock the hidden long-term value."
Benefits of America Movil acquiring KPN
Mr. Slim's $9.6 billion deal is based upon the premise that the European telecommunications industry will soon improve riding on the back of recovery in the European economy Additionally, America Movil would be in a prime position to acquire E-Plus from Telefonica, if America Movil is able to acquire KPN. E-Plus currently holds a 15% stake in the German mobile network providers' market. Therefore, by acquiring E-Plus, America Movil is put in a unique position to not only boost its presence in Europe, but also to hinder the efforts of Telefonica.
America Movil may take another course of action. The end goal of America Movil in this instance may be to sell E-Plus to Telefonica at a higher price.
As Andres Bolumburu, an analyst at Banco de Sabadell, explains "... the fact that Slim hasn't made a decision over Telefonica's bid for E-Plus suggests that the billionaire will seek a sweetened offer from [Telefonica]." Telefonica is currently competing in Germany with Vodafone and Deutsche Telekom, therefore, it require E-Plus to become more competitive. Since E-Plus is instrumental to Telefonica's success in Germany, Mr. Slim may decide to use E-Plus as a bait to elicit fatter offer from Telefonica.
Alternatively, the gesticulated "NO" of AMX for TEF bid for e-Plus, a vote on which is due in September, 2013, could also be a strategy to compel TEF to bid for the whole of KPN. In which case, Slim would exit KPN at a higher price.
Regardless of the outcome, it is clear that Slim intends to expand the markets where America Movil is present and at the same time it is creating impediments in the growth road of TEF through its strategic moves to gain an edge over its closest competitor. If Slim's comprehended outcomes materialize, TEF would be left with ballooning leverage position barring it from investing in expansion into the Latin American market.
Currently, Slim's expansion moves into the European markets have weighed heavily on the cash position of the company. However, if Slim is able to successfully complete this acquisition, then the likelihood of positive results increases. The billionaire is attempting to increase the influence of his businesses in Europe through consolidating the telecommunications industry in the region. Regardless of the losses he has made so far in the region's telecom sector, he is still investing more time and money.
The value of KPN shares fell significantly after America Movil spent about $4 billion to increase its stake in KPN last year to 30%, bidding $10.65 per share. Likewise, shares of Telekom Austria have also weakened since America Movil acquired a 23% stake in the company. Given the situation of the market in Netherlands, the future of KPN is uncertain in the short run, though I strongly advise America Movil to acquire 100% control of KPN, which is bound to yield larger benefits in the long run. KPN's brands like E-plus, with 15% market share, are almost impossible to build from scratch and consolidation of a whole market region is more economical than owning just a small percentage of the market.
Disclosure: I have no positions in any stocks mentioned, and no plans to initiate any positions within the next 72 hours.
Business relationship disclosure: The article has been written by an Analyst at ResearchCows, ResearchCows is not receiving compensation for it (other than from Seeking Alpha). ResearchCows has no business relationship with any company whose stock is mentioned in this article. Any analysis presented herein is illustrative in nature, limited in scope, based on an incomplete set of information, and has limitations to its accuracy. The author recommends that potential and existing investors conduct thorough investment research of their own, including detailed review of the company's SEC filings, and consult a qualified investment advisor. The information upon which this material is based was obtained from sources believed to be reliable, but has not been independently verified. Therefore, the author cannot guarantee its accuracy. Any opinions or estimates constitute the author's best judgment as of the date of publication, and are subject to change without notice.