Thesis, Briefly
Barnes & Noble (NYSE:BKS) may take advantage of prior inventory write downs to crush analyst estimates when they report earnings on Tuesday. A clause in an investment agreement with Liberty media kicking in Sunday gives them a strong incentivize to do outperform in the short term.
The Clause
On August 18th, 2011. Liberty Media (LMCA) invested $204 million in Barnes & Noble in exchange for preferred shares with an initial conversion price of $17. The following clause regarding that investment is taken from Barnes & Noble's most recent 10-Q;
"Starting August 18, 2013, if the closing price of the Common Stock exceeds 150% of the then-applicable conversion price of the Preferred Stock for 20 consecutive trading days, the Company may require conversion of all the Preferred Stock to Common Stock."
Hey, that's the day that today is!
In my most recent article on Barnes & Noble, I noted that chairman Leonard Riggio had a perverse incentive to reduce the share price of his own company if he intended to bid on it himself.
But now that changes. If Riggio wants one less cook in the kitchen, he can get it by bringing the price up above $26 per share and keeping it there for 20 days. As an added bonus, Barnes & Noble gets to stop paying dividends on the Liberty stake.
How does he do that? By crushing earnings estimates.
The Cookie Jar
As I'm sure you've heard, Barnes & Noble most recently reported a seemingly disastrous quarterly loss of $118 million, resulting in a full year loss of $154 million.
What you may not have heard, is that last report belongs in the fiction section.
The loss was driven entirely by management's decision to take a $135 million Nook inventory write down during the fiscal fourth quarter, resulting in a cumulative $222 million write-down for the year. Without those write downs, the company could have reported a positive quarterly net income of $17 million and a positive full year net income of $68 million.
The reason this is important is that the written down Nooks are still for sale, and any time a company writes down a still-for-sale product it creates a "cookie jar" that will inflate earnings in subsequent quarters. This is because when the product is eventually sold, at whatever price, the corresponding cost of goods sold will be lowered by the amount of the previous writedown. If you think about it, inventory write downs are really just a way of borrowing expenses from future quarters.
I believe that Barnes & Noble tapped into that cookie jar heavily during the current quarter, as it appears that Nook sales accelerated due to the addition of the Google Play store at the start of the quarter.
To get a sense of how much the Google Play store goosed Nook sales take a look at Google trends for "Nook" in the UK.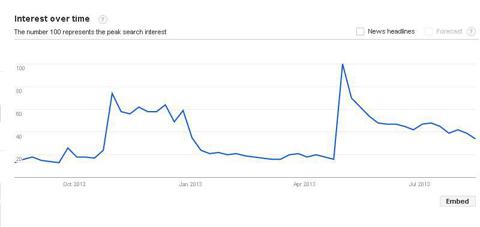 It appears as though the Nooks actually sold better in the fiscal first quarter than they did during the U.K. launch over Christmas. And it is worth noting that spike occurred even before the company started discounting units.
How Much Could This Impact Earnings?
Current analyst estimates seem to be ignoring the impact of the prior writedown altogether. Barnes & Noble lost 78 cents per share in the year ago quarter, and current analyst estimates are calling for a loss of 74 cents this year.
That year ago 78 cent loss represented a total loss of $41 million. The retail segment turned a profit of $33 million, while the college stores lost $25 million and Nook lost $62 million.
Now, I should note that the Nook inventory write down does represent a real loss: Barnes & Noble did offer steep discounts on their nook products this quarter. The price of the Nook HD was cut from $199 to $129, and the Nook HD+ was slashed from $269 all the way down to $149. But $222 million can cover quite a bit of discounting.
IDC tablet tracker estimated that Barnes & Noble only shipped a million tablets this year in the first place. If that's the case, then the writedown was really a total write off. If we assume that Barnes & Noble sold the million tablets at an average discount of $100, then they would still have $122 million left over from the write-off that could be reversed. Splitting that $122 million over the next two quarters (since the inventory is not sold out yet) could net the company $61 million this quarter. Ceteris paribus, this could allow the company to actually show a profit for the quarter.
The Play
Now may be an excellent time to go long or buy calls on Barnes & Noble. Even if Riggio isn't able to beat earnings and impress estimates, he might just float another buyout offer to hit that $26 for 20 days.
Disclosure: I am long BKS. I wrote this article myself, and it expresses my own opinions. I am not receiving compensation for it (other than from Seeking Alpha). I have no business relationship with any company whose stock is mentioned in this article.