Amarin (NASDAQ:AMRN) reported earnings a couple of weeks ago, and while the financial results weren't anything stellar, as consistent with a company trying to grow the way that Amarin is, the prescription data of the company's flagship drug, Vascepa, continues to look pretty steady and promising. The company is approaching what this investor thinks is going to be a bullish domino effect, so I'm reiterating my "buy" sentiment on the company. Here's the three bullish dominoes that have already started to fall in succession for Amarin.
Domino #1 - Technicals
Going into earnings on August 8th, Amarin had been trading poorly, even in the face of promising prescription data that the company continued to report. Since earnings, Amarin has found some momentum, paring some of it's recent losses and approaching a technical breakout of the several month downtrend the company has been on.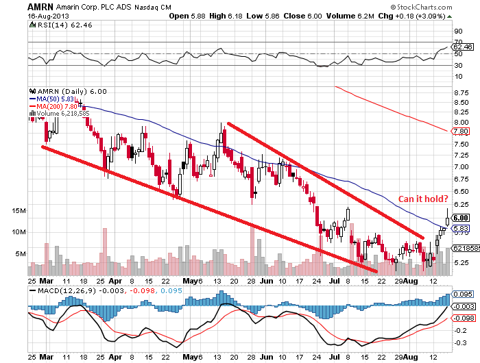 I'll contend that this has the potential to be a serious technical break if:
The price holds over the $6 mark, before breaking the next resistance clearly marked at $6.25.
The price can continue to trade above the 50 day moving average.
This seems like the likely scenario, and while I'm never one to rely solely on charts or technicals, it could be the spark that will help investors realize the stock just might be undervalued for the consistency at which the company continues to get Vascepa out into the marketplace.
Domino #2 - Even More Consistent Vascepa Data
The raw Vascepa prescription data itself continues to head in the right direction, with a healthy correlation between total prescriptions and refills. On 8/9/13, the last data available, total scripts reported were 5044 and refills reported as 2212. Both parameters are trending in the right direction - as represented by this chart showing the progression since 3/22/13.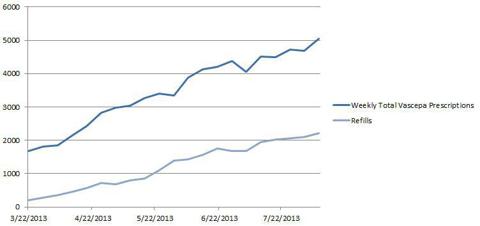 I first went bullish on Amarin on July 3rd, when I penned my article "Cover Your Amarin Short and Go Long". At that point the company had been beaten down so badly, it was trading over 50% off of it's previous highs around trading around $5.70. I've reiterated my bullish sentiments a few times over since then and I'll do the same now, on the heels of a strong trading week for AMRN and continued adequate prescription performance.
Domino #3 - Bullish Emotion Heading Into EOY
Finally, I'll continue to contend there's going to be legitimate money to be made being an Amarin long during the emotional buildup to the end of the year catalysts. I wrote this in my first bullish article:
This isn't going to be the argument that die-hard Amarin longs want to hear, but it'll likely perk up the ears of people looking to make some money.

I don't know about you, but every biotech stock that I've watched over the past couple of years has made a run up to any type of binary decision. Investors are quick to pile onto a biotech stock before any type of major decision or binary event in order to try and secure their place for the pop upwards.
With news on the ANCHOR indication getting closer everyday and the company's scheduled October advisory meeting, emotion will be running high and investors getting in now will get to take advantage of classic biotech "panic buying".
Amarin stated its priorities in its last conference call:
Operational priorities in the second half of 2013 are:

Increasing revenues from sales of Vascepa
Continuing managed care migration coverage from Tier 3 to Tier 2
Ensuring a successful ANCHOR advisory committee meeting
Gaining approval of the ANCHOR indication sNDA; PDUFA date of December 20, 2013
Planning for the successful commercialization of the ANCHOR indication
Obtaining additional patent awards from the USPTO
Continuing development of a fixed-dose combination of Vascepa and a leading statin
Submitting an sNDA for a fourth API supplier
Publishing additional data from Amarin's clinical trials
Conclusion
My analysis of this situation remains bullish. These three dominoes falling in order should move Amarin into a bullish direction regardless of how the actual ANCHOR indication winds up going. You're going to be able to profit here regardless of results. You can, if going long, even write calls as added insurance heading into the binary events at the end of this year.
Disclosure: I have no positions in any stocks mentioned, and no plans to initiate any positions within the next 72 hours. I wrote this article myself, and it expresses my own opinions. I am not receiving compensation for it (other than from Seeking Alpha). I have no business relationship with any company whose stock is mentioned in this article.