By Hao Jin
The Fed is going to keep interest rates near zero for the foreseeable future. With 10-Year Treasury yields around 3.5%, solid blue chip companies offering decent dividends become popular. Not only do they offer current income and the possibility of capital gains, they also have better protection against inflation than regular bonds. No wonder Warren Buffett wrote, "Buy American. I Am." in The New York Times last October.

However, the economy is still in the bottoming process. There is a potential risk for the economic to backslide. Which blue chips are relatively safe?

I use following 9 criteria to select relatively safe dividend stocks:

1.Yield>=3.5%
As an alternative to 10-Year Treasury, stocks need to have at least that kind of yield.

2. Market Cap >$2 billion
Generally speaking, the bigger, the safer.

3. P/E and Forward P/E both <=20
A company must be profitable to distribute dividends. Investors don't want to worry about dividend cuts anytime in the near future.

4. PE/Growth<3
Companies need some kind of growth.

5. Price/Sales<5
Earnings might lie, but revenue don't. This is another way to make sure a stock is not overpriced.

6. Beta<=1
Beta measures volatility of stock performance relative to the S&P 500. The less volatile, the better.

7. 52-Week-High/Low<1.8
Similar to Beta, companies need to be less volatile than the general market. SPDRs (NYSEARCA:SPY)'s 52-week-high/low ratio is 1.8.

8. Short Ratio <5
This is a sentiment indicator that is derived by dividing the short interest by the average daily volume for a stock. If an exchange has a high short interest ratio of around five or greater, this can be taken as a bearish signal

In other words, the less people short this stock, the better.

9. Debt/Operation Cash Flow (CF) <10
This ratio can vary substantially across industries. However, since we are picking "safe" companies, a company should not get over its head in debt regardless of which industry it is. The less debt, the safer the company.

There are total 33 companies meet these criteria. The following 10 were introduced in my Sep 3's article: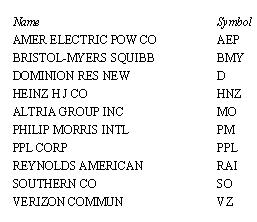 The 23 new stocks I found are presented below, with their fundamental data (sorted by Debt/Cash Flow): (Click to enlarge)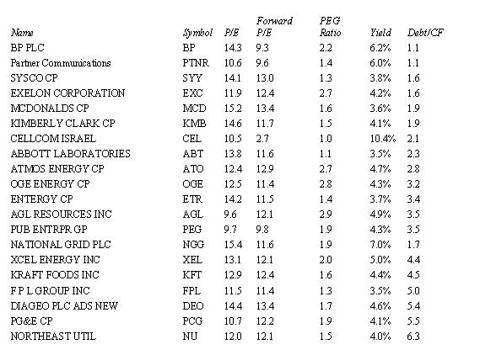 Following charts show the top 6 companies' last 20 years' dividends histories. Charts for Partner Communications Co. Ltd. (NASDAQ:PTNR) and Cellcom Israel Ltd. (NYSE:CEL) are not presented because they have short history as U.S public companies.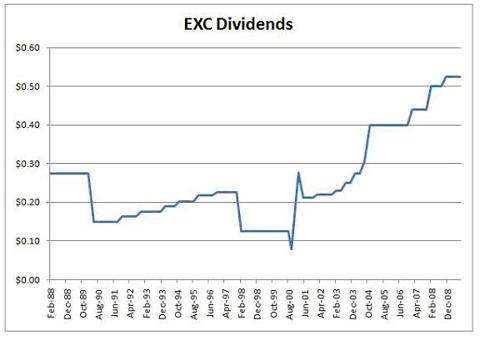 McDonald's Corp. (NYSE:MCD)'s 2009 dividends so far was $1.50: (Click to enlarge)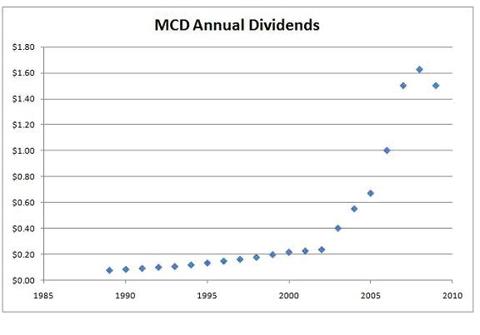 Kimberly-Clark Corporation (NYSE:KMB): excluding a special dividend of $1.07 in Dec 2004. (Click to enlarge)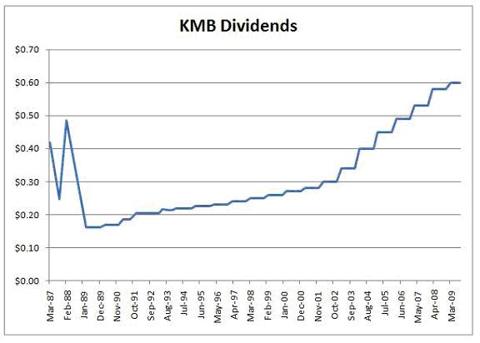 Abbott Laboratories (NYSE:ABT): excluding a special dividend of $2.86 in May 2004. (Click to enlarge)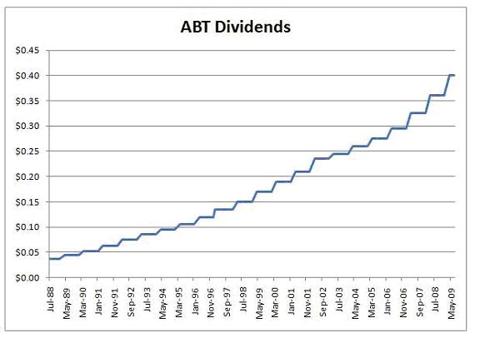 These are pretty solid companies overall, even though each of them has its own issues and involves its own risks. Many of these stocks have been left behind in the latest run for the last 6 months. For example, Abbott Labs only recovered 15% over its low.
Disclosure: I have long position on SPY and MCD. All data is from Yahoo Finance as of Sep 25, 2009.