Precious Metals Weekly Market Wrap
Gold and silver turned in their best combined weekly performance since October 2011 and silver saw its biggest surge in nearly five years as both precious metals broke through technical resistance and moved sharply higher. Metal ETF flows changed from bearish to bullish and news of record gold demand in Asia also spurred buying in the West as some U.S. investors rotated out of stocks and bonds where prices fell.
Unrest in Egypt and the potential for this to spread to other parts of the Middle East spurred some safe haven buying. Also, uncertainty about the health of the U.S. economy and whether the Federal Reserve will scale back its money printing effort when they meet next month contributed to higher demand for gold and silver as hedge funds and big banks both turned bullish on the metals.
For the week, the gold price jumped 4.8 percent, from $1,314.70 an ounce to $1,377.20, and spot silver surged 13.1 percent, from $20.56 an ounce to $23.26. The gold price is now down 17.8 percent in 2013, some 28.4 percent below its record high of over $1,920 an ounce two years ago, and silver is down 23.4 percent this year, now 53.0 percent below its all-time high near $50 an ounce in early-2011.
Important technical levels were breached last week with the gold price moving above its 50-day moving average as shown below via StockCharts and, in the process, breaking through the $1,350 level that had previously offered resistance.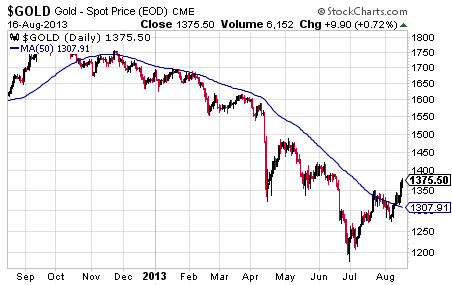 Now, the $1,400 level looms large as the gold price was at or near this mark for over a month in late-May and early-June before tumbling lower as the second quarter drew to a close.
The gold price is now up almost 17 percent from its low of $1,180 an ounce reached on June 28th, about half of that gain coming in just the last seven days of trading.
To no one's surprise, Bloomberg reported that gold traders are now the most bullish in five months as less than one-fifth of survey respondents said they expect prices to fall in the week ahead.
Silver also broke through its 50-day moving average and blasted through resistance at just over $20 an ounce.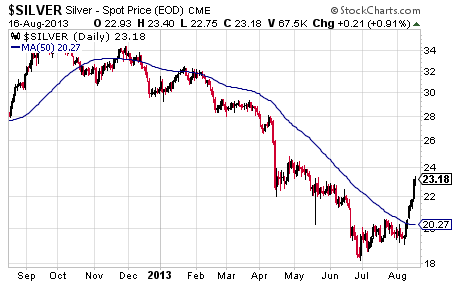 From the intra-day low near $18.25 in late-June, silver is now up more than 27 percent, prompting some analysts to declare a new bull market.
Since precious metals are quite volatile as compared to most other asset classes, I've never thought that the +20 percent/-20 percent rule of thumb for bull markets/bear markets applied (particularly for silver), but obviously many others do.
Who's to argue?
Being part industrial metal and part precious metal, silver has recently benefited from better-than-expected economic data in both China and Europe, rallying alongside base metals in recent weeks in a trend that is likely to continue.
Precious metal ETF flows turned positive last week for the first time since last December as both the SPDR Gold Shares ETF (NYSEARCA:GLD) and the iShares Silver Trust ETF (NYSEARCA:SLV) added to their holdings.
This has been a major impediment to forming an enduring bottom for both gold and silver as gold ETF holdings have proved to be a good barometer of sentiment toward precious metals in the West. In recent months, as prices have fallen, sentiment has not been good and metal continued to flow out of the GLD trust.
But, last week, GLD holdings rose by 4.2 tonnes, the first weekly increase of the year. In fact, gold was added to the trust three times in the last six days and, while the amounts are relatively small as compared to year-to-date net outflows of almost 450 tonnes, the possibility that a major trend change has occurred in ETF flows is important as an indicator of changing investor sentiment in the West.
As U.S. equity markets have recently struggled and as bonds tumbled anew last week in anticipation of Fed "tapering" as soon as next month, U.S. money managers are no doubt reallocating investment funds back into precious metals and last week's price action could result in this trend accelerating since nothing attracts the interest of traders and investors like rising prices.
It was reported last week that billionaire hedge fund manager John Paulson exited more than half of his nearly 70 tonne position in GLD during the second quarter and, surprisingly, this turned out to be a bullish development. Why? Paulson has been a major investor in GLD over the years and it has long been feared that a big reduction in his holdings could negatively impact the gold market. But, that big reduction has now come and gone. Of course, Paulson could decide to sell more gold, but this proverbial "Sword of Damocles" hanging over the gold market's head is now largely gone.
Redemptions from hedge funds such as Paulson's probably played a key role in gold plunging at the end of the second quarter and, with metal prices now rising again, this is not likely to be repeated. In short, the chances are very good that the early-summer capitulation selling is now complete.
News of soaring gold demand in Asia was another bullish factor in precious metals markets last week.
On Monday, the China Gold Association reported that gold consumption rose to 706 tonnes during the first half of the year, up from 460 tonnes during the same period last year and not far below full year demand of 832 tonnes in 2012. While demand may fall off in the months ahead if prices continue to rise, China is on track to shatter previous records for gold consumption, likely overtaking India as the world's biggest gold buyer in 2013.
This possibility was noted in conjunction with the release of the World Gold Council's Gold Demand Trends for the second quarter that also detailed the dramatic change in gold consumption in the April-to-June period when prices tumbled. This is best illustrated via the two charts below that show record outflows from ETFs in the West that were countered by surging demand for bars, coins, and jewelry, mostly in the East.

Following a reduction of 177 tonnes in the first quarter, some 402 tonnes of gold exited ETFs in the second quarter and this was the main reason why overall demand fell by 12 percent from a year earlier. Another factor was slower central bank buying that fell from 110 tonnes to 71 tonnes.
But, there was also a remarkable rise in other demand categories which, when combined with the probably cessation (and reversal) of ETF outflows in the months ahead should cause overall demand to rise sharply. Total demand for gold jewelry, bars, and coins rose to a record 1,083 tonnes in the second quarter, primarily due to imports of 310 tonnes by India (the highest in ten years) and 276 tonnes by China.
This prompted the World Gold Council to predict that gold demand in both India and China could each reach 1,000 tonnes this year, a large portion of this purchased at relatively low prices during the spring as Western investors were selling.
The Indian government took more steps to curb gold demand, apparently unaware that the many steps already taken in their war against gold have been unsuccessful. Their ongoing effort to reduce gold imports in order to narrow their trade deficit and boost their currency have been a spectacular failure as import duty hikes (raised last week for the third time in eight months from 8 percent to 10 percent) have been more than offset by a weaker currency that dropped to a record low against the U.S. dollar on Thursday.
Wedding and festival season buying begins in just a few weeks, so, it's a safe bet that Indian gold smugglers are now hiring additional help.
Back here in the U.S., some investment banks are warming up to precious metals again as they are wont to do when the price of something rises. In a CNBC interview on Thursday, MacNeil Curry of Bank of America Merrill Lynch said he is "looking for a move up to the $1,410, potentially $1,450 area" and cited stabilizing GLD holdings as one of three reasons why. Also, in a note to clients last week, JPMorgan analysts John Bridges and Anant Inani recommended buying gold after the market shrugged off news of the Paulson GLD sale and details of Asian gold demand were announced.
Market sentiment has changed rather dramatically from bearish to bullish in just the last few days and, during relatively low volume trading for the rest of August, recent gains could quickly be given back on just the right set of negative macro developments. But, given last week's breakout, my guess is that, absent another 2008-style meltdown in financial markets, higher gold and silver prices lie ahead.
Disclosure: I have no positions in any stocks mentioned, and no plans to initiate any positions within the next 72 hours. I wrote this article myself, and it expresses my own opinions. I am not receiving compensation for it (other than from Seeking Alpha). I have no business relationship with any company whose stock is mentioned in this article.
Additional disclosure: I own gold and silver coins and bars.