This is Part 4 of my evaluation of the changes for the 25 BDCs that I cover compared to the previous quarter. In this article I will discuss the significant changes in analyst recommendations and earnings projections as well as price targets for each BDC. In the first three parts I discussed the dividend coverage from net investment income ("NII"), changes in net asset value ("NAV") per share, portfolio investment classes, debt to equity ratios, the ability to cover interest payments on borrowing with quarterly NII, and the amount of floating rate investments.
I use many sources for analyst projections, rankings, and target pricing including: First Call/Thomson, Fidelity Starmine, Zacks Investment Research, Merrill Lynch, Wells Fargo, Keefe Bruyette & Woods, Dividend Channel, Ned Davis Research, Ativo Research, EVA Dimensions, Ford Equity Research, JMP Securities, Raymond James, UBS, and a few others.
Projected Earnings
The projected earnings for BDCs has declined over the last 90 days by an average of 4% not including Solar Capital (NASDAQ:SLRC) which recently made some major adjustments to its portfolio as discussed in this announcement. However, there were a few BDCs that have seen increased projections for Q3 including Medley Capital (NYSE:MCC), Hercules Technology Growth Capital (NASDAQ:HTGC) and Gladstone Capital (NASDAQ:GLAD). HTGC saw the largest increase for Q3 projections from $0.27 to $0.29 and $1.08 to $1.14 for 2013. In an article last month "Hercules Technology: Will It Continue To Surprise?" I discussed why the analyst projections were low and provided my own projections that are now in line with the current projections.
There were four BDCs with Q3 projections reduced by over 10% including American Capital (NASDAQ:ACAS), BlackRock Kelso Capital (NASDAQ:BKCC), KCAP Financial (NASDAQ:KCAP) and SLRC. SLRC saw the biggest decline due to its portfolio realignment and here are the changes to Q3 projections for the others:
ACAS from $0.26 to $0.23
BKCC from $0.28 to $0.24
KCAP from $0.28 to $0.25
Analyst Recommendations
There were three BDCs with significant upgrades from analysts across the board including THL Credit (NASDAQ:TCRD), which has been near the top my ranking for a while and reported earnings almost 30% above analyst projection and currently considered between a 'Buy' and a 'Strong Buy' by most analysts. The other two were Golub Capital (NASDAQ:GBDC) and HTGC both of which beat earnings estimates and are considered 'Buys' as well. The following charts are StarMine scores that provide a consolidated view of the ratings from a number of independent research providers using relative, historical recommendation performance for an accuracy-weighted indication of the independent research firms' stock sentiment and is only one of the many sources that I use.



There were quite a few BDCs that were downgraded either due to missed earnings projections or overvaluation including ACAS, BKCC, SLRC and Horizon Technology Finance (NASDAQ:HRZN). Both ACAS and SLRC missed EPS projection by a wide margin and HRZN and BKCC are both overvalued and have higher risk profiles than the average BDC.
Target Prices
Target prices by various analysts increased due to higher valuations on average but a few BDCs including SLRC (as discussed earlier) and KCAP saw significant reductions in price targets. KCAP missed projections by 23%, did not cover dividends with NII and is not expected to for a while. HTGC's target price improved the most but it was already overpriced and still is. The table below shows price targets from three different research firms as well as an average and the corresponding difference to the current stock price. Most BDCs have room for some price appreciation except the bottom nine.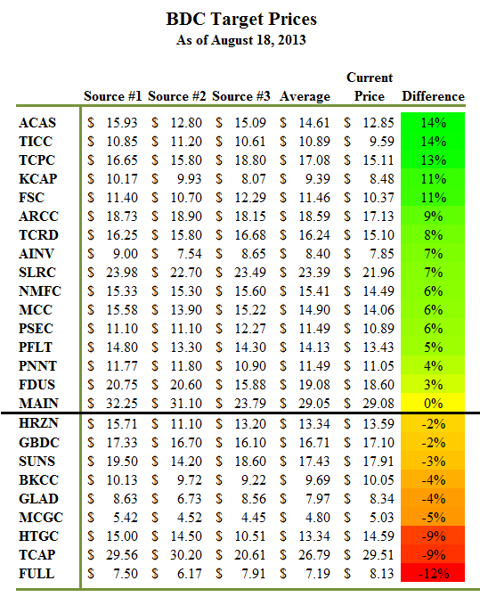 Summary
Below are the current rankings for the analysts category in my overall ranking chart which takes into account the recommendations and scores from various firms as well as price targets compared to current pricing.

In the remainder of this series, I will cover Prospect Capital (NASDAQ:PSEC) and Full Circle Capital (FULL) that are reporting later this week as well as some of the other criteria I use for my rankings including portfolio yields and non-accruals as well as overall risk levels and profitability.
Investors should only use this information as a starting point for due diligence. See the following for more information:
Disclosure: I am long MAIN, TCPC, TCRD. I wrote this article myself, and it expresses my own opinions. I am not receiving compensation for it (other than from Seeking Alpha). I have no business relationship with any company whose stock is mentioned in this article.