By David Russell
One investor apparently expects ValueClick (VCLK) to rise at least 14 percent in the next seven weeks.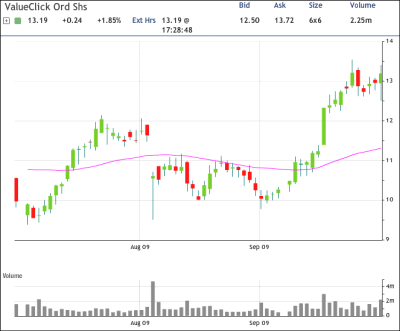 optionMONSTER's Heat Seeker tracking system detected the purchase of 2,500 November 12.50 calls for $1.30 Wednesday, matched against the sale of 2,500 November 15 calls at an average price of $0.325. Volume was more than 10 times open interest in both strikes.

VCLK rose 1.85 percent to $13.19 and is up 25 percent in the last three months. The Internet advertising company reported better-than-expected second-quarter earnings on Aug. 4 and issued guidance roughly in line with analysts' forecasts.

Wednesday's call-spread strategy will earn a maximum profit of 156 percent if VCLK closes above $15 at expiration. Overall options volume in the name was more than eight times greater than average, with calls outnumbering puts by 46 to 1.
(Chart courtesy of tradeMONSTER)