Profile
A.H. Belo (NYSE:AHC) is a newspaper publishing company that owns various different brands. They own newspapers such as the Dallas Morning News, Providence Journal, The Press Enterprise, The Sunday Weekly, and various other papers. The company is based out of Dallas and was founded in 1842.
Thesis
A.H. Belo has more than $60 million in cash and zero debt. I am valuing the company at 4x forward EBITDA, which I consider to be an extremely cheap valuation.
Industry
It's no secret that the newspaper industry is in a declining trend. As technology improves, people are migrating towards their laptops and even smartphones now to read the news. The industry has made a shift towards digital and physical circulation is down.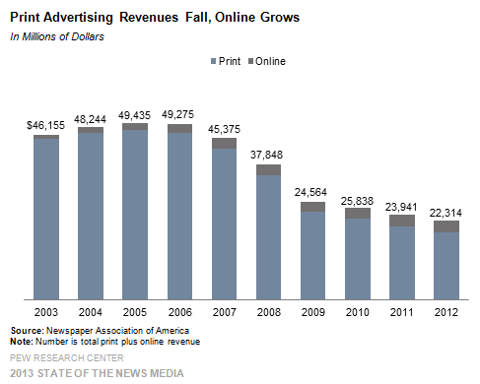 However, as you can see from the chart even revenues from online is slowly taking over.
A.H. Belo is the victim of a declining industry. Many newspaper companies are experiencing the same trend. These companies need to put together a proper plan to stave off this decline. Whether it be diversification or look into merging with other newspapers.
Sale of Non-Core Assets
Before I start going over the balance sheet, I must first applaud management for keeping the company out of debt. The company currently has more than $60 million after selling off non-core assets. I will discuss these sales in further detail.
Before the sale of assets, the company had around a little over $32 million. At the end of 2010, the cash balance was nearly $90 million. So while it seems like there is significant cash burn, this trend is not likely to continue and I will explain why. Now let's get back to the asset sales.
The company now has more than $60 million in cash due to the following:
Sale of office building in Riverside, CA - $28.6 million in proceeds
Public parking lot in Providence, RI - $400k in proceeds
The Press-Enterprise equipment - $500k in proceeds
These are non-core assets and it's good to see management adding more liquidity. I am glad to see the company do this as none of these assets are vital to their operations. It also shows that they are consolidating their operations in Riverside and Providence.
EBITDA Growth
Management stated on the latest earnings call that they have no intention to go and acquire newspapers outside of their market. The company's plan is to consolidate and focus around The Dallas Morning News. Management has mentioned that they want to be more involved in the DFW market. They have plans on expanding digital marketing services such as 508 Digital and Speakeasy. 508 Digital is expected to see revenue grow to $18 million to $20 million by 2014.
These are great initiatives that management is taking. The shift to focusing on digital is a sound strategy simply because the old paper business model is dying. The company now has over $60 million in cash on its balance sheet.
The company did earn $8.7 million in EBITDA in the last quarter. So it is very likely the company is in the midst of growing its balance sheet again.
Well let's take a look at what drove the EBITDA:
Employee layoffs caused a 5% reduction in operating expenses.
1% increase in advertising for The Dallas Morning News. This was primarily all digital growth.
Revenue for the second quarter fell 4%, similar to that of the 1st quarter. This is no surprise given the current trend in the industry. While 4% may seem like a lot, it's actually better than the overall industry.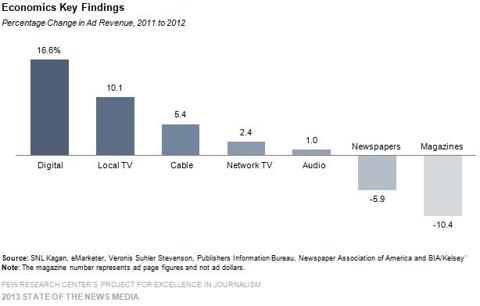 The industry is seeing a greater fall and A.H. Belo is outperforming due to a more diverse product mix. The company is focused towards growth like digital, which is allowing it to decrease the decline.
Digital Growth Curbing A Decline In Print
One thing that I noticed on the conference call was that revenue from advertising and marketing services declined 4% in the second quarter. However, this was the lowest year-over-year decline since 2008. This is because Dallas Morning News saw a 1% revenue increase in digital.
So the silver lining here is the clear growth in digital, which is helping to stem the decline in overall revenue. Revenue from print declined 13% year-over-year. However, 508 Digital and Speakeasy saw more than a 30% year-over-year increase.
Valuation
The current market cap for the company is around $160 million. We need to subtract out the cash. If we subtract out $60 million, then the business is worth around a $100 million excluding cash.
Since we excluded cash, we must also exclude interest income as well. Interest income is lumped in on the "Other Income" line item. Management still has a $37-$41 million EBITDA guidance. However, we need to have a more conservative scenario.
Even if we annualize the EBITDA from the last quarter, we get around $34 million. I still think the company will continue to see a decline in revenue and my projected EBITDA is $25 million.
How do I get here?
Well I am going to assume a 4% quarterly decline in revenue until the end of the year. This gets us to an end of the year total revenue of around $395 million. This is a conservative scenario since the company is likely to curb the decline to much less than 4%.
Now we factor in cost of goods sold. On average, the company has maintain around a 49% gross margin. I will assume 45%. This takes us to $178 million in gross profit.
Now we move onto our operating expenses. Remember that the company has sold off assets that are no longer necessary to business operations. By also factoring in staff layoffs, this will reduce SG&A expenses. In 2012, the total SG&A expenses were around a $177 million. I believe with the cost cuts, this would fall to around $140 million. Then we also subtract non-recurring and other expenses, which I peg at around $38 million. The company actually spent $35 million other than these line items in 2012. So my estimates are higher. We now get a total operating profit of zero. Don't forget we need to subtract other income as well. So we now have an EBIT of around -$3 million.
The company has maintained a depreciation amount greater than $30 million each year. I will use $28 million in my analysis. If we add back in depreciation, then this take us to a total EBITDA of $25 million.
As you can see, I overstated my expenses and lowered my revenue projections. Now we need to understand, what multiples the industry is trading at.
We are going to use EV/EBITDA in determining how much the company should be worth.
| | |
| --- | --- |
| Company | EV/EBITDA (TTM) |
| McClatchy Company (NYSEMKT:MNI) | 6.60 |
| Lee Enterprises (NYSE:LEE) | 6.41 |
| Daily Journal Company (NASDAQ:DJCO) | 14.63 |
Using my analysis, A.H. Belo has an EV/EBITDA of around 4x. By looking at the companies above, it's pretty clear that the company should at least be at a multiple of 6.
I believe the market just is not recognizing the value in the company because it doesn't fully understand the potential of digital. Not to mention that the company is moving away from the Providence and Riverside markets, which have seen poor performance. When I see a company trading at 4x EBITDA, it normally means the market believes the company is not likely to survive. However, this cannot be said about A.H. Belo. The exact opposite is happening, the company is making plenty of money and increasing its dividend.
At a 6x EV/EBITDA multiple, this would put the share price around $9.50-$9.80 per share. This is nearly a 40% return over the current share price. I believe this is a great opportunity to purchase a company that pays a 4.50% dividend yield and has just doubled its cash on hand.
Disclosure: I have no positions in any stocks mentioned, and no plans to initiate any positions within the next 72 hours. I wrote this article myself, and it expresses my own opinions. I am not receiving compensation for it (other than from Seeking Alpha). I have no business relationship with any company whose stock is mentioned in this article.